Are you curious about whether huskies are hypoallergenic or not? If your nose starts twitching just thinking about doggy dander, then you're in the right place to find answers about huskies and allergies.
No, huskies are not hypoallergenic. Huskies shed often and in large amounts, meaning dead hair, skin, and dander will frequently cause allergic reactions.
The truth of the matter is that there is no such thing as a completely hypoallergenic dog breed. Although some might cause significantly less allergic reactions.
What Does Hypoallergenic Mean?
It's good to clear up exactly what hypoallergenic means first before diving in completely.
Simple put, hypoallergenic means something that doesn't produce an allergic response.
This was particularly useful for cosmetics because makeup is applied to our skin and faces. Many brands adopted the phrase stating that their product is "hypoallergenic" meaning it won't cause reactions when used on your skin.
Since then, many different industries now use the term hypoallergenic as you can tell with the title of this article!
What Is a Hypoallergenic Dog Breed?
Now is a good time to say that there is no such thing. A hypoallergenic dog breed doesn't exist.
This is because all dogs have the ability to cause an allergic reaction, some are just far less than others. Source
The culprit is a protein found in the saliva and urine of all dogs and cats, this protein then finds its way onto the skin and coat and stays there until it falls off as dead fur or dander (dead skin cells).
So there is really no way of fully getting around it.
If you are more susceptible to allergies in general, then there will always be a chance that Fido or Felix could cause a reaction in you.
So, are huskies hypoallergenic? No, they are not, and if you suffer from a pet allergy then it's likely that a husky would cause a reaction for you.
For pet allergy sufferers, it's not so much the dog hair that causes a reaction, it's the microscopic dead skin cells commonly known as dander that's more of an issue.
Breeds that have short coats that do not shed are usually a better choice for pet allergy sufferers. This is quite the opposite of a Siberian husky!
The reason for this is that the dander and dead fur stay inside the coat of the short-haired dog until groomed out.
Huskies, on the other hand, constantly shed throughout the entire year. This means your floors, carpets, clothes, and more will most likely have a lot of dander (even if you can't see it).
Are Huskies Bad for Allergy Sufferers?
So far, it would seem like they are! But the TRUE answer is that it depends, and it's hard to say whether all huskies will cause reactions for everyone.
Not only will it differ from husky to husky, but also from person to person. Some people are more sensitive than others and will react easier when huskies shed hair.
If you don't already have a husky and you or your family member develop reactions in the presence of most dogs, then it's safe to assume that a husky would not be the best fit for your household.
Signs You Are Allergic to Your Husky
Now if you already have a husky and are worried about a possible pet allergy in yourself or a family member, there are a few things to look out for.
There are many different types of allergies but many of them have similar symptoms. Like with a lot of allergies, one of the first symptoms is difficulty in breathing or a stuffy nose.
If it's not hay fever season and you keep noticing you're experiencing these symptoms whenever you are around your husky, you may have a pet allergy.
Common symptoms of a pet allergy:
Slight difficulty in breathing
Stuffy nose
Itchy or watery eyes
Itchy or swollen throat
Sneezing
Raised bumps on skin (hives)
Of course, you should always treat any symptoms seriously and this may or may not be an allergic reaction. But these are the common signs of a pet allergy.
Due to the fact that our environment contains so many different allergens, it will be hard to know if it's actually your husky causing your reactions, or something else.
So you will have to be aware of frequent patterns, do your symptoms only arise when you get close or interact with your husky? or is not so obvious?
It will pay to do a simple test, after feeling completely fine having been in one room for a while, call your husky in to play with him, and gauge any reactions you have shortly after.
Ways You Can Prevent Your Husky Giving You an Allergic Reaction
Although you can't alter your DNA to make it so you don't suffer from allergies anymore, there are still some ways you can lessen your reactions!

The first piece of advice I should give is to visit your doctor. Medication for allergies is common and well-researched. Your doctor may prescribe a simple over-the-counter antihistamine as the solution. This will be a quick and easy answer to your pet allergy. Always consult your doctor first!
Other ways that can help prevent allergic reactions caused by your husky:
Don't Let Your Husky in All Rooms of Your House
Make Better Use of Your Yard
Have Someone Else Keep on Top of Grooming
Use a HEPA Air Purifier
Keep Your House Clean as Possible
Become a Saliva-Phobe
Let's run through each one in futher detail!
1. Don't Let Your Husky in All Rooms of Your House
Your bedroom being the most important!
However much you may like having your husky up on your bed, it's not the best idea. If you can only keep one room in your house husky-free, then it should be where you sleep. This way, at least if you're having a particularly bad allergy day, you know your bedroom is a safe zone.
Depending on your house, it helps to have another room husky-free if you can. Try your best to keep doors closed and separate your husky from certain areas. Less fur, less dander, fewer reactions.
2. Make Better Use of Your Yard
If you are fortunate enough to have your own yard, it will pay to keep your husky there for more hours out of the day.
Being outside in the natural elements will help blowout excess fur and dander from your husky's coat and although it won't get everything, you'll have a little less inside your house!
This may also suit your husky perfectly. In general, huskies love spending time outdoors. Just ensure you have plenty of toys and of course, this doesn't mean leave him alone outside, having company is very important for huskies.
Although this is a good way to reduce your reactions, it's important to remember your husky's needs too. Sure, outside is fun, but he still needs attention and a lot of it. It's also not advised to leave a husky unsupervised out in the yard, escaping is a common issue amongst huskies, so please keep this in mind.
3. Have Someone Else Keep on Top of Grooming
Some people love brushing their husky, and others, not so much. Fortunately for you, having an allergy is the perfect excuse to offload this task to your partner or kids!
Depending on where you live, your husky may or may not shed continuously year-round. If you don't live somewhere exceptionally cold, it's likely your husky will pretty much shed for most of the year. Having a regular brushing routine is very important and needs to be done, with or without allergies. However, this, of course, is a nightmare for pet allergy sufferers. So it's advised to have someone else do it for you!
When it comes to bathing you should still stick to the guideline of around 4 times per year. A single bath every 3 months is adequate for huskies.
Bathing your husky constantly will not help to reduce your allergies, in fact, it may make them worse. If you bathe your husky too much, you risk drying out his skin, which will, in turn, cause there to be a lot scratching and licking, meaning a lot of saliva ridden dander on your floors!
4. Use a HEPA Air Purifier
For airborne pet allergens, having a HEPA air purifier will help significantly. If you keep your bedroom husky-free, you won't have to worry about having one there, but for your main living room area, this would be a great accessory to have.
There are many different HEPA air purifiers out there all with different price tags. A good purifier will remove at least 99% of airborne allergens, so that's something to look out for.
There are some great options on Amazon, although I have not personally tried them, the reviews of this one are particularly good. It's also reasonably priced compared to many other options.
5. Keep Your House as Clean as Possible
I'm sure you do a great job of this already! But, having frequent cleaning days is a must if someone in your house has a pet allergy.
Vacuuming, dusting and wiping down surfaces is the most important. Wherever your husky goes, there will be dead fur, dust, and dander all waiting patiently to spark an allergic reaction. By constantly cleaning and vacuuming up such allergens, you're reducing the chances of being affected by them.
Again, actually doing this task can create a lot of dust in itself, so it's advised to do it with the doors and windows wide open OR once again, enlist the help of your partner or kids.
This also goes for your husky's bed! I know it's completely impractical to clean your dog's bed all the time and no one does that. But, be aware that his bed will be your worst nightmare for allergies. Whether it's visible by the naked eye or not, there will be a lot of dead skin and fur in his bed. So the more you are able to clean it, the better.
Remember that these particles are very fine and lightweight, once disrupted they can stay floating around in the air for quite some time. That's why cleaning and removing them altogether is important.
6. Become a Saliva-Phobe
Hopefully, your husky isn't urinating all over the place, but it's more than likely he licks quite a lot of things.
You would be surprised by the vast amount of different things your husky may decide to give a good licking. Saliva contains that troublesome protein that causes allergic reactions in the first place. Not only will your husky lick objects, but he's licking himself and his coat for much of the day.
This means, whenever you touch your husky, it's important to wash your hands right away afterward. And the same goes for all the items he decides to lick, like toys, his leash, harness, brush, maybe your couch, and the list goes on!
If you become a salvia-phobe (not a real term) you will help to reduce your overall exposure to the allergens.
Husky Allergy FAQs
Should I get a husky if I know I have a bad pet allergy?
If you know that you have a bad pet allergy, a husky will not be a good choice. Due to their long hair and constant shedding, a husky will produce a lot of allergens. If you have a successful way of managing your allergy and think it's possible for you, then it's always up to you, but remember it's unfair to get a dog, and then get rid of one.
Can my pet allergy be completely stopped?
For the most part, allergies will always be present, and it's typically due to your genetic makeup. You can effectively manage allergies with medications or jabs. It's best to speak to your doctor about this. I am not qualified to give any kind of professional medical advice.

How do I know if my husky is causing my reactions?
It's hard to know for sure but the best way is to do some easy experiments. In a recently cleaned room, spend some time in there, and if you are feeling allergy-free at the time, call your husky in and play with him for half an hour, and gauge how you feel afterward. This is a rather simple test and may not be exactly accurate. Try your best to notice patterns; do you always have reactions when close to your husky, or is it not so obvious? Remember that there are many different allergens in our environment. It could be your washing powder…
Will bathing my husky more help with my allergies?
Bathing your husky more than necessary will likely make pet allergies worse. Too much bathing may cause your husky's skin to dry out, which will cause him to lick and scratch. Licking contains the saliva, and scratching will fire dander and dead skin all over your house. One bath, every 3 months is just fine.
What's the best way to reduce my pet allergies?
The best way is to speak to your doctor and receive the appropriate medicine or allergy jab for your specific case. Everyone is different and no allergy is exactly the same. Fortunately, though, allergies are very common, so medication is widely available and is considered an easy fix for allergies.
Related Article: Best Natural Shampoos For Huskies
Summary
So there you have it! I hope you now know that huskies are not hypoallergenic, they're quite the opposite!

If you have pet allergies and live with a husky, please comment below, I would love to hear about it!
Most Recommended For Huskies 🐶
Best Brushes For Husky Shedding ⭐
My two favorite brushes for a beautiful coat are a simple Undercoat Rake and a Slicker Brush. These brushes when used together will de-shed and maintain your husky's coat better than anything else.
Best Online Training Program For Huskies⭐
Brain Training For Dogs has become increasingly popular with Siberian Huskies in the last few years. It's now recognized as perhaps the best way to train a husky in the most stress-free, positive way.
Best Husky Puppy Book ⭐
If you would like to support My Happy Husky directly and have an easy to read and entertaining guide for training your husky puppy, check out my book The Husky Puppy Handbook on Amazon. All purchases are greatly appreciated.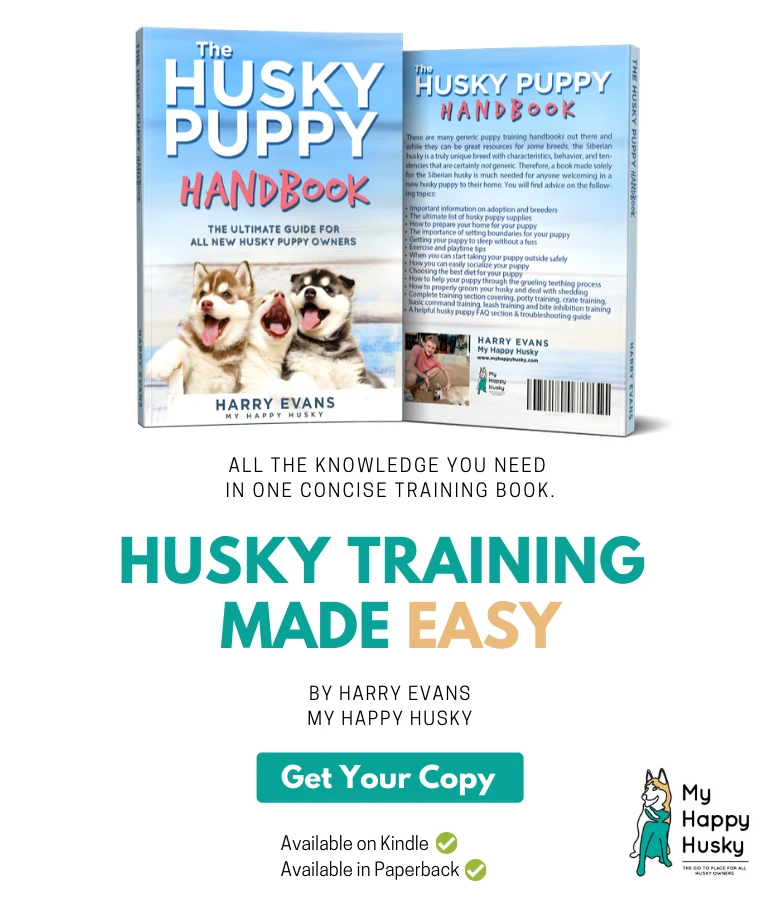 Disclaimer
The advice given in this article is for educational purposes only and does not constitute professional advice in any context. Before making any decisions that may affect the health and/or safety of your dog, you should always consult a trained veterinarian in your local area. For the FULL disclaimer Visit Here
Copyright Notice: The content produced and published on My Happy Husky is unique and original. My Happy Husky makes an active effort to search for plagiarized content using plagiarism detection software. If plagiarized content is found, action will be taken.