Having a comfortable bed for your husky is essential.
With huskies being so active throughout the day, they must get the best sleep possible to recover fully each and every day.
Not only that, but sleep quality, in general, can impact their health significantly over the course of many years.
The FOUR Best Dog Beds for a Husky
Below you'll find a quick comparison chart with the best beds, after this, I will go into further depth reviewing each one!
| Rank | Bed | Suitability | Price |
| --- | --- | --- | --- |
| 1 | Frisco Textured Plush Orthopedic Bolster Dog Bed. | Best All-Rounder | $$ |
| 2 | PetFusion Ultimate Lounge Orthopedic Bolster Dog Bed. | Best For Chewers | $$$ |
| 3 | Frisco Tufted Pillow Dog Bed. | Best For Sprawlers | $$ |
| 4 | Coolaroo Elevated Cooling Bed. | Best Cooling Bed | $ |
What Type of Bed Does YOUR Husky Need?
The reason I put emphasis on your husky is that all huskies like to sleep differently. In fact, huskies are a breed known for sleeping in super weird positions!
If you have a more civilized husky that sleeps on his side with his four legs out from his body, like most dogs, then you can choose a normal, square-shaped bed.
But if your husky always sleeps curled up in a circular position, you may want to opt for a bolster bed that supports this style and will help him feel secure and comfortable.
But more important than the shape are the materials used.
Ideally, the bed is made to be comfortable and this can be done in two ways, either by using soft forgiving material or by the actual design of the bed. As well as being comfortable it needs to be durable! It's no good opting for a luxury bed if your husky rips it to shreds within a week.
Fortunately, I have taken all of this into consideration and have provided the following example that meets the quality standards.
What else to look for in a good dog bed?
There are a few basic things to keep in mind:
Comfort
Durability
Washability
Ventilation
As well as having a bed for sleeping and napping, you may be interested in a cooling bed as well. Cooling beds are particularly popular with huskies, so I will be covering this too.
Despite huskies being "made for the snow", they are actually excellent at adapting to hotter climates. But this doesn't mean we can't give them a helping hand. Cooling beds will be covered last.

1. Frisco Textured Plush Orthopedic Bolster Dog Bed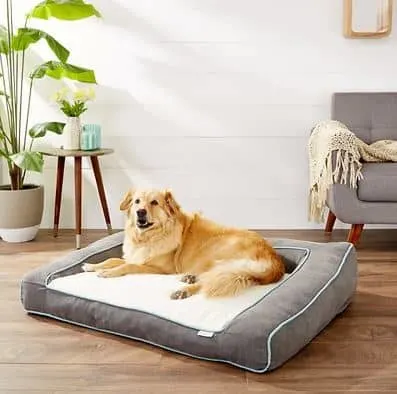 My overall winner has to go to the Frisco Textured Plush Ortho Bolster Bed. It checks all most of the important boxes.
This bed has an excellent design. What I like in particular is that it has good supportive walls around the back and down the sides. But you'll notice as the sidewalls get to the entrance, they're angled down flat. This makes it perfect for your husky to spray his legs out without the walls getting in his way.
The inside of the bed is stuffed with shredded foam which provides orthopedic level support, perfect to keep your husky comfortable when laying down for prolonged periods.
The only negative for this bed will be that the material has not been specifically made to be chew-resistant. Now, if your husky is slightly older and doesn't chew as much. This bed is perfect. If your husky is younger and still has a tendency to chew, check out the next bed.

Key features:
Orthopedic support
Excellent design
Perfect for most sleeping positions
Removable and washable covers
With outstanding reviews and a reasonable price tag, I strongly recommend this option. You can check it out here on Chewy.com
Most Recommended For Huskies!
These are best three products I recommend for all husky owners. Two excellent brushes (all you need for a beautiful coat) and the healthiest, low-calorie treats that won't cause fussy eating or upset stomachs.
⭐ FURminator Undercoat Rake (best for shedding)
⭐ Hertzko Slicker Brush (best for topcoat)
⭐ Zukes Mini Naturals Low Calorie Treats (best treats)
All tried and tested by thousands of My Happy Husky readers.
---
---
2. PetFusion Ultimate Lounge Orthopedic Bolster Dog Bed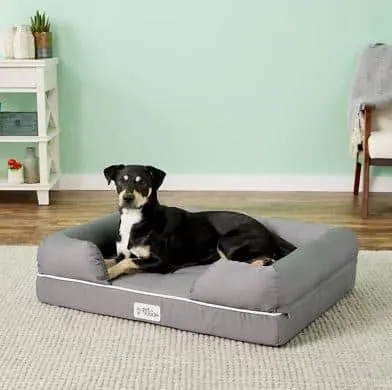 If your husky is a chewer, this material will be more suitable. Although it's very hard to find a completely chew-resistant bed, this one is made with more polyester, making it far less rippable than many other options out there.
If the damage is still a big issue with your husky, you may also consider laying a protective blanket over the bed.
This bed from Pet Fusion provides orthopedic level support and has bolsters all around. If your husky tends to sleep laying curled up, this may prove to be a better style for him and the bolsters will help keep his body contained yet comfortable.
Key Features:
Polyester outer lining for a more durable bed
Removable and washable covers
Otherpedic support
Bolsters all around keeping your husky secure and cosy
This bed has even better reviews than the previous bed, but it does come with a steeper price tag. You can check it out here on Chewy.com
---
3. Frisco Tufted Pillow Dog Bed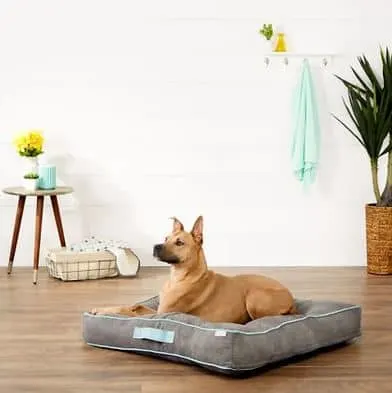 Frisco has another great option with a different style. If you prefer to get your husky a bed without bolsters, then this is absolutely the best bang for your buck.
This bed comes in one size (and it's rather large) which will be perfect as your husky's main sleeping bed.
It is not an orthopedic style bed, but it's still extremely soft and comfortable. The inside padding consists of a fluffy polyester fiber filling and the outside cover is removable and machine washable.
Key Features:
Large and flat, perfect for the sprawlers
Comfortable and soft
Easy to get on and off
Covers are removable and machine washable
Very reasonable price!
This option is highly reviewed and 91% of customers who bought it would recommend it to another pet owner. You can check it out here on Chewy.com
---
4. Coolaroo Elevated Cooling Bed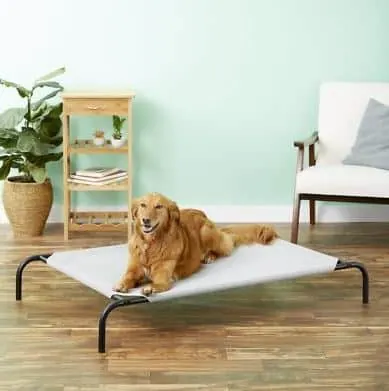 Finally, we come to the cooling bed! This is an awesome, simple cooling bed from Coolaroo. The bed is made from a unique material that's both breathable and strong. This material allows for airflow all around your husky's body, so now he can lay and cool down much more efficiently.
The bed is supported all around by a strong steel frame. The overall bed is lightweight and easy to move around your house or place outside.
Not only has this received excellent reviews, but it's the cheapest bed out of the four! It's a must if you live in a hot state or country.
Key features:
Breathable material with elevation allows your husky to cool down with ease
Material is flea, mite, mold, and mildew resistant.
The steel frame is strong, sturdy and lightweight
The material is easy to clean
Excellent reviews
Very fairly priced
I strongly recommend checking out this option and you may find it appropriate to get this bed alongside a normal sleeping bed. You can check it out here on Chewy.com
FAQ's | Huskies & Dog Beds
Let's run through some of the most frequently asked questions about dog beds and huskies.
Does my husky actually need a bed?
It is recommended by veterinarians that all dogs have their own dog bed. Although many people may say that it's not needed. There are many good reasons for getting one. Yes, technically dogs can just lay down anywhere and sleep, but the quality of sleep will not be the same as sleeping on an actual bed, especially one with orthopedic support. Over many years of your husky's life, sleeping on proper support will likely keep his bones and joints healthier. Plus, having his own bed will help him to feel safe and secure and it's a place for him to go whenever he feels like he needs to.

Do dogs need orthopedic support?

Not all dogs need orthopedic support and some will be just fine with a regular dog bed. However, many of the dog beds made now provide orthopedic support for a reason, and that's because so many dogs suffer from joint issues at different stages of their life. Huskies being one of them. For a husky, I would personally opt for orthopedic support. It may just be the difference between health issues further down the line.

What do I do if I want to buy a nice dog bed but my husky chews everything?

Excellent question. Nice dog beds tend to cost a few extra dollars, so of course, you want to try and keep it in good condition. But what should you do when your husky is a maniac chewer. Well, training against chewing things he shouldn't be is achievable, but it takes time. Not only that, but his own bed, is a hard difference for him to understand, because his bed, is essentially his, so chewing it will seem appropriate to him for a long time. For now, I would not opt for an expensive bed, I would get a cheaper one that uses a polyester-based material as a removable cover. Using a removable cover will hopefully save the actual bed getting destroyed, and polyester has some level of durability. Until your husky is a little older or less chewy, I wouldn't opt for an expensive bed. This behavior can take a while to overcome. Check out the article linked just above, it's exactly the method to train against bed chewing.

What's better, an elevated cooling bed, or one of those cool gel mats?
I'm glad you asked! I used to really like the pressure activated cool gel mat from The Green Pet Shop, and I still think it's an awesome product. But, because of the price tag, and the fact that elevated dog beds work just as well, I now think elevated cooling beds are a better first choice. They are cheaper, more simple, and just as efficient at cooling down your husky.
Summary
So there you have it, four excellent choices. Out of the four beds recommended above, you can't go wrong. These beds have all received excellent reviews and I strongly advise checking them out. If you have some advice on dog beds, please comment below!
Most Recommended For Huskies 🐶
Best Brushes For Husky Shedding ⭐
My two favorite brushes for a beautiful coat are a simple Undercoat Rake and a Slicker Brush. These brushes when used together will de-shed and maintain your husky's coat better than anything else.
Best Online Training Program For Huskies⭐
Brain Training For Dogs has become increasingly popular with Siberian Huskies in the last few years. It's now recognized as perhaps the best way to train a husky in the most stress-free, positive way.
Best Husky Puppy Book ⭐
If you would like to support My Happy Husky directly and have an easy to read and entertaining guide for training your husky puppy, check out my book The Husky Puppy Handbook on Amazon. All purchases are greatly appreciated.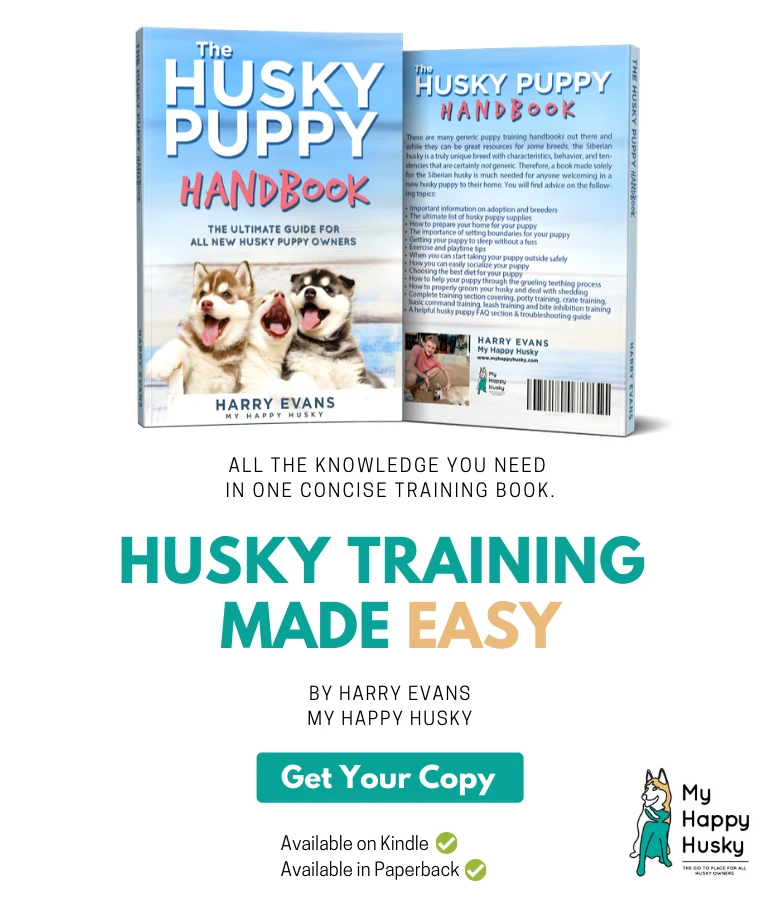 Disclaimer
The advice given in this article is for educational purposes only and does not constitute professional advice in any context. Before making any decisions that may affect the health and/or safety of your dog, you should always consult a trained veterinarian in your local area. For the FULL disclaimer Visit Here
Copyright Notice: The content produced and published on My Happy Husky is unique and original. My Happy Husky makes an active effort to search for plagiarized content using plagiarism detection software. If plagiarized content is found, action will be taken.