Huskies are known for having sensitive stomachs which can make finding a diet that works well for them quite challenging.
If your husky has a sensitive stomach or demonstrates eating issues, this article will be of help.
So, what's the best food for a husky with an upset stomach? Here's our list of recommended dog food for sensitive stomachs. I'll explain each one and much more below.
Nulo Freestyle Grain-Free Dog Food
Merrick Grain-Free Salmon & Sweet Potato Dog Food
Purina Pro Plan Focus Sensitive Skin and Stomach Dry Dog Food
American Journey Grain-Free Dry Dog Food Salmon & Sweet Potato Recipe
What's Considered a Sensitive Stomach?
Does your husky have any of the following symptoms?
● Frequent vomiting or being unable to keep his food down
● Having consistently loose stools
● Excessive gas
● Not eating for long periods of time
● Fussiness
● General food refusal
● Unusual behavior after eating
These are common symptoms of a husky dealing with a sensitive stomach. However, owners should monitor how frequent these symptoms are, as it's entirely possible they may just happen once, in that case, it could just be a random blip. This happens quite a bit!
Health issues:
These symptoms can of course apply to many underlying health conditions. Ultimately, if your husky shows multiple signs that something just isn't right, please don't hesitate in speaking with your vet.
If your husky isn't eating but you think his stomach IS fine, check out my other post that covers this topic in-depth: why your husky isn't eating.
Causes Of Sensitive Stomachs In Huskies
Huskies, in particular, have "soft" stomachs. As a result, they tend to be very fussy with what they eat and never have a big appetite.
Huskies have a great ability to know when the food they're eating isn't good for them, and they won't eat anymore.
With so much low-quality dog food out there, this can be a regular occurrence if you're opting for the wrong brands.
Your husky should be on a simple and consistent diet…
There's A LOT of talk about huskies being on raw food diets, and perhaps this is a good option once you have had your husky for some time and he doesn't currently have any stomach issues. However, if his stomach is sensitive, it's best to stick to kibble for now.
While I personally believe that the raw food diet is a healthier overall diet for a Siberian husky, It's also very tough to get right (not to mention painfully expensive).
The raw food diet involves a fair amount of trial and error, and this isn't something you want to do when your husky already has an upset stomach.
The Do's & Don'ts For Huskies With Upset Stomachs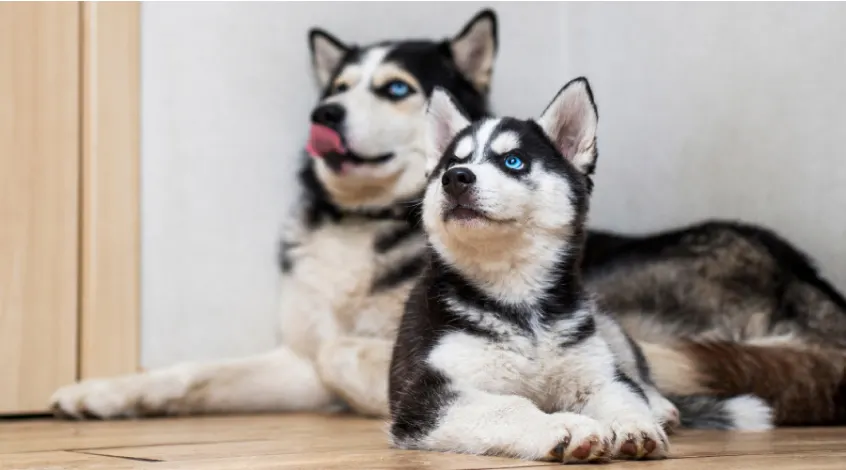 It's important to follow some basic "husky stomach rules" to ensure you are not contributing to any stomach issues.
The Do's
● Use only a high-quality and TRUSTED dog food brand
● Keep his diet simple and consistent
● Give your husky the proper exercise that he requires
● Create a set routine for his feeding times
● Keep bins and garbage trash cans inaccessible at all times
The Dont's
● Don't feed your husky table scraps
● Try not to leave your husky alone for long periods (this can cause different types of anxiety and the added stress could cause stomach issues)
● Don't let your husky eat a lot of grass if his stomach is already sick
● Don't leave your husky in hot areas of your home or outside without shade or plenty of water.
Most Recommended For Huskies!
These are best three products I recommend for all husky owners. Two excellent brushes (all you need for a beautiful coat) and the healthiest, low-calorie treats that won't cause fussy eating or upset stomachs.
⭐ FURminator Undercoat Rake (best for shedding)
⭐ Hertzko Slicker Brush (best for topcoat)
⭐ Zukes Mini Naturals Low Calorie Treats (best treats)
All tried and tested by thousands of My Happy Husky readers.
---
Easy Food For Your Husky To Digest
The type of dog food that your husky can digest the easiest will have limited ingredients, most of which should be natural.
By keeping the number of ingredients low, the digestive system doesn't need to work as hard after each mealtime.
Usually, huskies should have a diet with high protein, medium to high fat, and low carbohydrates.
But, considering fat is the most difficult to digest, it's a good idea to lower fat consumption to take the excess strain off the digestive system.
After your husky regains some strength and balance in his stomach, try to increase the fats and lower the carbs (all at a very slow pace!).
A good amount of fiber, vitamins, and minerals will help aid digestion. Vitamins such as Vitamin A, C, and E and minerals like selenium and beta carotene, in particular, will help keep the stomach healthy and aid digestion. Source PetMD
The Best Food For a Husky With a Sensitive Stomach
The foods we recommend below have all been approved by the Dog Food Advisor. It's worth checking the Dog Food Advisors Recalled Dog Food List every now and then. This ensures you aren't using a kibble that's had a recall. (and there are a lot!)
These recommendations have been carefully selected based upon the most important factor… Real reviews from pet owners that actually have dogs with sensitive stomachs.
As well as the approval from the Dog Food Advisor. These are the best foods for a husky with a sensitive stomach.
1. Nulo Freestyle Grain-Free Dog Food
Dog Food Advisor 5 Star Rated.
Nulo offers 100% all-natural grain-free dry dog food that avoids using chicken or eggs, which most dogs do not digest well. They promise no corn, wheat, gluten, soy, or artificial preservatives, colors, or flavors.
This particular brand keeps the ingredients to a minimum and has a good ratio of protein, carbohydrates, and fat. A great point to make about this brand is that 85% of the protein is coming from real meat like lamb, salmon, and turkey.
Check out what other dog owners have to say about this dog food by visiting the Amazon reviews section
2. Merrick Grain-Free Salmon & Sweet Potato Dog Food
Dog Food Advisor 5 Star Rated.
Merrick offers high-quality dog food tailored for dogs that have sensitive stomachs. They use locally sourced farmers to ensure the best quality of meat and vegetables go into their food. In addition, all of their meat is USDA inspected before being used in their products.
Their food is extremely nutritious and packed with vitamins, minerals, and antioxidants from ingredients like blueberries.
As well as receiving 5 stars from the Dog Food Advisors website, hundreds of dog owners have great things to say. Check it out by visiting the Amazon Reviews Section.
3. Purina Pro Plan Focus Sensitive Skin and Stomach Dry Dog Food
Dog Food Advisor 5 Star Rated
This is one of the most positively reviewed dog foods online. It is specifically designed for sensitive dogs.
One great benefit of this dog food is that it has prebiotic fiber that helps the digestive system work incredibly well, as well as nourishing the good bacteria found in your husky's intestine.
The primary source of protein comes from nutrient-rich salmon.
Again, it's good to avoid chicken, beef, or eggs as these are common allergens. The main source of carbohydrates comes from oatmeal which is easy digesting for your husky's sensitive stomach.
Purina's dog food also contains essential Omega-6 fatty acids, linoleic acid, and vitamins and minerals like Vitamin A.
See what other owners have to say about this dog food by visiting the Amazon Reviews Section.
4. American Journey Grain-Free Dry Dog Food Salmon & Sweet Potato Recipe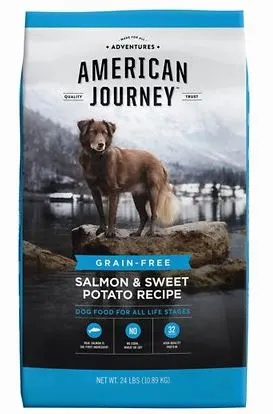 Similar to the Purina recommendation above, American Journey uses real deboned salmon as the main source of protein instead of chicken, beef, or eggs.
The salmon oil and flaxseed provide essential Omega 3 and Omega 6 fatty acids which help brain and eye development as well as keeping your husky's coat healthy.
They stay away from things like corn, wheat, soy, and Gluten and instead use easy-digesting fiber-rich sweet potato and chickpeas as the main source of carbohydrates.
Read what other dog owners have said about this dog food by visiting the review section on Chewy. These are real customers with unbiased, honest reviews
Related Article: Best Overall Foods For a Husky
Switching Over Your Husky's Food Without Irritating Their Stomach
If you have decided it's time to change your husky's food, it's important to do this carefully and slowly.
It's not a good idea to switch foods instantly without any graduation.
This could cause serious discomfort and problems for your husky's already sick stomach.
Professional vets recommend that you follow this ratio rule. Of course, if you want to go slower, that's even better.
| Day | Old Food % | New Food % |
| --- | --- | --- |
| 1st Day | 90% | 10% |
| 2nd Day | 80% | 20% |
| 3rd Day | 70% | 30% |
| 4th Day | 50% | 50% |
| 5th Day | 50% | 50% |
| 6th Day | 30% | 70% |
| 7th Day | 10% | 90% |
| 8th Day | 0% | 100% |
Feel free to share this table on your site or with friends, just link back to this article for reference.
Human Grade Dog Food For Huskies With Soft Stomachs
Most owners know of the two main diets for dogs: kibble and the raw food diet. But there's a popular third option, which is using human-grade dog food.
From the people I know trying this with their husky, it's working great for them.
Human-grade dog food kind of falls in the middle of store-bought kibble and the raw food diet. It's more expensive than kibble but still less expensive than the cost of a raw food diet.
I highly recommend having a quick look at an article I have reviewing Pet Plate, one of the leading companies offering human-grade dog food. They have an interesting story. The article is here Pet Plate for Huskies.
Last Thoughts
Always be aware of your husky's eating habits so you can easily identify when your fluffy friend may be ill. Remember to do your own research and find out what other husky owners say about this topic.
So there we have it, what's the best food for a husky with a sensitive stomach? The best food will be one with limited ingredients, formulated for sensitive stomachs, and won't contain common allergens
Thank you for reading! I hope this article has helped you understand your husky's sensitive stomach better. If you have a husky with a sensitive stomach, let me know how it's going!
Trending article: How much to feed a husky puppy?
Most Recommended For Huskies
Best Brushes For Husky Shedding
My two favorite brushes for a beautiful coat are a simple Undercoat Rake and a Slicker Brush. These brushes when used together will de-shed and maintain your husky's coat better than anything else.
Best Online Training Program For Huskies
Brain Training For Dogs has become very popular with Siberian Huskies in the last few years. Owners that have tried it say amazing things about the incredible results and how easily implemented the training is.
Best Husky Puppy Book
If you would like to support My Happy Husky directly and have an easy to read and entertaining guide for training your husky puppy, check out my book The Husky Puppy Handbook on Amazon. All purchases are greatly appreciated.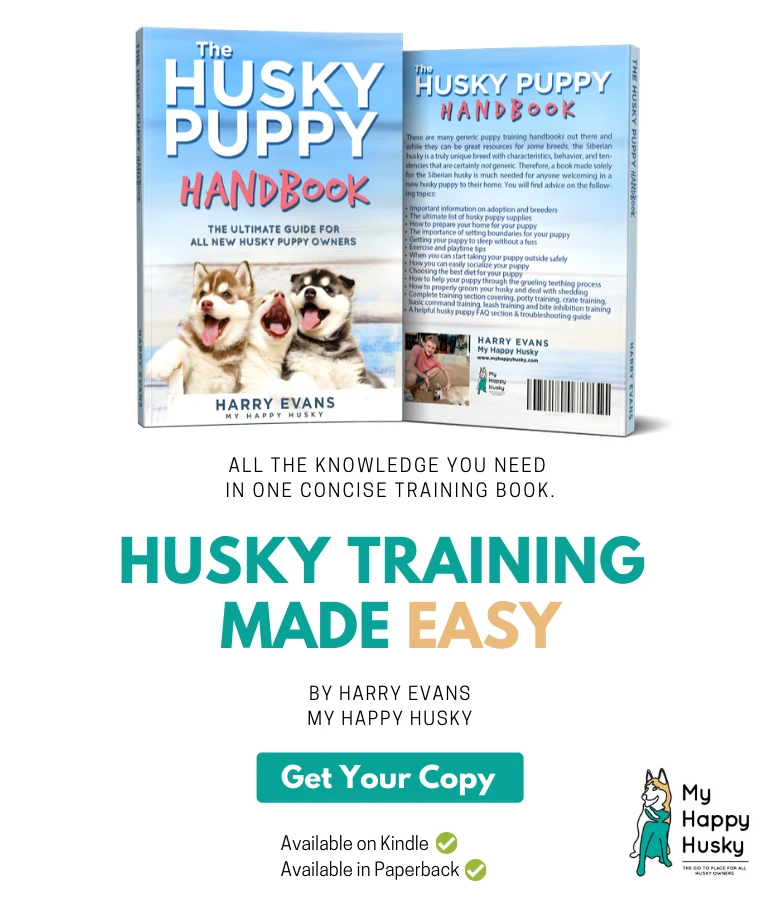 Disclaimer
The advice given in this article is for educational purposes only and does not constitute professional advice in any context. Before making any decisions that may affect the health and/or safety of your dog, you should always consult a trained veterinarian in your local area. For the FULL disclaimer Visit Here
Copyright Notice: The content produced and published on My Happy Husky is unique and original. My Happy Husky makes an active effort to search for plagiarized content using plagiarism detection software. If plagiarized content is found, action will be taken.