Using a harness you can rely on is crucial for both you and your husky's safety.
Thankfully, here at My Happy Husky, we've tested A LOT of harnesses with huskies, so we know what does and doesn't work.
This article lists the safest harnesses ideal for strong dogs like huskies.
Best Harnesses Available For Huskies:
Kurgo Tru-Fit Harness (Best Overall)
8 Best Harnesses For Huskies (Updated)
Take a look at the best harnesses for huskies with reviews and where you can purchase them.
What Makes a Good Harness For a Husky?
All harnesses are made differently. To help you decide the most appropriate harness you need to look at the size, material, padding, and design.
1.
Size
The Siberian Husky can vary in size depending on age and gender but most will stick to the usual measurements.
The husky is a medium to large size dog with the following average measurements: Neck 16″ – 22″ – Chest 26″ – 32″ These are guidelines and your husky may have a different size.
Take the measurement around the neck and chest, as this is where it matters for the fit of the harness. Each harness will have their own size chart so compare this to your husky's actual measurements. measurement source
Due to your husky's size and strength, it is recommended that the width of the material used on the harness is at least 1inch. If it is less than this, it may be too thin and dig into him if he pulls. Too much pulling could cause him or you injury.
2.
Material
The usual material for dog harnesses is Nylon. This is fine, IF your husky doesn't have a skin allergy irritated by nylon, if this is the case, a leather harness is the best alternative.
Nylon is strong and can have a water-resistant coating. You can get different grades of Nylon, some being stronger, weaker, harder, or softer.
In my experience, plastic buckles can be chewed through; although this isn't always the case, it certainly seems to happen often. Try to opt for heavy-duty metal buckles as these will always be more secure and last longer.
You can also find dog harnesses that use Nylon reflective stitching throughout the harness. This is a helpful safety feature that will keep your husky visible in darker areas.
3.
Padding
When it comes to padding, nothing beats military-grade dog harnesses, they have excellent padding and wide support designs providing maximum comfort for strong dogs.
For huskies, it's not recommended to use a harness that does not have wide support material. The small width of the harness straps could dig in too much if there isn't any extra support for the chest. For small dogs, this usually fine, but for bigger and stronger dogs, padding is necessary.
5.
Features
Extra features such as velcro straps, heavy-duty buckles, reflector strips, and also side pockets are all things to look out for.
Extra features contribute to a better harness with more functionality for your husky.
One feature I like the most is the ability to adjust the harness in multiple places. This ensures a tight fit all round instead of just from one side. Not all harnesses have this so it's definitely something to look out for.
Most Recommended For Huskies!
These are best three products I recommend for all husky owners. Two excellent brushes (all you need for a beautiful coat) and the healthiest, low-calorie treats that won't cause fussy eating or upset stomachs.
⭐ FURminator Undercoat Rake (best for shedding)
⭐ Hertzko Slicker Brush (best for topcoat)
⭐ Zukes Mini Naturals Low Calorie Treats (best treats)
All tried and tested by thousands of My Happy Husky readers.
---
The Kurgo Tru-Fit Smart Harness is the best overall harness for a husky.
The Kurgo Tru-Fit Harness was made with car travel in mind. However, since it's such a well-made harness it's now become an all-around favorite for everyday use.
This harness is compatible with any car seat belt system and has been crash-tested up to 75lbs, Not only does it have these additional car safety features but it also comes with the other great essentials, like a steel buckle system, based off the same engineering that rock climbers use.
This harness boasts five adjustment points for maximum adjustability. An all-round great harness with thousands of positive reviews. You can check the latest prices and reviews on Amazon.
According to the size measurements and reviews. An adult husky 45lbs-60lbs will likely need a large. Checking reviews may help you gauge the size you require.
● PROS
1. Car seat belt safety feature
2. 5 adjustment points
3. Steel buckle system
4. Front D-Ring
5. Large padding to protect neck and trachea
● CONS
1. A little pricey
Chai's Choice 3M Reflective Dog Harness is our runner up ✔️
Chai's Choice is one of the highest-reviewed harnesses on Amazon, receiving thousands of positive reviews, this should definitely be one to consider.
Chai's Choice uses premium 3M reflective material that's not just extremely strong but will keep your husky safe in low-light situations.
I particularly like the soft padded mesh that comes around the belly area, this makes the harness very comfortable for your husky at all times. You can check out the latest reviews in the Amazon Reviews section here.
● PROS
1. Strong, durable 3M material
2. Reflective material
3. Back handle
4. Metal front ring
● CONS
1. Plastic buckles could be weak
The ICEFANG harness is a military-style option that is unrivaled in its strength. The material used throughout the harness is 1000D Nylon with Water Resistant Coating ensuring it lasts a long time.
There are plastic buckles on the side but due to their position they avoid much of the load when pulling, but still, they have been load tested to at least 250lbs.
You can see the latest prices and reviews by checking the Amazon reviews section here.
● PROS
1. Load tested clips and buckles
2. Water Resistant Coated Nylon
3. Wide ventilated padding
4. No pull design
5. Velcro patches for additional equipment and pouches
● CONS
1. Higher price
2. Some reports of the stitching fraying
The Rabbitgoo No Pull Dog Harness is one of the highest-reviewed harnesses on Amazon. This Rabbitgoo has 4 adjustable straps, two for the neck, and two for the chest.
This amount of adjustability ensures a great fit even if your husky is a little larger or smaller than you thought. It has wide support around the chest and neck area making sure that your husky is safe, even while pulling.
It also features bright reflective straps to increase visibility during the evening or night. You can see the latest prices and reviews by checking the Amazon Reviews' Section here.
● PROS
1. No pull design
2. Metal clips
3. Multiple adjustment features
4. Padding
5. Reflective straps
● CONS
1. Reports of the strap breaking due to stitching (could be defective batch)
2. Plastic buckle could be brittle
This is one of the cheaper options from Amazon but don't be fooled by its low price! It has over 2000 positive reviews and is a great option. It is made with premium Oxford nylon throughout with a sturdy metal D ring in the front.
It has strong reflective straps, adjustable fasteners for ideal fitting and an additional back handle for holding.
Despite having a lot of great reviews, it does use plastic buckles throughout. You can read the reviews of this inexpensive dog harness by visiting Amazon reviews section here.
● PROS
1. Very inexpensive
2. Premium Oxford Nylon
3. Metal D-Ring
4. Strong handle on the back
5. Good adjustability
● CONS
1. Potential issues with a plastic clip not being strong enough
This Winsee harness provides 2 metal D-rings on the front and back for multiple attachment options. This enables you to change where the leash is attached to the harness; the front spots allow you to have more control and stop your husky pulling altogether.
The nylon fabric used is military-grade 1680D Oxford Fabric. If this is strong enough to be used for flak jackets in the military, I'm sure it's strong enough for a dog harness!
It has my favorite feature of multiple adjustable straps to ensure a perfect fit.
It uses breathable padding which does a great job keeping your husky cool, it also happens to be very wide, therefore increasing its comfort. You can see the latest price and reviews by visiting the Amazon Reviews section here.
● PROS
1. Military-grade nylon
2. Metal D-rings (front and back)
3. Multiple adjustment straps
4. Big reflector straps
5. Wide support
6. Breathable materials
● CONS
1. Reports of being awkward to put on.
PoyPet has upgraded their last dog harness to make it even better. Despite having plastic buckles, this harness is definitely one I would consider.
Instead of using straps, it uses 4 adjustable buckles, this is considerably easier to adjust than straps. You'll be sure to get a quality fit by using the buckles.
It uses soft, breathable material with reinforced webbing for comfort and safety.
It features a front metal D ring for a no-pull leash attachment option. Despite the plastic buckles, this has made it to the list of the best harnesses for your husky! You can see the latest prices and reviews from the Amazon review section here.
● PROS
1. 3 clipping buckles, one is lockable for safety.
2. 3M reflective material
3. Front and back metal rings
4. Soft Mesh Lining
5. Padded back handle
● CONS
1. Some reports of stitching coming loose (from the reviews section)
This is a pulling harness that gives you the option to walk your husky from your hips! Don't worry though, you can still use the harness normally as well.
This canine equipment dog harness is a beast! It has huge padding and cushioning not only to make it extremely strong but also comfortable, no matter how hard your husky pulls.
It has 3 stainless steel D-rings and rock lobster buckles. It also has reflective points and a back handle. This is a true super harness. You can view the latest price and reviews by checking the Amazon reviews section here.

● PROS
1. Amazing padding and support
2. 3 stainless steel D-rings
3. Strong rock lobster buckles
4. Reflective strips
5. Adjustable for a great fit

● CONS
1. Expensive
Benefits of a harness for your husky
There are many health and safety benefits that both you and your husky gain from using a harness.
1.
You have much better control
If you need to walk your husky by a busy road or anywhere they need to be on a leash, then you have to be physically ready to hold back your husky in any situation. Using a harness will make it harder for your husky to get pulling power and allow you to have greater control.
2.
Reduce injuries for your husky
Your husky can seriously injure himself with one powerful pull whilst wearing a collar. One of the most common injuries is fracturing of the neck, this is a serious injury and will cause your husky severe pain.
Neck strain is common with collars and very uncomfortable for your husky. The main issue with neck strain is that it can go undetected until it's already developed into something more serious.
Trachea issues are also very common, this is when the windpipe gets squeezed too much whilst pulling and wearing a collar. In times of intense pulling, there is a risk of is of Trachea collapse which will result in an emergency vet care visit.
3.
Reduce injuries for yourself
If you don't already have an injured shoulder, neck, or wrist from your husky pulling, then you're lucky! Using a harness will put far less strain on your joints as the pulling power will be taken away from your husky.
4.
Training capability improves
Using a harness isn't just for going for walks, you can use one inside your home or yard whilst training your husky, it will help you be in control, more productive, and will speed up the success of your husky's training.
Training a husky is best done while they are a puppy. I have a full article on how to leash train a husky puppy that you may find helpful.
This is original content produced and published by My Happy Husky | www.myhappyhusky.com
Something Important to Remember
I recommend checking reviews first before making a purchase. The great thing about Amazon is that you can do a search within the reviews. For the harnesses that have thousands of reviews, you can make a search for "husky" and it will show you all of the reviews from dog owners who have a husky.
But remember, there will always be bad reviews… even for the best harnesses.
Some people may receive a bad batch, or just get unlucky. For every harness, there is usually at least one person who will find that their dog has chewed right through it or the stitching has frayed, or the plastic buckle snapped.
Thank you for reading!
Most Recommended For Huskies
Best Brushes For Husky Shedding
The Furminator Undercoat Rake and a Hertzko Slicker Brush are by far the two best brushes that any husky owner should use.
Best Online Training Program For Huskies
Brain Training For Dogs has become increasingly popular with Siberian Huskies in the last few years. It's now recognized as perhaps the best way to train a husky in the most stress-free, positive way.
Best Husky Puppy Book
If you would like an easy to read guide for training your husky puppy, check out my book The Husky Puppy Handbook on Amazon. All purchases are greatly appreciated.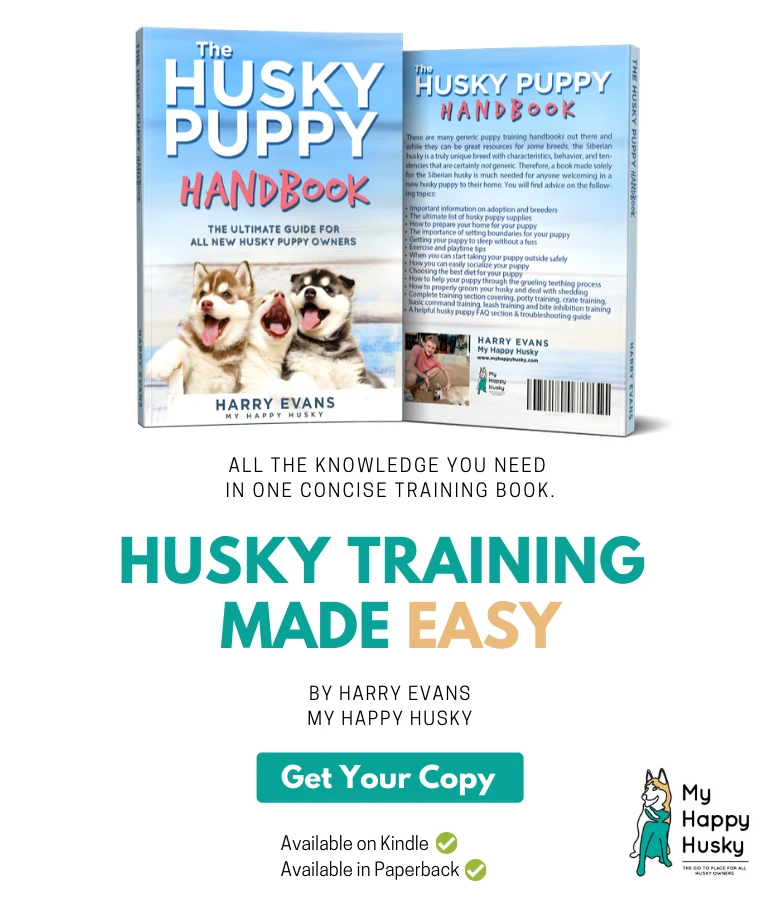 Disclaimer
The advice given in this article is for educational purposes only and does not constitute professional advice in any context. Before making any decisions that may affect the health and/or safety of your dog, you should always consult a trained veterinarian in your local area. For the FULL disclaimer Visit Here
Copyright Notice: The content produced and published on My Happy Husky is unique and original. My Happy Husky makes an active effort to search for plagiarized content using plagiarism detection software. If plagiarized content is found, action will be taken.