It's crucial to use an appropriate shampoo when bathing your husky, which is easier said than done, considering how many terrible products are on the market!
This article covers 7 shampoos that will leave your husky smelling and feeling great.
Each shampoo I cover will have its own explanation, and I'll also cover what's bad and good within dog shampoos, before ending with some valuable bathing tips. The availability of shampoos may change depending on your location.
---
The 7 Best Shampoos For Huskies: Healthy & Safe
| Rank | 7 Best Shampoos for Huskies | Price |
| --- | --- | --- |
| #1 | 4Legger Certified Organic Natural Dog Shampoo | $$ |
| #2 | Wahl Natural Gentle Puppy Shampoo | $ |
| #3 | Earthbath All Natural Pet Shampoo | $ |
| #4 | Buddy's Best Hypoallergenic Natural Dog Shampoo | $$ |
| #5 | Honeydew Natural Lavender Oatmeal Shampoo | $$ |
| #6 | Buddy Wash Original Lavender & Mint | $ |
| #7 | Honeydew Natural Anti-Itch Dog Shampoo | $ |
Best all-round natural shampoo ✔️ Our Winner!
Our favorite shampoo has to be from 4Legger. This is a family-owned company that has topped the charts by having arguably the best organic and all-natural dog shampoo on the market. Pretty impressive.

Their formula is made from 100% natural biodegradable ingredients with no detergent, parabens, sulfates, preservatives, or any nasty chemicals.
Not only does their ingredient list have a clean sheet, but they've been completely USDA certified which means all of their shampoos meet human-grade food standards (not that you're going to eat it) but that goes to show the quality of their ingredients. Not many shampoo companies are able to pass USDA requirements.

Taking everything into account, this shampoo is incredibly gentle and perfect for sensitive skin. In fact, this shampoo is so mild that it's even our No.1 recommended choice for puppies. My Happy Husky approved.
Best for sensitive puppies ✔️
Our close second is from Wahl. The first thing you're going to notice about this shampoo is how affordable it is. But that doesn't mean it's inferior… Oh no.

Wahl has created a concentrated, plant-derived formula that builds up a thick lather from a very small amount of shampoo. A thick lather will help to ensure a deep soothing clean for your puppy's delicate skin.
This shampoo contains no harsh chemicals, parabens, alcohol, and is completely PEG-8o free. This formula is made for puppies so it's tear-free and incredibly mild. Despite being made for puppies, an adult husky can still use this shampoo too! The milder, the better.
Their formula is excellent for fixing dry skin issues due to the hydrating properties of aloe vera. The formula is Ph balanced to ensure a gentle clean, perfect for sensitive breeds, AKA huskies!

If you have more than multi-husky this will be an excellent option as it lasts such a long time! My Happy Husky approved.
Best for sensitive skin ✔️ Vet recommended
You've likely heard of Earthbath before as the brand has been around a while. Earthbath has maintained its position as one of the best shampoos for dogs due to its incredibly gentle chemical-free formula.
The well-tried formula is 100% biodegradable and doesn't contain anything that isn't natural. Exactly what we like to see!
You won't find any unnecessary fragrance being added to this shampoo. While most essential oils are added for fragrance, having fewer overall ingredients always means less chance of irritation. Leaving out the fragrance is a good move that many other brands don't often make.
Earthbath is a favorite amongst veterinarians and highly recommended for dogs and even puppies with dry skin, sensitive skin or that suffer from allergies.
My Happy Husky definitely recommends trying out Earthbath.
Most Recommended For Huskies!
These are best three products I recommend for all husky owners. Two excellent brushes (all you need for a beautiful coat) and the healthiest, low-calorie treats that won't cause fussy eating or upset stomachs.
⭐ FURminator Undercoat Rake (best for shedding)
⭐ Hertzko Slicker Brush (best for topcoat)
⭐ Zukes Mini Naturals Low Calorie Treats (best treats)
All tried and tested by thousands of My Happy Husky readers.
---
Best hypoallergenic formula for gentle cleansing ✔️
Buddy's Best has made a hypoallergenic formula that's gentle enough for your senior husky, as well as your husky puppy.

A blend of Shea butter, aloe vera and oatmeal soothes and moisturizes your husky's sensitive skin without irritation from harsh chemicals, alcohol, or soap.
The ingredients used are natural, vegan friendly, and result in a cruelty-free formula leaving your husky silky smooth without any tears in the process.
This is an up and coming brand but one My Happy Husky has identified to be a top-quality winner. Buddy's Best doesn't cram their product with harsh preservatives, parabens, or anything unnatural and that's extremely important to us, and for your husky.

If you're particularly interested in a silky smooth husky, try Buddy's Best.
Best for gentle, soothing & aromatic bathing ✔️
Pet Pleasant (Honeydew) has actually been My Happy Husky's no.1 recommendation since this website started. I've personally used this shampoo on adult huskies, husky puppies, and in fact many dogs, and not once did any of them have an issue with it.
This is down to the fact that the brand doesn't include harsh chemicals, it's paraben-free, soap-free, and the ingredients are natural.
It contains oatmeal and lavender essential oils that together soothe, moisturize, and deodorize your husky's skin and coat.
This formula is incredibly gentle and is recommended by veterinarians as an ideal shampoo for puppies as well as senior dogs.
Something I particularly liked about this shampoo was the lavender. Lavender is known to have a real calming effect and I definitely noticed this. Admittedly there's no way to measure how much this works, but I personally believed it helped every bathtime.
This shampoo is made in the USA and is 100% cruelty-free.
Best affordable, easy rinse formula ✔️
The natural coconut-based formula from Buddy Wash is designed to create a rich lather that will clean and wash off with ease. Removing the suds completely is always a very important part of bathing yet some shampoos make it really difficult if the formula doesn't rinse well. Buddy wash has you covered here.
The range of pure botanical ingredients means this isn't just a shampoo, but it also acts as a conditioner too. Lavender, green tea, aloe vera, and chamomile, in particular, are great at soothing and nourishing the skin and coat.
The shampoo is made with natural ingredients and doesn't contain any harsh chemicals, parabens, alcohol, or soap.
And buddy wash is remarkably affordable, with a much lower price tag than most other shampoos of such high quality.
Best for huskies with itchy skin ✔️
Our final pick goes again to Pet Pleasant (Honeydew). If you're not into lavender, then this is the next best option.
Their all-natural formula with colloidal oatmeal is specially made for dogs with dry itchy skin, or that suffer from allergies. This formula is designed to clean and renourish your husky's skin and coat, without further irritation.
This shampoo is considered to be of medical strength to ensure a deep clean, but you can rest assured, it doesn't contain any harsh chemicals, soap, parabens, alcohol and exceeds all GMP standards.

If your husky is suffering from itchy skin this should be one of your first choices.

Important Things to Know When Choosing a Quality Dog Shampoo
As there are so many different shampoos available to buy, it quickly becomes confusing as to what's important, and what isn't.
Let me run through exactly what you need to know when choosing your next husky shampoo. What to look out for, what's good, and what to avoid!
What To Avoid
Unfortunately, most shampoos out there put their effort and budget into selling to YOU, rather than creating a product that's actually healthy for your husky.
These brands may appear to be fancy and they may have the best-looking bottles and they'll often boast about their tropical fragrances. This is all to appeal to you, rather than help your furry friend.
It's important to look past these exterior features, turn the bottle over, and check out the ingredients.
Stay clear of shampoos that contain:
Chemicals
Parabens
Alcohol
Unnatural Sulfates (what makes the shampoo soapy)
Colorings
Unnatural Preservatives
Unnatural Fragrances
Why chemicals are bad
Chemicals in bad shampoos are added because of their cleansing abilities. The issue is that these harsh chemicals strip away the natural oils found on the surface of your husky's coat and skin.
This has two major negative effects…
1. It leaves the skin extremely dry and flaky, which leads to itchiness, sensitivity and it's extremely uncomfortable for your husky.
2. When a sudden loss of natural oil happens, the skin's natural reaction is to produce a lot more oil. You can think of it as an emergency response. The problem with this is that too much oil is always produced. This makes the coat dirty and SMELLY very quickly again after bathing. I'm sure you've heard of this complaint from other dog owners before… this is why that happens.
Chemicals to watch out for: Source
Propylene glycol
Sodium laureth sulfate (or any sulfates for that matter)
Phthalates
Parabens
Methylparaben
Formaldehyde
Cocamidopropyl Betaine
Isopropyl alcohol
Isopropyl (SD-40)
What to look for in a healthy & safe shampoo
Now you know exactly what to avoid, let's decode all of the positive aspects of top-quality dog shampoo.
Natural Ingredients
Natural ingredients are the best ingredients.
There are so many amazing health benefits from naturally occurring plants that we just don't need to use chemicals.
Brands that care about the health of your husky know this and use only natural ingredients within their product.
Ingredients such as Aloe Vera, Coconut, Chamomile, and Mint have their own beneficial purposes from soothing, rehydrating, cleansing, calming, and not to mention anti-inflammatory properties.
The other important point to mention about natural ingredients is their ability to clean without stripping the natural oils from your husky's coat or skin. A frequent issue dog owners mention is how "they have only just bathed their husky" and he already smells again. This is typical of using a shampoo that contains chemicals.
Why Oatmeal?
For hundreds, if not thousands of years, Oatmeal was actually known for its skincare properties, over its use as a food. Source
What's Colloidal Oatmeal? Colloidal oatmeal is simply whole oatmeal kernels that have been finely milled and ground up into a fine powder form. This is the oatmeal that's used for skincare product.
What science has shown:
It soothes and rehydrates skin
It restores the skins natural PH balance
It helps develop a natural lather
It reduces inflammation on the skin
So as you can see, it's practically a super ingredient with many healing properties. That's precisely why it's in MOST quality shampoos out there.
Concentrated Formulas
Formulas that are labeled as concentrated will go a long way when only using a little bit.
The clear benefit of this is not having to use a huge amount of formula just to build up a decent lather.
Regular shampoos will likely have a harder time penetrating the husky's thick double coat, whereas concentrated formulas will have the strength.
It's not the end of the world if the shampoo you want isn't concentrated, it just means you will have to use a little more each bath time to get a lather going.
Formulas Labelled Good for Puppies
When the shampoo is gentle and mild enough for it to be suitable for puppies, you're off to a good start.Most of the time, puppy-safe formulas automatically assume there are no harsh chemicals or ingredients that will irritate the delicate skin or coat of a young puppy. Of course, always check the label.
If it's for puppies, can my adult husky use it? Absolutely! it's only the other way around where you have to be more cautious.
The unfortunate reality is that huskies are generally a sensitive breed so it's important that we use gentle products. And puppy-friendly shampoos are an instant indication of a gentle product.

5 Tips on Bathing Your Husky
Let's run through some helpful pointers to help you make the most out of every bath time
1. Reach the skin
Yep, it seems obvious. But it's easy to think you're reaching the skin when in fact you aren't.
The thick double coat of a husky makes it somewhat hard for shampoo to penetrate (concentrated or not). Therefore, it's important you massage well, and use your fingers to reach down through the coat and ensure you contact the skin.
2. Use room temperature water
Water too warm or too cold will not be a pleasant experience for your husky and will create more resistance for the next time.
Room temperature water is preferred as warm or hot water will increase the chances of your husky's skin drying out afterward. It could also cause them to become too cold, when suddenly out of the warm water.
3. Use peanut butter as a distraction
I saw an AWESOME clip on youtube demonstrating the powerful use of peanut butter. All you need to do is smear some on the side of your tub, tile wall, or any surface where the suds will not run, and you'll have a stress-free bathing session to look forward to. I have an article about what peanut butter is safe to use, so definitely check that out.
4. Brush and check his coat before you start bathing
It's a really good idea to check his coat for tangles, mating, and other debris before you start bathing.
Plus, it always helps to give your husky a brush before bathing. This will help to remove any excess dead hair before getting wet and clumpy. You can also give him a brush after he's fully dried. The brush-bath-brush is a nice little combination that will help especially around shedding season.
5. Rinse, rinse, then rinse again
Everyone knows how important it is to rinse out the suds, but actually doing it is something different.
Excess suds left in the coat after bathing will contribute to skin irritation and a dirty husky, much quicker than you would like.
Just when you think you've rinsed out all the suds, do it another two times! You won't regret it and your husky will thank you with extra shakes!
Related Articles:
How often should you bathe your husky
Is the FURminator good for huskies?
Summary
So there you have it! You have our top 7 picks for the best shampoo for huskies as well as some important information about what makes shampoos good, and bad.
If you have any recommendations, feel free to contact me and I'll amend this post.
Most Recommended For Huskies 🐶
Best Brushes For Husky Shedding ⭐
These brushes when combined together will remove dead fur and maintain your husky's coat better than doing anything else! These brushes are a simple Undercoat Rake and a Slicker Brush.
Best Online Training Program For Huskies⭐
Brain Training For Dogs has become increasingly popular with Siberian Huskies in the last few years. It's now recognized as perhaps the best way to train a husky in the most stress-free, positive way.
Best Husky Puppy Book ⭐
If you would like to support My Happy Husky directly and have an easy to read and entertaining guide for training your husky puppy, check out my book The Husky Puppy Handbook on Amazon. All purchases are greatly appreciated.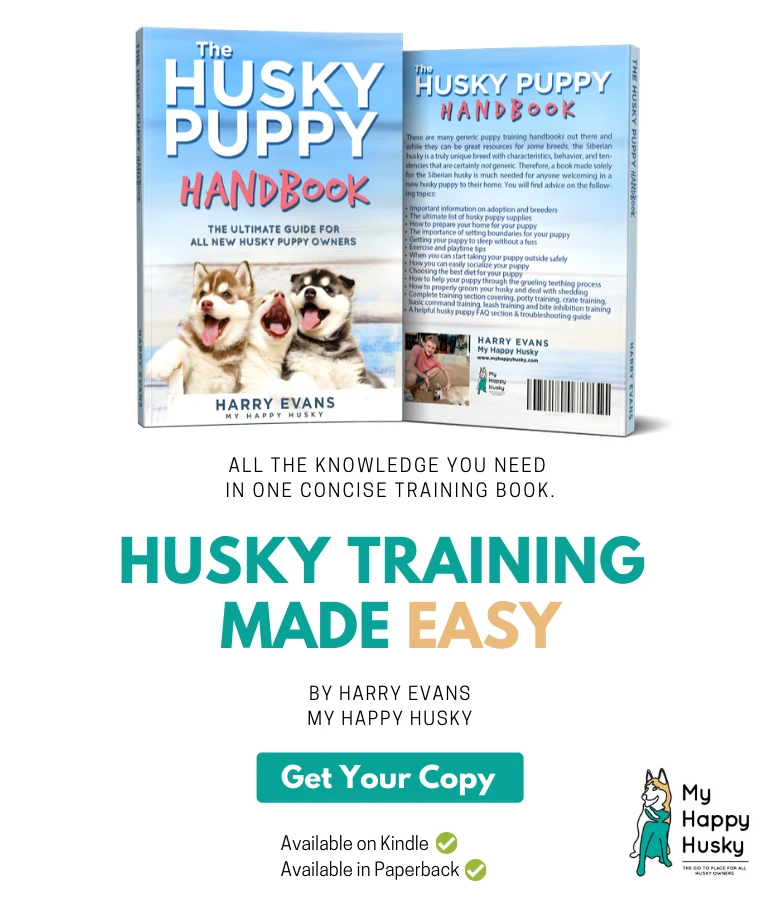 Disclaimer
The advice given in this article is for educational purposes only and does not constitute professional advice in any context. Before making any decisions that may affect the health and/or safety of your dog, you should always consult a trained veterinarian in your local area. For the FULL disclaimer Visit Here
Copyright Notice: The content produced and published on My Happy Husky is unique and original. My Happy Husky makes an active effort to search for plagiarized content using plagiarism detection software. If plagiarized content is found, action will be taken.