If you own a Siberian Husky, you're no stranger to Husky fur. Huskies don't just shed all the time, they also have two major shedding seasons right before the weather changes.
Taking care of their coat is a must, and we'll talk about that. But you'll for sure need a good vacuum to handle all that Husky hair.
This article will give you a breakdown of the best vacuums suitable for husky hair, that won't break the bank. And that's what we want to focus on! money. The world of pet vacuums can involve copious amounts of money. So the guide below keeps your budget in mind.
Best Vacuums For Husky Hair
1) BISSELL Cleanview Swivel Pet Upright Bagless Vacuum Cleaner
Bissell has created an awesome vacuum cleaner specially designed for pet hair. This is a well-made, lightweight sturdy vacuum cleaner with over 60 thousand positive Amazon reviews. (Check it out here on Amazon).
Key Features:
Triple action roll brush for thick husky hair
Lightweight and durable
Easy empty dirt bin for easy dirt removal
Swivel steering for easy maneuvering
Not as expensive as other pet vacuums
One of the great features of this vacuum is its triple-action roll brush which stops thick husky hair from clogging the brush as its spinning.
One more thing that can be frustrating with other vacuums is when the hair gets blown out from the sides, this vacuum has been designed with a scatter-free hair feature, so no husky hair is blown where it shouldn't be.
The machine can tilt sideways, making it easy to move around furniture. It also has some handy attachments for reaching those tight spots and corners.
Also, BISSELL actually has a pet foundation and for every vacuum purchased, they donate up to $10, pretty nice.
2) EUREKA PowerSpeed Powerful Upright Vacuum With Pet Turbo
Eureka has made a powerful lightweight vacuum that has a Pet Turbo feature for stubborn pet hair. This is a relatively new machine and is highly recommended by other pet owners on Amazon. (Check it out here on Amazon)

Key features:
Swivel steering makes maneuvering easy
Includes a pet turbo brush for thick husky hair
Five height adjustments for better cleaning
Multi-cyclone suction to catch 99.97% of dust and allergens, perfect for pet owners
This vacuum has a powerful multi-cyclone suction feature that enables the machine to pick up an impressive 99.97% of dust and allergens. This is important for all pet owners, as our pets do bring in extra dirt and unwanted bacteria. It's important the vacuum we have can deal with this.
One very impressive feature of this machine is that it has up to FIVE height adjustments. This ensures great contact with whatever floor you go over, without having to do it manually. Nice feature.
It also features the much-needed swivel head feature to make corning and moving around super easy.
3) BISSELL Cleanview Rewind Pet Bagless Vacuum Cleaner
Another reliable option is from BISSELL, this is similar to the other BISSELL and is specially designed with pet hair in mind. This vacuum currently has thousands of positive reviews. (Check it out here on Amazon)
Key Features:
Large capacity dirt tank and easy cleaning feature
Triple action brush roll for excellent pet hair pickup
Extra pet hair accessories
Automatic cord rewind
Multi-cyclone feature for powerful suction
Scatter free feature to reduce spreading dirt
This BISSELL features an extra-large capacity dirt tank, perfect for when your husky is going through their big shedding periods.
This vacuum also has a wide head for maximum pick up, as well as a multi-cyclone suction feature to ensure no loss of suction.
Not only is this machine designed for pet hair, but it also comes with extra pet hair accessories to make it as functional as possible.
The main difference between this one and the other BISSELL is that it does not feature the swivel head. If this isn't too much a big deal for you, this could be a great option.
4) Whall Cordless Vacuum Cleaner For Home & Pet
Whall has engineered an extremely powerful handheld vacuum cleaner that isn't just designed for pet hair but will work well for your whole house. It has thousands of positive Amazon reviews. (Check it out here on Amazon)
Key Features:
Extremely powerful and lightweight
Small body allowing for maximum movement
Built-in air filter purifies your home
Adjustable sizing
Bagless system for easy cleaning
If you're looking for a handheld option, this is the best vacuum to go for.
A great feature of this machine is it's a super lightweight and nimble frame. The actual body itself is so small you won't have any issues moving around your house, and getting into small places.
It has an extremely powerful motor that will pick up the thickest of husky hair. Its multi-use feature will allow you to take off the long hose and use a short mini handheld version, ideal for cleaning the dog's bed or whenever they leave the car.
This is a great option if you desire a handheld vacuum.
5) BISSELL Pet Hair Eraser Lithium-Ion Cordless Hand Vacuum
If you're looking for ultra lightweight you could opt for a simple hand vacuum. This hand vacuum packs a punch and has thousands of positive reviews on Amazon. (Check it out here on Amazon)
Key Features:
Large dirty bin capacity
Small
Lightweight
Multiple heads and accessories
Pet brush head included for dog hair
This option is not so heavy-duty as a regular vacuum cleaner but perhaps this is all you are looking for, in that case, this hand vacuum is one of the best for the great price that it is.

What matters when choosing a vacuum
Despite needing a vacuum for your Husky's hair, it's also important to look for overall performance as you'll need this for your home too.
Overall Performance
Think about what else you'll use the vacuum for. Will you use it in your car? Can it handle mud or sand? Make sure to look at what else it can do, not just how good it is at picking up pet hair.
Floor Performance
Remember that some vacuums perform better on carpets and some better on floors. Take a closer look at the specs and depending on the type of floor you have will likely sway your decision. The Eureka NEU522 discussed above, has an automatic height adjuster for this exact reason.
Brush Type
One more feature to look out for is the type of brush the vacuum has fitted as standard. Not the accessories. Although the various pet brush accessories are good, what's more important is the main brush mechanism that comes fitted as standard.
You have to see if this brush will get tangled easily. The BISSELL vacuums usually have their triple action brush roll which is designed to automatically remove hair before it gets tangled.
What is better, upright or handheld vacuums?
There's a lot of debate and opinions flying about when it comes to whether upright or handheld vacuums are better.
To be honest, this doesn't matter that much. You can get high performing upright vacuums and you can get high performing handheld options. Some people swear by it that uprights are better, but this is merely "sticking with the classic" mindset (which is okay too!)
Whether or not you should get an upright or handheld depends on your situation and your home.
Always check the reviews
Vacuums are important investments so it's always important to check and read customer reviews. Thankfully with online stores like Amazon, we can see a great number of reviews to help us with our decision.
With reviews and customer complaints we can find out the good and the bad. It's true that most of the time reviews can be quite reliable but there are always instances where perhaps some negative reviews are not warranted, so always some common sense when checking reviews.
5 Tips to Reduce The Husky Hair on Your Floor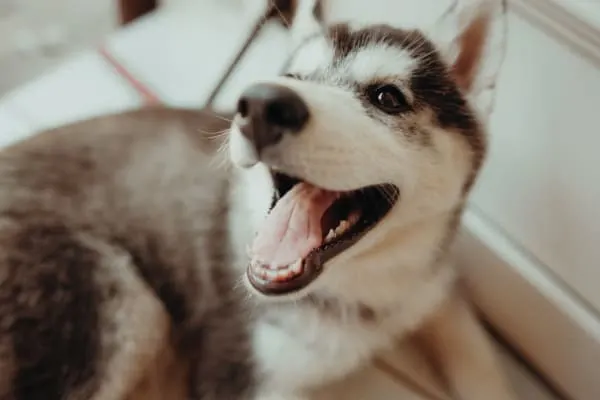 It's inevitable, you will need to vacuum at some point. But there are things you can do and should be doing with your husky that will keep the hair off your floors, and keep your fluffy friend healthy in the process.
It's true that the more time and attention you give to your husky, the healthier they will be, and consequently, their skin and coat will also be in better condition. If their skin and coat is in good condition, maintaining their shedding won't be too much of an issue.
Here are 5 things to consider when it comes to Husky shedding.
1) Have a Brushing Routine
Fairly obvious, but I know all too well how easy it is to forget to do this. Regular grooming and brushing is so important and will keep your Husky's skin and coat healthy. Not to mention less hair on your floors!
You don't need to overkill it though, 2 times a week is absolutely fine, to begin with, as you get closer to shedding season you can up it to 3 or 4. When your Husky is shedding, you can give them a brush every day.
Actually, taking the time to sit down with your Husky and brush them is a fantastic way to bond with them and show some affection. As Huskies are fairly hyper, it's best to wait until the evening time after they have exercised and eaten. Sit next to your fluffy friend, wait for them to get relaxed then give them a nice calm brush for 20 minutes. Your Husky will love it!
2) Never Shave Your Husky
Most people by now know not to do this, but it's still important to mention. You shouldn't shave or cut your Husky's coat, as it can cause long term damage AND your Husky may not be able to regulate temperature well.
There are some veterinarians that believe in fact you can shave a double-coated dog. But why risk that? Have you ever seen a bald Husky?
So please don't shave or cut your Husky's fur in attempts to reduce the shedding. This can seriously damage their coat for the future and potentially mess up their own body temperature regulation. The two layers are there and they both have a function.
The topcoat is coarse and strong, this blocks harsh UV rays and protects against insect bits and dirt. The undercoat is soft and fluffy and is the coat that sheds. The undercoat regulates their body temperature.
3) Bathe Your Husky
Siberian Huskies are naturally clean dogs and usually do not smell like some other dogs do. Most Husky owners bathe their Husky minimally, as it's not necessary for regular bathing.
However, when shedding season approaches, it can be a good idea to give your Husky a couple more warm bathes than usual, this will help loosen further hair from their undercoat.
You can get de-shedding shampoo, but sometimes these shampoos contain ingredients that just aren't friendly. It's better to use an all-natural mild dog shampoo that has minimal ingredients. I have an entire article all about the best natural dog shampoos for huskies. It's worth checking out!
4) Healthy Diet and Nutrition
You are what you eat holds true for your fluffy friend too. One thing you probably already are doing is feeding your Husky a high-quality diet, that actually works well for them.
Emphasis must be put on "works well for them" The reason being, you may have purchased a well-trusted brand of dog food with good ingredients, but still your Husky may be having issues with it.
Siberian Huskies typically have sensitive stomachs and can be affected by their dog food easily. In order to have healthy skin and coat, your Husky needs to be eating a food that's causing them no digestive issues.
It's a good idea to monitor how you Husky eats, do they eat everything? do they have loose or discolored stools? If so, it may be time to switch their dog food.
A nutritious diet that works well for your Husky will ensure their skin and coat is healthy and strong. This will all add to better shedding and grooming.
5) Exercise
The ultra-marathon runner of the dog world needs its exercise. The recommended amount of exercise is 1 hour per day, but when you learn that Huskies can happily run 100 miles per day. Your Husky may appreciate a little more than 1 hour.
Siberian Huskies absolutely need exercise to be healthy and at their strongest. Ensure you are giving adequate exercise for your fluffy friend and this will, in turn, make them as healthy as they can be.
A healthy, happy Husky... is still a hairy one! But never the less this is important.
Summary
The reason I decided to write this article is that there are so many overpriced vacuum cleaners on the market, you can get one that works just great, for half of the price, sometimes even more.
Most Recommended For Huskies 🐶
Best Brushes For Husky Shedding ⭐
My two favorite brushes for a beautiful coat are a simple Undercoat Rake and a Slicker Brush. These brushes when used together will de-shed and maintain your husky's coat better than anything else.
Best Online Training Program For Huskies⭐
Brain Training For Dogs has become increasingly popular with Siberian Huskies in the last few years. It's now recognized as perhaps the best way to train a husky in the most stress-free, positive way.
Best Husky Puppy Book ⭐
If you would like to support My Happy Husky directly and have an easy to read and entertaining guide for training your husky puppy, check out my book The Husky Puppy Handbook on Amazon. All purchases are greatly appreciated.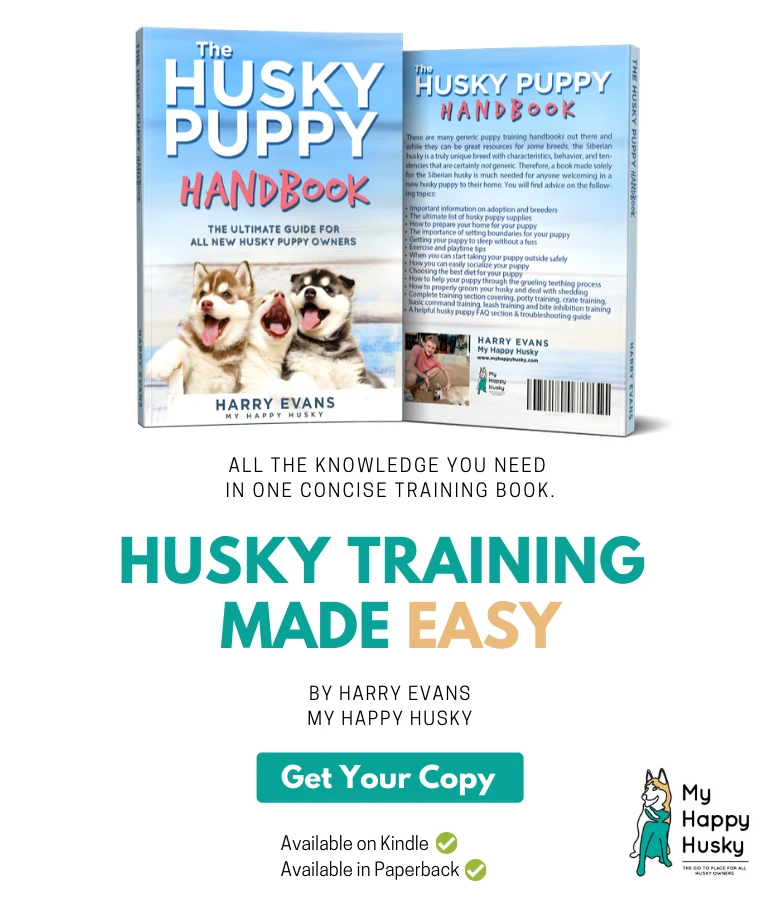 Disclaimer
The advice given in this article is for educational purposes only and does not constitute professional advice in any context. Before making any decisions that may affect the health and/or safety of your dog, you should always consult a trained veterinarian in your local area. For the FULL disclaimer Visit Here
Copyright Notice: The content produced and published on My Happy Husky is unique and original. My Happy Husky makes an active effort to search for plagiarized content using plagiarism detection software. If plagiarized content is found, action will be taken.