Pomskies have gorgeous double coats that can even be fluffier than their husky parent! Still, many owners want to know if they can shave or trim their Pomsky for various reasons.
As many Pomeranians get haircuts, owners ask the same for their Pomsky too. This article answers everything you need to know on this topic and more. Let's get into it.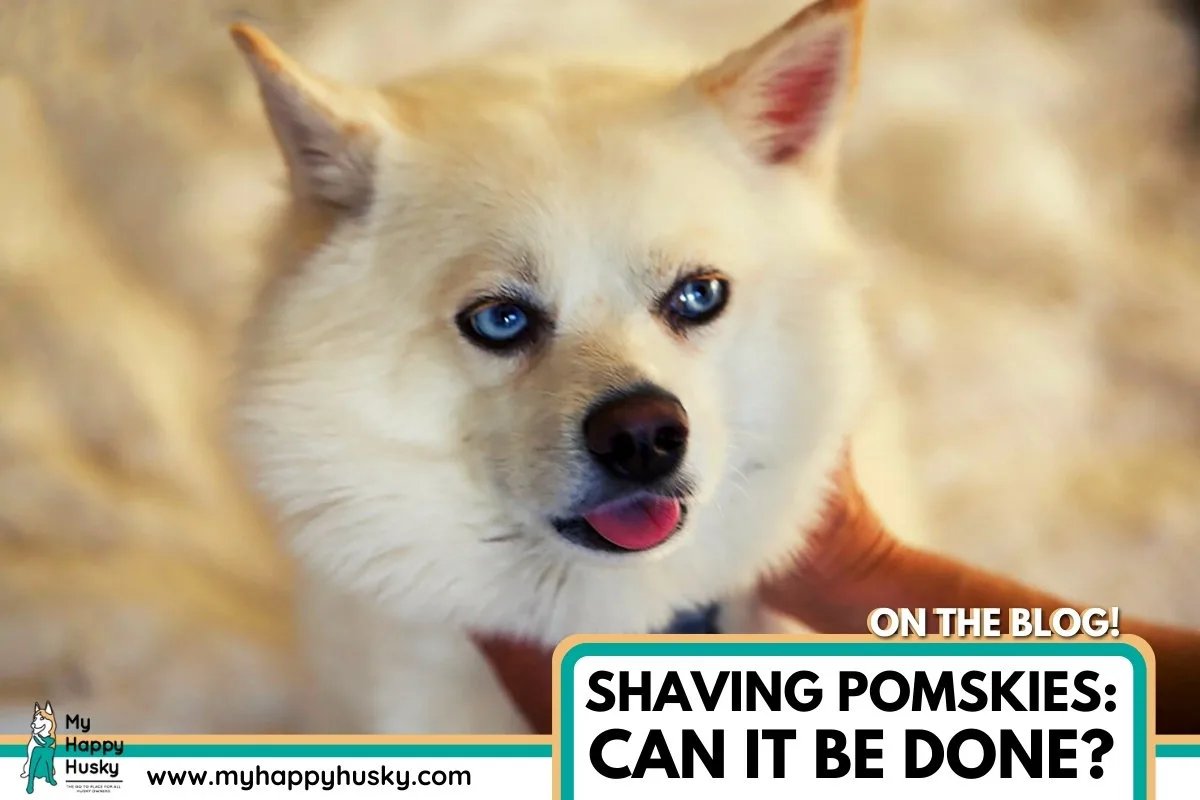 Can Pomskies Be Shaved?
Simply put, no! Pomskies should never be shaved. And when we say shave, we mean using clippers to cut both layers right down close to the skin. (like shaving sheep).
Although you might have seen many other Pomskies or Pomeranians shaved down like this, it is not something to copy.
The only time a Pomsky should be shaved is if they need to undergo a procedure where the veterinarian needs access to the skin without hair getting in the way. Apart from this, no other reasons justify shaving.
Can Pomskies Be Trimmed or Given Haircuts?
Yes! Pomskies can definitely receive a light haircut or trim with scissors. This can actually be pretty beneficial for them if they currently have long hair getting in the way of their mouth, ears, paws, or if their tail is far too bushy.
Shaving long hair around the paws and tails can prevent too much dirt and bacteria from gathering when out on walks. In other cases, long hair around the ears can actually contribute to more ear infections. So it's definitely beneficial for Pomskies with excessively long coats.
Many Pomeranians have haircuts to keep their coat shaped and not so "wild". It's important to know, however, that these light trimmings should be done with scissors and not shavers. And the trim should be minimal.
➡️ Check out the full Husky Pomeranian Mix Guide here
The Difference Between Shaving and a Light Trim
Shaving clippers will take back both of your Pomskie's layers together. Meaning it'll level out the undercoat and topcoat to the same very short level.
The big issue with this is that the undercoat will now start regrowing through the topcoat (as they grow at different rates).
When the undercoat outgrows the topcoat, it can cause tangles, matting, and can really negatively impact the coat's texture and feel.
It can even contribute to overheating and an inability to control body temperature (as matted hair won't let the skin breathe).
Despite these being very real and likely consequences, I still see many getting shaved right back at the groomers! It's painful to see.
Using scissors for a light haircut on the other hand, is entirely different. Scissors give the groomer (or you) greater control over what hair is cut, plus you won't be shaving back both layers to the same level. Scissor trims can take off excessively long topcoat hair without disturbing the undercoat. And that's exactly what we want.
All you need to do to keep on top of a long Pomsky coat is to use scissors to take it back in troublesome areas.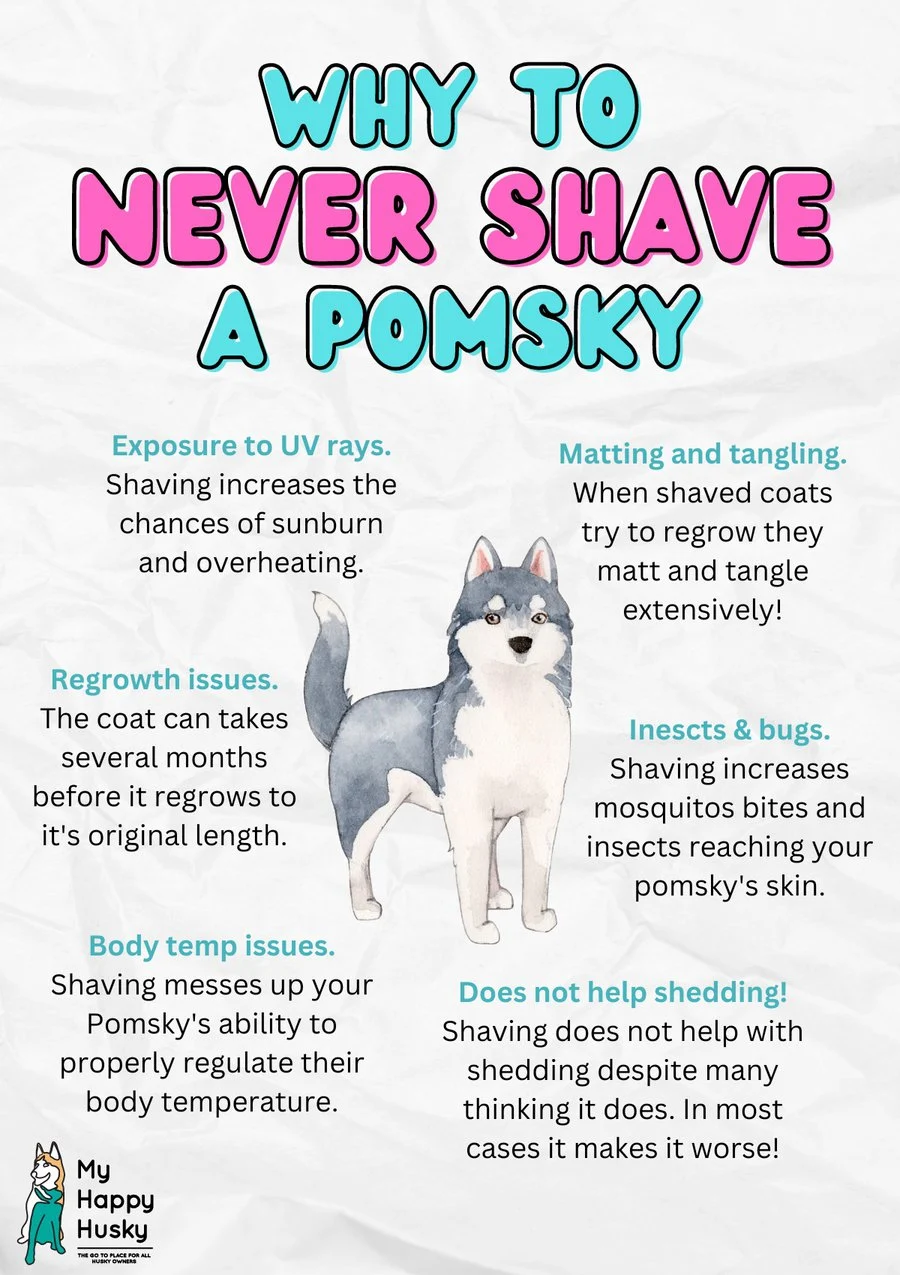 5 Important Reasons Not to Shave a Pomsky
Let's explain why it's so important NOT to shave your Pomskie's coat.
It does not reduce or help with shedding
Surprisingly, shaving the coat will not help reduce shedding in any way. In fact, once the coat starts regrowing improperly, shedding is likely to increase. There are other ways to manage a Pomsky's shedding habits safer and more effective than shaving.
Vulnerable to the sun's rays
Something a Pomsky's double coat does very well is protect the skin from harsh UV rays. When the coat is shaved, this protection is gone and makes your pup very vulnerable. In some instances, it can even lead to sunburn.
Vulernable to insect bites and bugs
The topcoat is also known as guard hairs, and that's because they do a great job at guarding. When you shave, this layer is the first to go, opening up the chance for flying biting insects to directly access the skin. Mosquitos are a real problem for recently shaved dogs.
Most Recommended For Huskies!
These are best three products I recommend for all husky owners. Two excellent brushes (all you need for a beautiful coat) and the healthiest, low-calorie treats that won't cause fussy eating or upset stomachs.
⭐ FURminator Undercoat Rake (best for shedding)
⭐ Hertzko Slicker Brush (best for topcoat)
⭐ Zukes Mini Naturals Low Calorie Treats (best treats)
All tried and tested by thousands of My Happy Husky readers.
---
Body temperature problems
A Pomsky's double coat protects them in both the winter AND the summer. Removing their thick coat by shaving will not help them stay cooler, which is actually one of the most common reasons owners shave the coat in the first place. This is one of the most important reasons not to shave a double coated dog. It completely ruins their normal body temperature regulation.
It grows back improperly
When we leave their coat as is, nature takes care of everything just perfectly. But once we intervene and shave both layers back together, it can cause some serious issues when it tries to grow again. In most cases, the undercoat tries to grow through the topcoat, as it generally grows at a faster rate… this causes matting, tangling, and even knots. This has a negative impact on airflow next to the skin and your dog's body temperature.
Does Your Pomsky Need a Haircut or Trim?
For those that do not have excessively long hair around the paws, tail, underbelly, ears, and mouth, then it might not be necessary to do anything at all.
Many Pomskies do not need haircuts or trims, no matter how "light" it may be.
Consider whether your Pomsky often gets muck and dirt in their coat because it was dragging along the floor when out on a walk. If this happens with your Pomsky then it's definitely worth trimming this hair back so it doesn't contact the ground.
Other than that, it's much safer to just leave your Pomsky's coat as it is! And appreciate the fluff! 😂
➡️ Check out the full Husky Pomeranian Mix Guide here
Disclaimer
The advice given in this article is for educational purposes only and does not constitute professional advice in any context. Before making any decisions that may affect the health and/or safety of your dog, you should always consult a trained veterinarian in your local area. For the FULL disclaimer Visit Here
Copyright Notice: The content produced and published on My Happy Husky is unique and original. My Happy Husky makes an active effort to search for plagiarized content using plagiarism detection software. If plagiarized content is found, action will be taken.