Going on a trip with your husky might not be a usual thing, but when it's go-time, it's super important to have everything sorted.
This article covers everything an owner should know to make car journeys with your husky safe and comfortable.
Preparation Is Key
Preparation goes a long way to make any car journey with your husky go smoothly. Although I'm sure many people do it, it's certainly not advised to just hop in your car while your husky jumps around anywhere
Good preparation will allow you to have an easy and safe ride with your husky. So what exactly should you do to prepare for a road trip with your husky? Let's find out below
If you are reading this article 10 minutes before you're about to leave, it's a little bit late for some of the tips… but it's worth continuing as many are still applicable.
10 Tips to Make Car Travel With Huskies Safe and Easy
Let's go through all the ways in which you can make your next car journey with your husky, safe, and comfortable.
Depending on your situation and why you are traveling with your husky, some tips will be more relevant to you than others.

Here's a quick summary of what we will go through below:
1) Use a crate, despite their size
2) No food 2-3 hours before leaving
3) Toilet time
4) Practice journeys in advance
5) Plenty of stops and fresh air
6) Bring your own fresh, cold water
7) Car cooling fans for hot weather
8) Use the trunk if you can
9) Sunscreens for the windows
10) Ensure your husky can be tracked
Below we will cover each of these important points in more detail. Keep in mind that some tips are only applicable if you are researching in advance.
1. Use a crate, despite their size
We know, huskies aren't small dogs, so having your extra-large dog crate inside your car seems a bit crazy. Crazy it may be, but it's the safest and most recommended option.
You should make yourself familiar with the law in your state as to whether or not your dog needs to be restrained while driving. Some states require it, but so do not. Check your state here
If you do want to use a crate for your husky, ensure that the crate is allowed for use in cars. This means it has been crash-tested and proven to keep your husky safe in an accident.
Some car crates come with fasteners and extra clips to make securing it to the seat easy. Otherwise, you will need to use the car seatbelt to secure it.
Pro Tip: It's a good idea to introduce the crate to your husky at home in advance. This way they won't freak out when you put them in it for the car ride.
Other options include a seat belt harness or using the trunk (which I'll speak about below)
2. No food 2-3 hours before leaving
Try to avoid giving your husky food for at least 2-3 hours before your journey. This gives them a good amount of time to digest the food. Your husky will find it rather uncomfortable if they start the trip on a full stomach and it will be a quick way to have vomit all over your seats!
Husky puppies, in particular, can suffer from car sickness, and having food in the stomach will only contribute to it.
You should also avoid giving your husky any treats just before you leave. It's a good idea to bring some small treats with you but save them for the pit stops, don't use them beforehand.
3. Toilet time
Potty mistakes occasionally happen, particularly with younger huskies, but if you can avoid it happening during your journey, great!
If your husky is already potty trained, that's great and this should be a lot easier for you. You'll want to frequently visit your designated potty spot in your yard a handful of times before you leave on your journey. Start taking them 45 minutes before you go.
If your husky puppy isn't yet potty trained, you should still try to encourage them to eliminate before you leave, although it may not work as you like… bring extra cleaning equipment and a special garbage bag for doggy poop.
4. Practice journeys in advance
This tip will only apply to those who are really researching in advance! If your trip is coming up next week, start taking your husky out in the car for short periods, gradually increasing the duration every time. Start doing this every day or every other day.
It's an even better idea to incorporate the crate or harness they will be using as well. This will give them time to get used to it, instead of expecting them to be ok with it on the very first time! (not a good idea)
Typically, any husky or dog that has previous experience riding in the car will be able to do long trips easily.
5. Plenty of stops and fresh air
You should stop as frequently as you can for your husky, especially if your road trip is more than 1 hour. This will break up the journey and give them a chance to eliminate, which they'll likely need to do.
Once your husky hops out of the car it will be quite natural for them to want to poop or pee, so be ready to clean that up! Breaks only need to be 10 or 15 minutes.
Along the way, ensure you have their window down a crack. Fresh air will keep them from feeling sick and the outside smells will keep them distracted.
Please DO NOT let their head hang out of the window as they could be injured by flying objects.
6. Bring your own fresh water
This is fairly obvious, but needs to go on the list! You should have plenty of fresh water to bring along with you, it's ideal if you can keep it somewhat cold.
Top Tip: Don't buy water at the store. Bring water from your home. Water may taste differently if you get it elsewhere and could upset their stomach during the journey.
Dog and puppies prefer fresh cold water compared to warm water. It's important that your husky stays hydrated and drinks water whenever you stop. Just remember to encourage them to wee again before leaving.
7. Car cooling fans for hot weather
Car cooling fans? it's understandable if you haven't heard of them, but they're a lifesaver if you live in a hot country.
In hotter temperatures, even having your window down will not keep your husky cool. It may provide a nice breeze, but the overal temperature will rise quite a lot. It's better to keep your windows up.
In hotter situations, it's better to turn on the air conditioning and use a car cooling fan pointed towards your husky. These are smallish fans that can plug into the cigarette lighter port. You can secure the fan to the back of the headrest blowing in the direction of your husky's crate.
This setup is recommended for temperatures around 30 degrees Celcius and up.
8. Use the trunk if you can
Not all cars have a big enough trunk, but if yours does. Use the trunk!
Using the trunk will give your husky more space and allow them to be more comfortable. If they don't mind being a little further away from you in the front seat, the trunk is your best bet.
You must fit a metal guard in place to stop your husky from accessing the back seats. This is important for their safety and for yours in the event of an accident.
Using the trunk will provide the best comfort for your husky, especially on longer journeys. Put an old blanket down for some extra support and avoid having anything your husky could chew or choke on.
9. Sunscreens for the windows
This is particularly important if you're using the trunk of your car as the sun may be shining directly through the trunk's large window. This will create a lot of heat that your husky will find hard to manage.
On long journeys in summer weather, a protective sunscreen for the trunk window is a must. They're very inexpensive and will provide valuable protection.
10. Ensure your husky can be tracked
Last but certainly not least, ensure sure your husky has a microchip, a collar with a tag that has your home address and phone number on it.
You should have the following in place in case you and your husky get separated along the way.
Microchip
Flat collar with tag home address, phone number
Destination address and phone number
Have on the back of the tag "I'm chipped" this will let someone know to take them to a vet.
These are all things to ensure before leaving on your journey.

Frequent Trips With Your Husky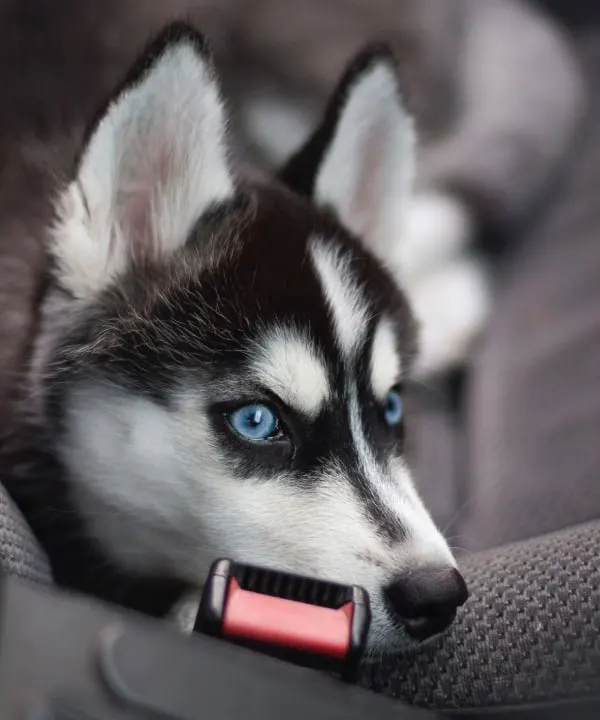 It's understandable that if you're only making a one-off trip in the car, you won't need to overkill it with all of the special tips and advice, but it's good practice to be aware of them.
However, if you frequently travel with your husky in the car, you should take the time to ensure you have all the necessary items to make every trip a safe and comfortable journey.
7 Tips for regular car travel with a husky:
Travel documents (crossing borders)
Waterproof mats or seat covers (accidents happen).
Pet medical kit & medication for emergency situations
Spare food bowl and some extra food
Waste scoop and pet waste bags
An old t-shirt or pillow of yours to give your husky a sense of security while riding in the back.
Spare leash (easily forgotten!)

Check List
Before heading off on your journey it would be helpful to have a checklist that you can skim through. This way you're unlikely to forget something!
It's so common, we always think "Na I'll remember" and then when the time comes and other things are occupying our mind, we realize we've forgotten something and it's too late.

You can print out this A4 size checklist to avoid forgetting things again 🙂
https://www.myhappyhusky.com/wp-content/uploads/2020/01/car-travel-with-fido.jpg
---
Summary
There you have it, you now have everything you need to know to travel safely and comfortably in the car with your husky.

Please share this resource with friends and family who travel with their dog in the car.

If you have any information about traveling with a husky or you have experience, please comment below.
Most Recommended For Huskies 🐶
Best Brushes For Husky Shedding ⭐
My two favorite brushes for a beautiful coat are a simple Undercoat Rake and a Slicker Brush. These brushes when used together will de-shed and maintain your husky's coat better than anything else.
Best Online Training Program For Huskies⭐
Brain Training For Dogs has become increasingly popular with Siberian Huskies in the last few years. It's now recognized as perhaps the best way to train a husky in the most stress-free, positive way.
Best Husky Puppy Book ⭐
If you would like to support My Happy Husky directly and have an easy to read and entertaining guide for training your husky puppy, check out my book The Husky Puppy Handbook on Amazon. All purchases are greatly appreciated.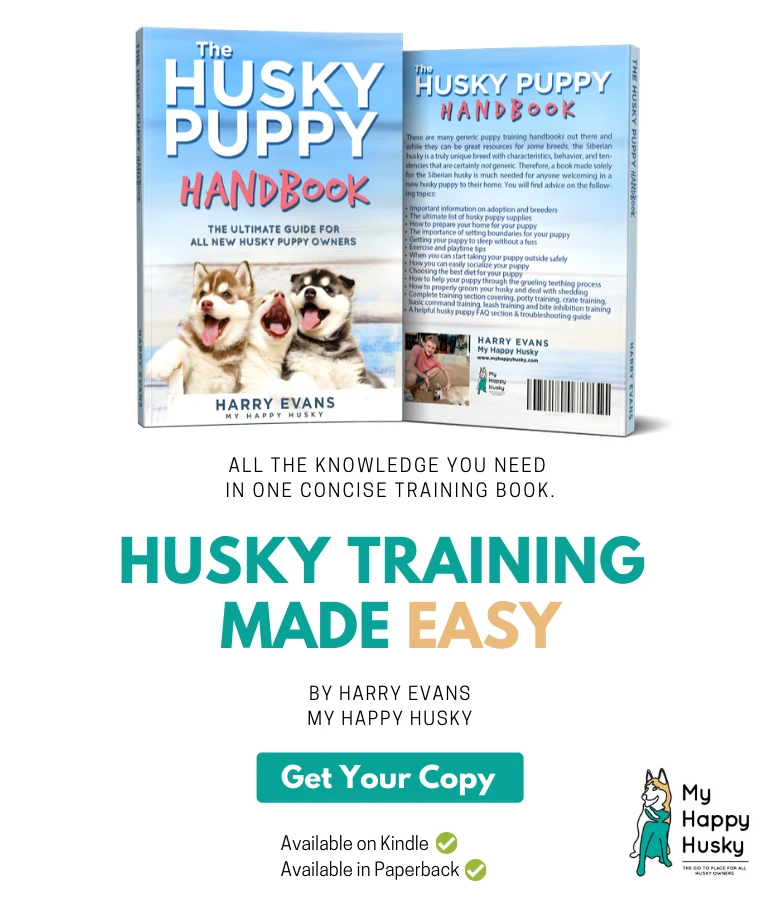 Other Helpful Resources:
https://pets.webmd.com/dogs/guide/10_tips_for_safe_car_travel_with_your_pet
https://www.akc.org/expert-advice/home-living/complete-guide-to-traveling-with-your-dog/

Disclaimer
The advice given in this article is for educational purposes only and does not constitute professional advice in any context. Before making any decisions that may affect the health and/or safety of your dog, you should always consult a trained veterinarian in your local area. For the FULL disclaimer Visit Here
Copyright Notice: The content produced and published on My Happy Husky is unique and original. My Happy Husky makes an active effort to search for plagiarized content using plagiarism detection software. If plagiarized content is found, action will be taken.