If you're looking for the best dental stick to offer your husky, then this guide has everything you need. I've tried so many different sticks over the years, and after speaking with thousands of other husky owners, I've managed to boil it down to these four top picks.
With over 80% of ALL dogs developing some level of dental disease before the age of 2, it's essential to learn as much as you can about your husky's dental care.
Let's get into the best dental sticks for huskies, and much more!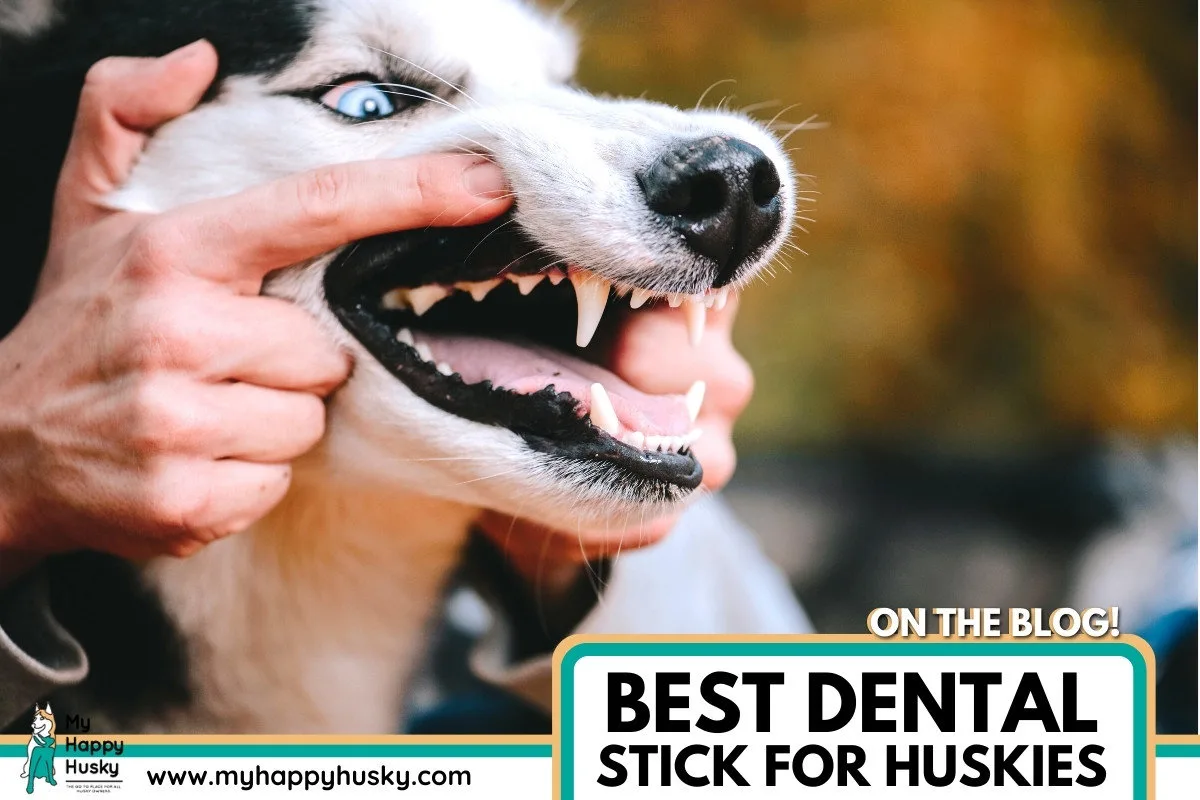 The 4 Best Dental Sticks For Huskies
| Rank | Dental Stick | Rating | Price |
| --- | --- | --- | --- |
| Best Overall | Greenies Large Dental Dog Treats. See Item | A* | $$$ |
| Best Budget | Pedigree Dentastix Large Fresh Dog Treats. See Item | A | $ |
| Best For Pups | Get Naked Puppy Health Grain-Free Dental Chew Sticks. See Item | A | $ |
| Buyer Favorite | WHIMZEES Alligator Dental Dog Treats. See Item | A | $$ |
I'm going to run through each dental stick and explain why they've made it to my top picks.
I'll run through details of each product, talk about the key features, customer reviews and if you wish to check them out, I'll leave a link too.
Greenies are one of the classics, and they remain to be at the top of the game when it comes to dental sticks. Greenies products have been approved by the Veterinary Oral Health Council and have their seal of acceptance for plaque and tartar control.
Greenies dental treats are made with natural ingredients and are designed to be given once per day to perform an array of important dental care duties. They come in a variety of sizes, flavors and are packed full of high-quality vitamins, nutrients, and minerals.
Thanks to the shape and texture of these treats, they gently massage your husky's gums while he's munching away. Blood flow is so important and is one of the contributing factors to healthy gums.
These treats have also been shown to significantly reduce tartar and plaque build-up in a relatively short period of time, as backed by the VOHC.
Also seen within customer reviews is how Greenies greatly reduces bad breath. When your husky has bad breath it can seriously knock people off their feet, so this is a great bonus aside from all of the health benefits that you can expect to receive.
| Pros of Greenies Dental Dog Treats | Cons of Greenies Dental Dog Treats |
| --- | --- |
| ✔️ Highly reviewed with 96% recommending to others | ❌ A little pricey |
| ✔️ Veterinary Oral Health Council Approved | ❌ Not all ingredients sourced from USA |
| ✔️ Made with natural ingredients | |
| ✔️ Contains vitamins and minerals | |
| ✔️ Soft and bendy to avoid breaking | |
| ✔️ Proven to reduce tartar and plaque | |
| ✔️ Provide excellent gum blood flow | |
| ✔️ Neutralizes bad breath | |
| ✔️ Highly soluble & easily digestible | |
| ✔️ Balanced recipe for healthy treating | |
With hundreds of 5-star reviews and 96% of customers voting that they will either purchase again or recommend them to another dog owner, it's hard to go wrong with these awesome dental sticks. Check Greenies out here on Amazon.com
If you're looking for the same type of high-level dental care but with a more affordable price tag, Pedigree Dentastix is, without a doubt, your best option.
With their patented X-shape design and specially made texture, these sticks scrub away at tartar and plaque and have been clinically proven to reduce unwanted build-up.
As America's No.1 choice of dental sticks, they are very simple, easy to eat and digest, and do a great job. All for a more reasonable price than most other sticks on the market.
Like with Greenies, customers have been quick to mention that these sticks reduce bad breath, and 97% of customers who bought this item will either purchase it again or recommend it to other dog owners.
| Pros of Pedigree Dentastix | Cons of Pedigree Dentastix |
| --- | --- |
| ✔️ Patented X-design and special texture proven to reduce plaque and tartar build-up | ❌ Ingredients are not all natural |
| ✔️ Affordable price tag | |
| ✔️ America's No.1 Choice | |
| ✔️ Neutralizes bad breath | |
| ✔️ Made 100% in Canada | |
| ✔️ Each stick is low in Calories | |
| ✔️ 97% of customers recommend | |
With hundreds of 5-star reviews, an affordable price tag, and 97% of customers happy enough to recommend them to other dog owners, it's hard to go wrong.
You can check Pedigree Dentastix out here on Amazon.com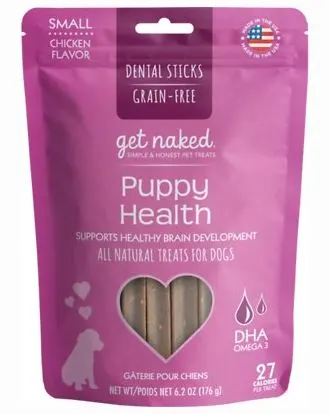 An up-and-coming brand with an eyebrow-raising name, Get Naked has made quite an awesome product for puppies.
It's noticeably more difficult to find "good" dental sticks specifically made for puppies compared to adult dogs. And most dental sticks, in general, are labeled only suitable for adult dogs.
But Get Naked have you covered here. Their dental chew sticks have been made specifically for puppies, and not only help with the dreaded teething stage but will also help keep your pup's oral hygiene in check.
Most Recommended For Huskies!
These are best three products I recommend for all husky owners. Two excellent brushes (all you need for a beautiful coat) and the healthiest, low-calorie treats that won't cause fussy eating or upset stomachs.
⭐ FURminator Undercoat Rake (best for shedding)
⭐ Hertzko Slicker Brush (best for topcoat)
⭐ Zukes Mini Naturals Low Calorie Treats (best treats)
All tried and tested by thousands of My Happy Husky readers.
---
What I like about these dental chews is that they contain DHA, Omega-3, and Omega-6 which are all super important for puppies. DHA is a fatty acid that is found in mothers' milk and plays an important role in brain development and immune system function.
| Pros of Get Naked Puppy Health | Cons of Get Naked Puppy Health |
| --- | --- |
| ✔️ All-natural dental sticks | ❌ Reports of some puppies disliking the taste |
| ✔️ Chewy texture will provide relief for teething puppies | |
| ✔️ Gently massages your pup's gums to promote blood flow | |
| ✔️ Will help to keep tartar and plaque build up down | |
| ✔️ Contains a healthy balance of Omega-3 and Omega-6 | |
| ✔️ Contains DHA, an important fatty acid found in mother's milk | |
From the limited selection of puppy dental chews out there, Get Naked Puppy Health has received the best reviews possible. With 92% of customers who tried this recommending it to other puppy owners, I would consider giving them a try.
They are also fairly priced. You can check them out here on Chewy.com
The true customer favorite goes to Whimzees. There's not a great deal of difference between the overall winner (Greenies) and customer favorite (Whimzees). Apart from the fact that Greenies is a USA based company whereas Whimzees is from Holland.
I have long been a fan of Whimzees and I've not yet come across anyone who isn't!
The unique design not only amuses dogs and keeps them interested, but it gently massages the gums to promote healthy blow flow. A vital part of maintaining gum health.
Whimzees make their products from natural ingredients and are proud to state that they're vegetarian, grain-free, gluten-free, and GMO-free.
The Alligators have been proven to reduce tartar and plaque build-up twice as much as other leading dental sticks (which ones were not disclosed) but studies from independent kennels showed this to be the case.
| Pros of Whimzees Dental Treats | Cons of Whimzees Dental Treats |
| --- | --- |
| ✔️ Excellent reviews with 97% of customers recommending them | ❌ More pricey than most other brands |
| ✔️ Natural vegetarian ingredients | |
| ✔️ Grain-Free, Gluten-Free, GMO-Free | |
| ✔️ Proven to reduce tartar and plaque | |
| ✔️ Neutralizes bad breath | |
| ✔️ Design promotes healthy blood flow to the gums | |
| ✔️ Longer lasting than most other sticks on the market | |
With 97% of customers who tried Whimzees buying them again or recommending them to other dog owners, they're a safe bet. They are one of my personal favorites as well as the majority of others. You can check Whimzees out here on Amazon.com.
Popular articles on My Happy Husky ⭐
● Can An Underbite Be Corrected In Puppies
● When Do Husky Ears Stand Up?
● How To Trim a Husky's Nails?
FAQs About Dental Sticks and Oral Hygiene
Let's run through some frequently asked questions about dental sticks and oral hygiene
Dental sticks vs Dental chews
The first thing most owners consider is whether they should purchase edible dental sticks, or opt for dental chew toys. Which one works best?
Well, they both have their place and are different enough not to be compared that much. Edible dental sticks are great because they're very tasty, will keep your husky chewing on them consistently, meaning a more active and thorough cleaning process. At the same time, they do contain calories so it's important to factor them into your husky's diet correctly.
With edible dental sticks, you can't give too many as it would likely mess up your husky's real mealtime. On the other hand, chew toys aren't there to be eaten and act as a constant chewable item for your husky to play with.
While chew toys don't have the same appeal, they still have their place. I think it's best to have both.
---
How often to give dental sticks
This all depends on the dental stick. Some brands design their sticks to be given once per day, and others do not. It comes down to the ingredients, nutrition, and calories of each stick.
It's crucial that the sticks do not interfere with your husky's regular mealtime, so that's the most important thing to remember.
Giving your husky a dental stick every day is fine, as long as the calories are low, and the stick has been marked as a daily stick for oral health.
If you notice your husky becomes less interested in his real mealtimes after introducing sticks, it may be an indication that it's filling him up too much, which will then need to be corrected.
---
Will dental sticks solve all oral health issues
While dental sticks are proven to work and do improve overall oral health, from tartar and plaque removal to better breath and healthier gums, they aren't always the answer. Dental sticks will never replace regular check-ups and are not guaranteed to prevent health issues down the line.
---
What about the safety of dental sticks
Some dental sticks have been known to break unfavorably while being chewed; this can lead to sharp edges and could cut your furry friend's mouth.
This has happened in the past, but thankfully, most manufacturers now make their sticks to be chewy and bendy, rather than brittle. This is definitely something to look out for when purchasing dental sticks.
Always try to get "chewy" or "bendy" sticks. Checking customer reviews is always advised before purchasing too.
---
If you give dental sticks, do you still need to brush their teeth?
Yes, you will still need to have a regular brushing routine of at least 1-3 times per week. Some veterinarians even recommend daily, but I've found this irritates the gums too much, it's best to start at once per week and see how your husky reacts.
Remember that dental sticks are designed to be an add-on to an established routine, not a substitute.
---
Dental sticks and bad breath
Yes, nearly all dental sticks are designed to reduce if not neutralize bad breath. If you opt for a dental stick with minty ingredients, this almost always eliminates your husky's bad breath.
Remember, that bad breath is mostly caused by plaque build-up itself, so removing the plaque will effectively solve bad breath.
But it's also true that bad breath may be coming from an underlying health concern, so it's important to remain on the safe side and speak to your veterinarian about this as a separate issue.
Summary
I hope now you have a better idea of which dental sticks you want to try next. All four of the sticks recommended above are excellent choices, so either one of those will be a good choice.
Most Recommended For Huskies 🐶
Best Brushes For Husky Shedding ⭐
These brushes when combined together will remove dead fur and maintain your husky's coat better than doing anything else! These brushes are a simple Undercoat Rake and a Slicker Brush.
Best Online Training Program For Huskies⭐
Brain Training For Dogs has become increasingly popular with Siberian Huskies in the last few years. It's now recognized as perhaps the best way to train a husky in the most stress-free, positive way.
Best Husky Puppy Book ⭐
If you would like to support My Happy Husky directly and have an easy to read and entertaining guide for training your husky puppy, check out my book The Husky Puppy Handbook on Amazon. All purchases are greatly appreciated.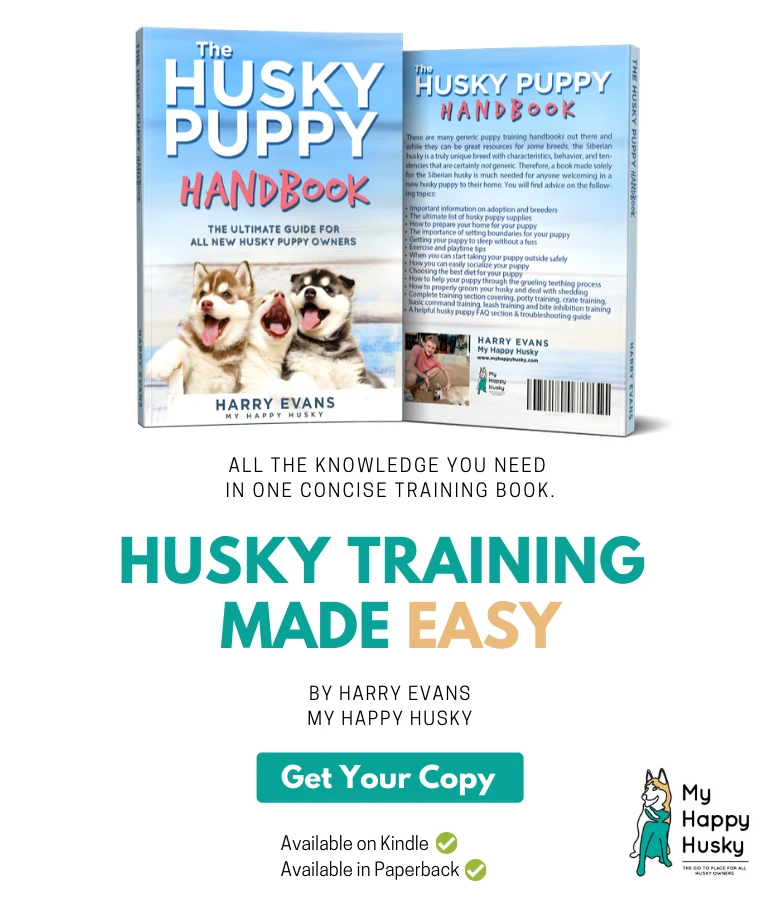 Disclaimer
The advice given in this article is for educational purposes only and does not constitute professional advice in any context. Before making any decisions that may affect the health and/or safety of your dog, you should always consult a trained veterinarian in your local area. For the FULL disclaimer Visit Here
Copyright Notice: The content produced and published on My Happy Husky is unique and original. My Happy Husky makes an active effort to search for plagiarized content using plagiarism detection software. If plagiarized content is found, action will be taken.