Say so long to alligators and hi to huskies! Yep, this cold-weather dog is getting really popular in sunny Florida!
If you live in Florida and are considering getting a husky, then bookmark this page for future reference. The following list contains the most trusted Siberian husky breeders currently operating in Florida.
By the way, below the list, we give the vital questions all future owners must ask breeders before making any decision. Don't miss this bit!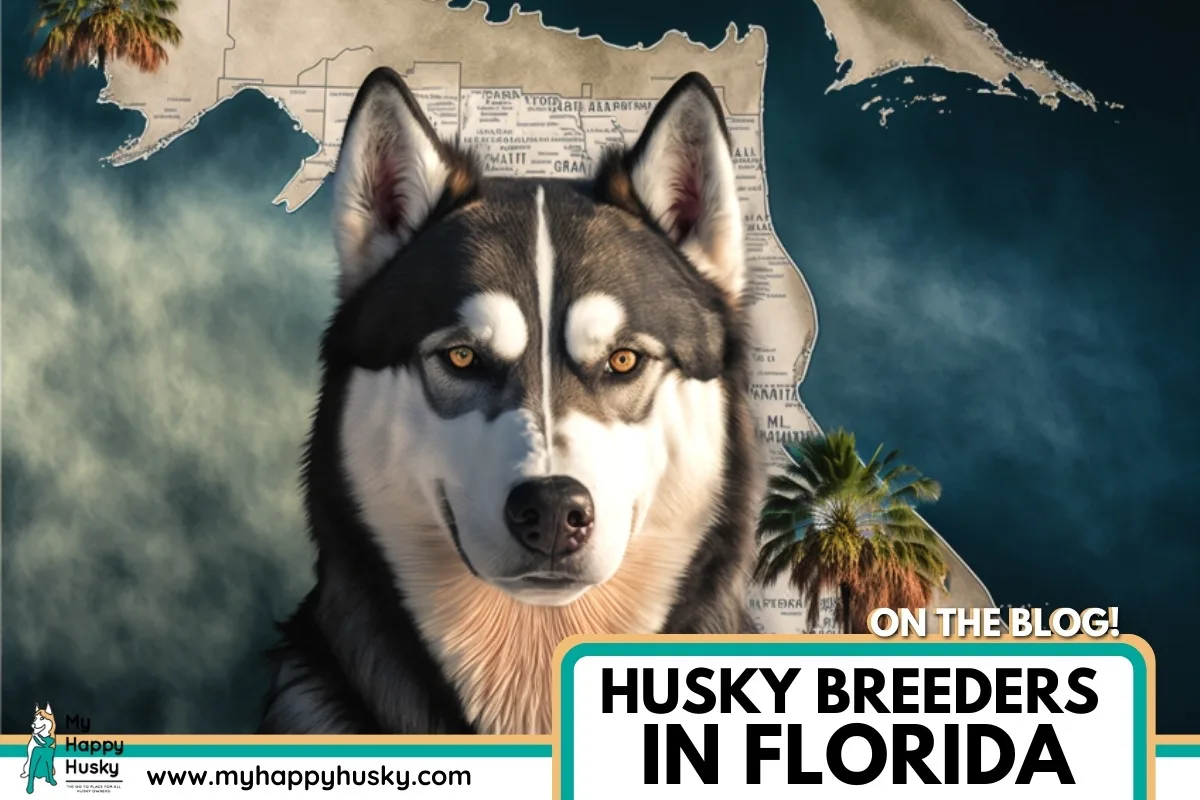 If you want to check out puppies online then the best place by far is PuppySpot
1. My Little Husky
My Little Husky has been building a reputation as a trusted dog breeder in Southwest Florida since first breeding dogs in 2006.
The breeder takes their responsibilities seriously and prioritizes the health, safety, and well-being of all their pets. The happiest days for the breeder are when one of their puppies is adopted by a loving and welcoming family.
They focus on making the transition from their loving home to the new family's home as easy as possible, striving to breed the best pups they can, educate new owners, and ensure the puppies receive the love, care, and attention they deserve. Interested individuals can contact My Little Husky to learn more about their methods and philosophy.
---
2. Teddy Bear Breeders
Teddy bear breeders pride themselves on getting everything right, and their is absolutely nothing more important than the healthy, well-being and safety of the mother, papa and future litter!
All puppies are health tested and OFA cleared meaning they have OFA certification for Heart, Hips, Eyes, Knees & Elbows. They also work with Embark to screen each and every one of their pups.
My Little Husky sets itself apart by starting with high-quality diets for their dogs. The dogs are regularly fed cooked chicken dinners, eggs, steak, and fish, in addition to supplements such as organic omega 3 oils, salmon oil, crushed greens, pumpkin, and essential vitamins to maximize the breeds potential.
When their females are pregnant, their regular supplements are boosted with prenatal supplements to ensure maximum nutrition for both puppies and the mother.
---
3. Darkside Siberians & Shepherds
The main goal of Darkside Siberians is to produce healthy puppies that grow into amazing dogs, whether they are family pets or working dogs. Every puppy is sent home with a Florida Health Certificate from an official licensed vet, certifying that they are fit for sale and microchipped before purchase.
In addition, all puppies will receive a complete puppy pack take-home bag filled with tons of goodies, including two bags of high-quality treats, Purina Pro Plan All Life Stages Sport dry food or Purina Pro Plan SSS Puppy dry food, a blanket with the mother and litter mates scents, coupons and brochures, a health folder with paper work from the breeder and the vet paperwork included, with information on raising your new puppy, a chew bone, a basic starter puppy collar, and a random assortment of puppy toys. AND MORE!
Location: New Port Richey, FL
Website: https://darksidesiberians.com/
Contact: (727) 698-5618
---
4. Whitmore Siberian Wolfpack
Hey there! At Whitmore Wolfpack, they are all about breeding some awesome wolf-like Siberian Huskies. They've been doing this for over a decade and are proud to say they've been providing loving pups to families all over the country.
Their team is top-notch and dedicated to making sure their furry friends are happy, socialized, and ready for their new homes. They also make sure they've been exposed to different noises and life situations, so they're ready for anything.
Trust that their puppies are the best of the best and they know you're gonna love 'em just as much as they do!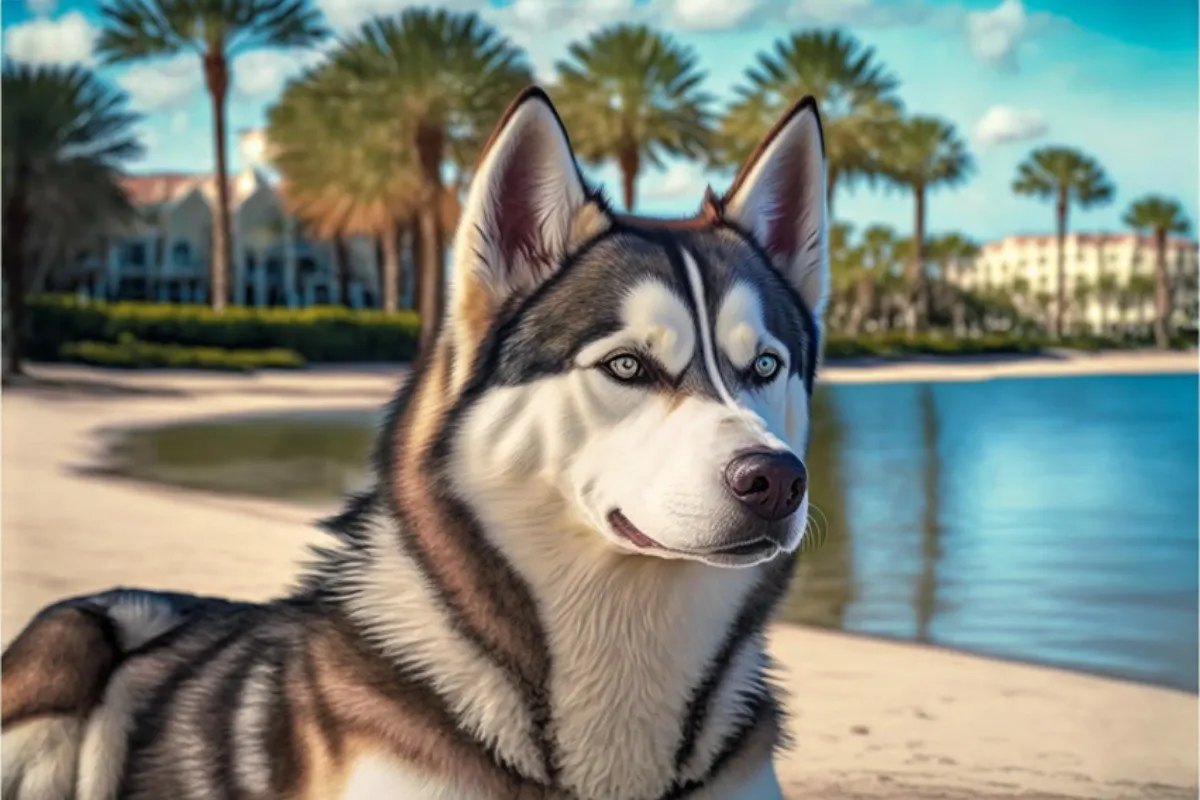 ---
5. Blue Moon Huskies
They are a family that has been dedicated to rescuing dogs and giving them a better life throughout their life. They believe that every dog deserves to be happy and treated with love and respect.
They consider the dogs to be more than just animals, they are considered a part of the family.
The family has studied canine behavior in order to establish a better bond with the dogs and to have better communication with them. Recently, they have decided to fully immerse themselves in the world of being professional dog breeders.
---
6. Connies Huskies (close to Florida)
If you are looking for AKC and CKC puppies, turn to Connie's Siberian Huskies, a small dog kennel in Thomasville, GA.
We have been raising Siberian huskies for over 10 years, so you can count on us to bring you puppies that are in excellent health and have a good disposition.
We have them in various colors, including white, black and white, gray, and red and white. Some have striking blue eyes, while others have unique split-colored eyes. Do you prefer long-haired AKC and CKC puppies? We have them too!
---
7. Florida Fur Babies
At The Florida Fur Babies, it is believed that every home deserves a well-bred puppy and a selection process to ensure the ideal personality match.
They use their breed knowledge and dog expertise to correctly match families with the perfect furry addition.
The company values a long-lasting relationship with their puppy parents and will be by their side every step of the way. It is believed that few things in life are more precious than when a family and puppy are joined together.
Florida Fur Babies has varying availability of Siberian Huskies so be sure to check out their website for up to date puppies.
Questions To Ask Your Breeder (Important!)
Picking a puppy and saying yes to a breeder is a big deal. There's a lot you should know before you do it. Here are the important questions you should ask the breeder.
These are crucial, so take note, and remember to ask them all:
Can you provide proof of health clearances for the puppy and puppy's parents?
How old is the puppy and when will it be ready to go to its new home?
Has the puppy received any vaccinations or veterinary care?
Can I see the puppy's living conditions and meet its parents?
Will the breeder provide a written sales contract and a health guarantee?
Can the breeder provide references from past puppy buyers?
Has the puppy received any training or socialization?
Will the breeder provide ongoing support and advice after the sale?
Does the breeder participate in any breed specific health testing or genetic screening?
Let us know how it goes!
Disclaimer
The advice given in this article is for educational purposes only and does not constitute professional advice in any context. Before making any decisions that may affect the health and/or safety of your dog, you should always consult a trained veterinarian in your local area. For the FULL disclaimer Visit Here
Copyright Notice: The content produced and published on My Happy Husky is unique and original. My Happy Husky makes an active effort to search for plagiarized content using plagiarism detection software. If plagiarized content is found, action will be taken.