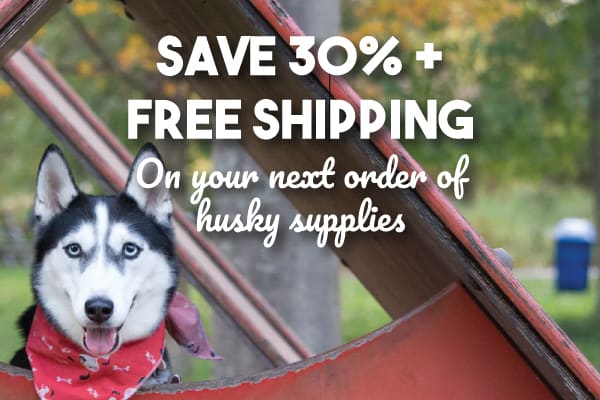 *This post may contain affiliate links where My Happy Husky earns a small commission at no extra cost to you. Thank you.

Follow the steps below to get 30% off + Free shipping
As you may know, My Happy Husky has been recommending the most appropriate husky supplies for quite some time now. And while doing so, have come across many different deals, offers, and promotions on more websites than you could imagine! really

But as of yet, nothing beats the offer that Chewy has, and has had for a while. If you're able to find a better deal please message me and I will update the page. But if you want to save 30% on your very next order of food, toys, supplies, anything, then read below. Plus you'll save 5-10% on all successive orders if you wish to continue with it.

*June 2020 Update – This offer has recently changed and is subject to certain products only. The percentage saved may also vary, sometimes it will be 15% all the way up to 30%
Visit Chewy.com
Find your desired products
Check out
Sign up to auto-shipment (the part that earns you 30% + free shipping)
Enjoy your significant savings!
I know what you're thinking, "but I don't want to start auto-shipping" Good news!, you can cancel it right away afterward so you don't have to worry about receiving routine orders. Sign up, get your discount, then cancel it. I even contacted Chewy to ask if you can do this, and you can.

The thing is, auto-shipping sounds like something you don't want, but it's actually a really convenient way to start ordering supplies you buy on a monthly basis, which is quite a lot of items (when you think about it) food and treats being the main one.

Once you set it up, you can cancel it anytime if it's not for you. All my pawfriends get their food and supplies this way. They even treat their dog with a different toy every month, things like that, it works well and seamlessly.
I do have chewy affiliate links, but I don't specifically earn anything by telling you about their 30% offer, it's all just to save you extra bucks! Happy shopping!

Visit Chewy Now

Disclaimer
The advice given in this article is for educational purposes only and does not constitute professional advice in any context. Before making any decisions that may affect the health and/or safety of your dog, you should always consult a trained veterinarian in your local area. For the FULL disclaimer Visit Here