Is a tracking device truly essential for a husky? According to some husky owners, the answer is a resounding yes.
A husky's desire to exercise, mixed with a little bit of boredom and mischievousness makes this breed one of the most prevalent escape artists in the dog world.

This article runs through everything owners should consider before getting a tracking device.
What Is a Tracking Device For Dogs?
Oops, your husky forgot to turn off his location when he shared a selfie with his buddies down the park!
Unfortunately, it's not that easy with dogs!
Tracking devices for huskies (or any dog) are small GPS devices that typically attach to the dog's collar. Usually, tracking devices only need to be worn if you are leaving your husky out in the yard unsupervised, or anytime you go for a big walk.
It's important to clear up, a tracking device IS NOT like a shock collar or training collar, it literally does nothing to your husky, other than show his exact location.
All modern tracker brands will have their own App which you can download to your smartphone or access from a browser on your computer. From there, you'll see something similar to Google Maps with the exact location of your dog.
The most reliable tracking devices will use GPS to coordinate a location. If you opt for a good brand, then there will be an unlimited range that the device will work. It will not matter how far your husky roams, you will always have his exact location.
Is a Tracking Device Necessary For a Husky?
Well, yes and no. It depends on your situation.
Huskies are one of the most notorious breeds for escaping, maybe your husky has already escaped in the past. Escaping doesn't always mean he has a bad life at home, it's just sometimes how huskies are.
Or, maybe your husky hasn't run away, but you would feel more comfortable knowing that he has a tracker on him when you take him out for walks. There are many situations where the use of one would be appropriate, and I personally feel like they are a great safety feature to actively use.
When it comes to huskies, training is of course absolutely necessary. If you have a husky, training goes without saying. But it can take a while before a husky is truly trained and obedient, and even then, the urge to chase a cat over the fence is sometimes unstoppable.
So, for moments you want to leave your husky in the yard, trained or untrained, you can see how just clipping on his tracking device to his collar, could give you peace of mind.
I would personally say that if you can afford the expense of buying one, It's worth it. But if not, then you're not at a big loss anyway. Remember, that you can always take appropriate measures, like husky-proofing your yard, keeping him on a leash at all times, and supervising him more. I think it ultimately comes down to your situation.
What To Look For In a Good Tracking Device
If you are considering investing in a tracking device for your husky then there are some things to look out for. Let's go through some important functions that will make your tracking experience the best it can be.
A good tracking device will:
Use GPS as the method of tracking your dog
Will be small and light weight to avoid irretation for your dog
Have a LIVE view function to see your dogs location in real-time
Virtual fence function. Alerts you when your husky ventures past a pre-set location (like your yard)
100% Waterproof so it functions correctly in the rain without damage
A good battery life. 3-5 days is an acceptable amount
A low subscription price plan
What you don't want:
A Big device, adding too much extra weight around your dog's neck
Non-waterproof
High priced monthly subscription fee
Something to keep in mind is that most brands charge a monthly subscription fee to use their monitoring software they have set up.
This is quite common, so it's something to know in advance.
Most Recommended For Huskies!
These are best three products I recommend for all husky owners. Two excellent brushes (all you need for a beautiful coat) and the healthiest, low-calorie treats that won't cause fussy eating or upset stomachs.
⭐ FURminator Undercoat Rake (best for shedding)
⭐ Hertzko Slicker Brush (best for topcoat)
⭐ Zukes Mini Naturals Low Calorie Treats (best treats)
All tried and tested by thousands of My Happy Husky readers.
---
All of these additional costs are displayed alongside the cost of the product.
The Best Tracking Device For Your Husky
There are quite a few brands out there now offering their best version of a tracking device. Some brands are wildly expensive, some devices seem a little too big and bulky, and others, don't have enough functionality.
After the last month or so checking out different options and asking other dog owners what they feel about whichever tracker they had. It seemed that a company named Tractive came out on top in many of the important areas outlined in the section above.
Tractive is now one of the leading brands for pet trackers, originally starting in Austria. Tractive has quality reviews, is reasonably priced with one of the lowest monthly subscription costs, plus it ticked all of the boxed above.

Let's run through the Tractive GPS features:
Live real-time tracking using GPS and GMS
App compatible with smartphones and computers
The device itself is small and weighs less than 30grams (smaller than other devices I have seen)
It does come with the very nice feature of setting a "virtual fence" so you can be alerted if your dog ventures outside of your yard
It's 100% waterproof, so it won't get damaged in the rain and will continue to work
You can view a daily summary of your dog's activity levels. Important information for Siberian husky owners
It keeps a log of the location history for your dog if you wish to have that feature
Very reasonably priced compared to some other tracking devices, and the monthly subscription cost is also on the cheaper side, which is nice to see
The rechargeable battery lasts 2-5 days ( little lower compared to some, but in the grand scheme of things, 2-5 days is still quite a long time)
It seems that Tractive was only one of a few brands that actually ticked all the boxes you would want. I strongly recommend checking them out if you want the best bang for your buck.
A Premium Alternative to Tractive:
If you aren't worried about spending a little more money, you may want to check out the Whistle Pet Tracker. Whistle is a premium option that has more beneficial features than Tractive, although that does come with a premium price.
Whistle isn't just a tracking device either, it's a complete health and wellness device also monitoring sleep patterns and other important aspects of health.

These features are extras, and you may not be interested in them. But if you don't mind spending a little extra, you may want to check out Whistle as well as Tractive. The customer reviews are extremely good. Whistle's Website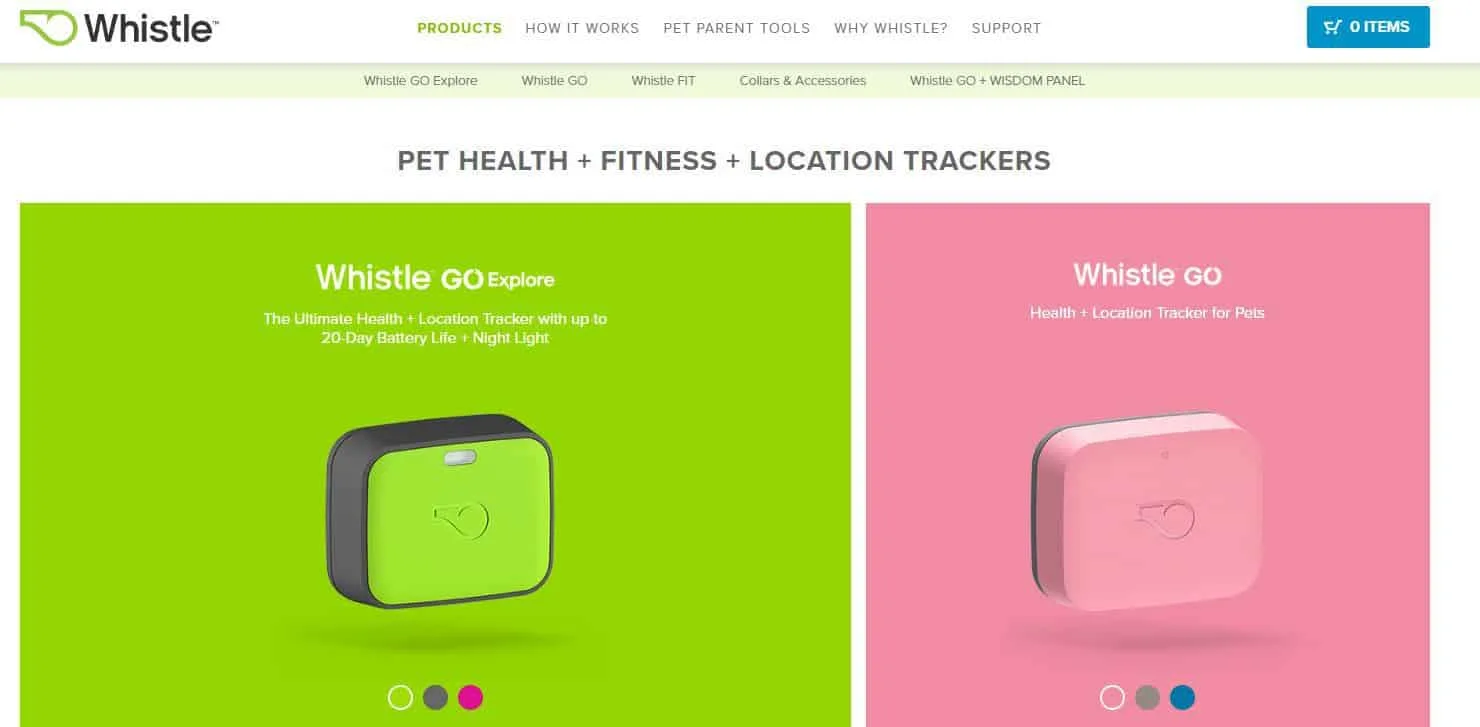 One More Important Thing
If the reason you were interested in trackers in the first place was because your husky has escaped, or you have recently caught him trying to escape, I strongly recommend checking out another article of mine. (link below).
When it comes to escaping, of course, it's almost guaranteed to retrieve your husky within a short amount of time if he's wearing a tracker. But it's extremely important to analyze why he escaped in the first place. Fixing the root cause is absolutely necessary.
Check out my other article about why your husky may be running away and other ways you could stop this behavior.
Summary
So there you have it! Tracking devices are a pretty good idea if your husky gives you the impression he's ready to run off at any moment. Nothing beats finding the root cause and correcting it with training, but for the meantime, a tracker is an excellent safety feature to consider.
Most Recommended For Huskies 🐶
Best Brushes For Husky Shedding ⭐
My two favorite brushes for a beautiful coat are a simple Undercoat Rake and a Slicker Brush. These brushes when used together will de-shed and maintain your husky's coat better than anything else.
Best Online Training Program For Huskies⭐
Brain Training For Dogs has become increasingly popular with Siberian Huskies in the last few years. It's now recognized as perhaps the best way to train a husky in the most stress-free, positive way.
Best Husky Puppy Book ⭐
If you would like to support My Happy Husky directly and have an easy to read and entertaining guide for training your husky puppy, check out my book The Husky Puppy Handbook on Amazon. All purchases are greatly appreciated.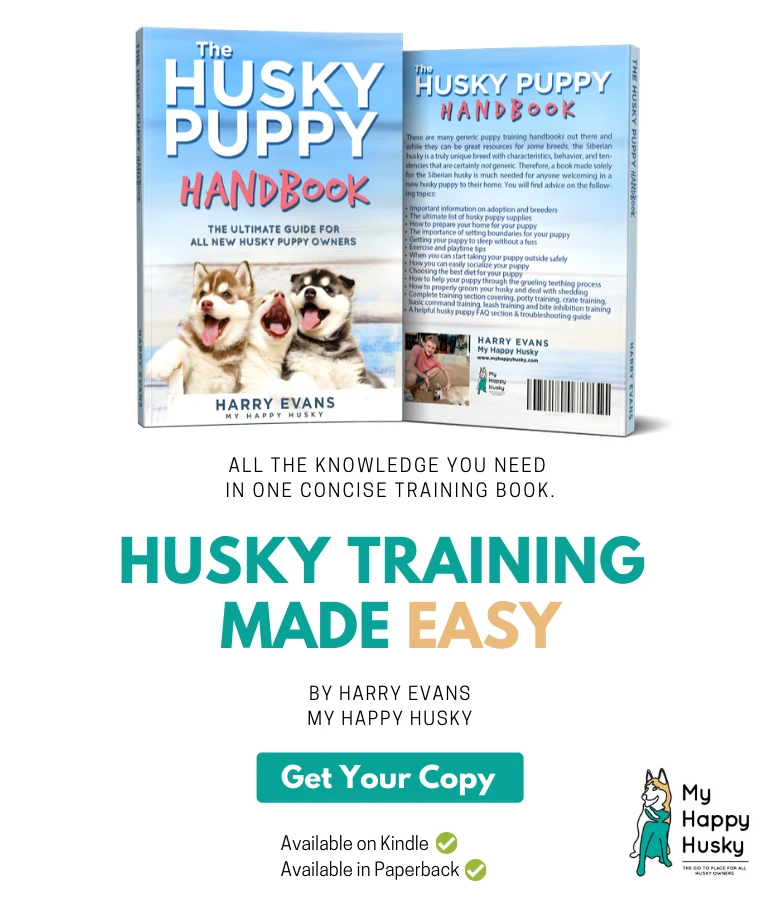 Disclaimer
The advice given in this article is for educational purposes only and does not constitute professional advice in any context. Before making any decisions that may affect the health and/or safety of your dog, you should always consult a trained veterinarian in your local area. For the FULL disclaimer Visit Here
Copyright Notice: The content produced and published on My Happy Husky is unique and original. My Happy Husky makes an active effort to search for plagiarized content using plagiarism detection software. If plagiarized content is found, action will be taken.