In this post, I'm going to review a popular pet brand and the products they offer. Wilderdog is a US-based brand originally specializing in leashes, then collars and now a range of outdoor pet gear.

With their forever growing popularity, especially for Siberian husky owners, I decided to find out if they really are as good as they look, and they look pretty darn good.

Before getting started I think it's important to say that I am not endorsed by Wilderdog for writing this post, nor have I been asked by them to write it.

This is just to help you out if you've been thinking about purchasing anything from them.
---
What Gear Does Wilderdog Make?
Wilderdog first began by making leashes, which quickly became, and still are, their best-known item for sale. But now, they also make very popular collars, harnesses, bags, and other small things (like poop bags!). Some of these items are even waterproof.
Let's take a look at some of the different options they currently have available.
Wilderdog Reflective Leash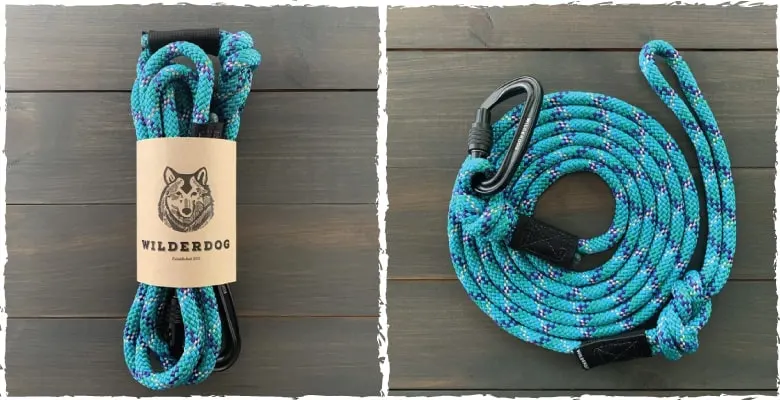 The leash in the photo above is their "Islander Reflective Leash"

This is their iconic style of rope leash that they've become well-known for. If you aren't already familiar with Wilderdog, retractable leashes are not something they produce. This is met with varied opinions, but I am personally a fan of simple leashes.

All of their leashes are made from rock climbing rope for the ultimate strength and durability. Confidence in their products is something they are not short of and offer a lifetime guarantee. Not too common nowadays!

They call these leashes their "big carabiner leashes" and they come with a sturdy 3/8″ rope, ideal for medium to large size dogs. On top of their thick rope, they have two options, 5ft or 10ft. The longer option is ten bucks more than the shorter one. Most people have a preference right off the bat, so I'll leave that down to you.

Lastly, they offer non-reflective versions as well as reflective ones. Their leashes come in an array of tempting colors.
---
Wilderdog Waterproof Leash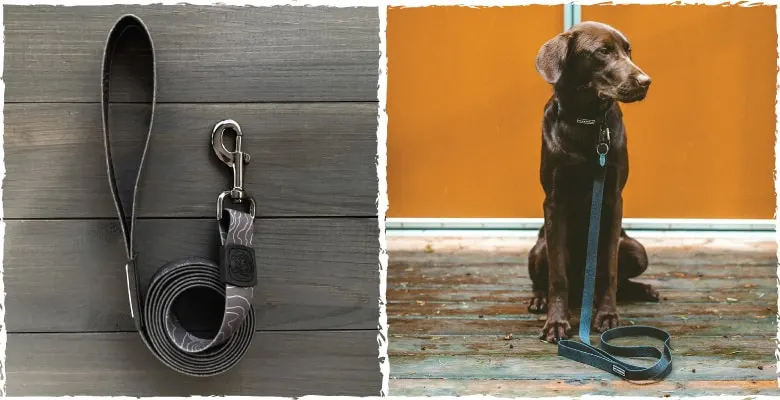 Alternatively, their waterproof option may be more suitable for your environment than the standard rope option. This is their "Plum Waterproof Leash"

Huskies are adventurous souls and despite not always loving the water, get incredibly mucky. If you take your husky out on messy trails, this would actually be a great option to go for.

The leash is made out of a rubber-coated webbing that "repels water and dirt"; perfect for wet conditions.

One benefit of this particular material is that it won't start to smell bad, perhaps like some rope options.

Their waterproof leashes are 6 feet long and come in a few different eye-catching colors. At first, I was a little skeptical about how the grip of this leash would feel. But I've since been told by many that it's a pleasure to hold.

What do you need to go with a waterproof leash? a waterproof collar. Don't worry, they have matching colors in their waterproof range too!
---
Wilderdog Collar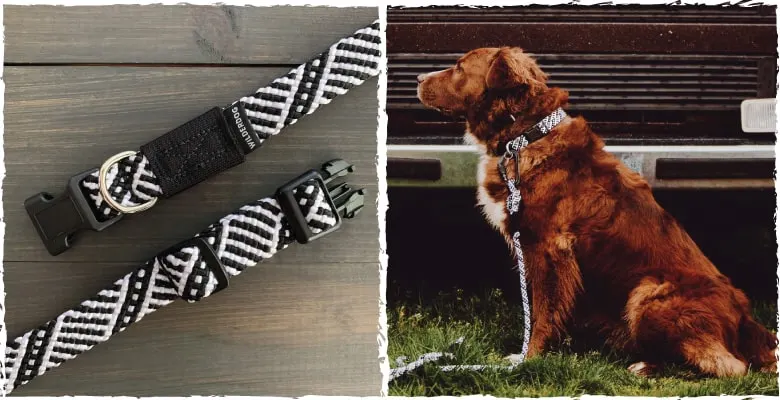 This is the Wilderdog Collar; made using the same quality rock climbing rope as their iconic leashes.

You can find many different colors to go for, as well as some reflective options, of which have 4 strands of highly reflective tape woven into the rope.

Their collars come in three different sizes as well as having further adjustment for the correct fit. Wilderdog has the correct sizing measurements located on the product page for further reference.

I particularly like that the medium and large size collars have a slightly thicker band; this reduces choking if your husky pulls a little. This kind of attention to detail (and safety) is something to be appreciated.

Their collars and leashes are conveniently matching colors, making it pretty irresistible to get one without the other.
---
Wilderdog Harness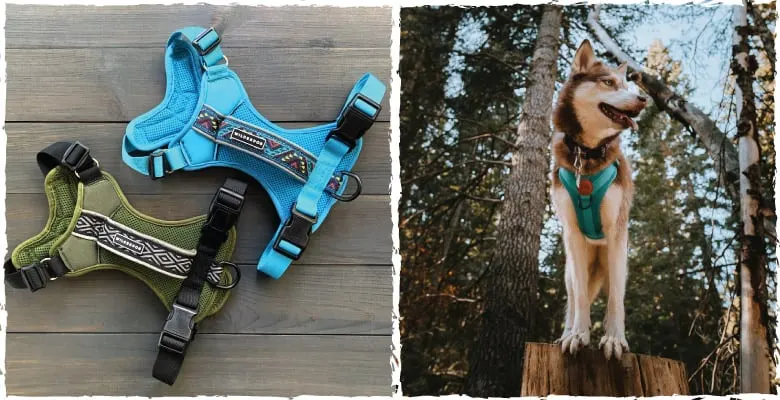 Another one of their best selling items; the Wilderdog Harness.

Harnesses, in many people's opinion, are a safer, more reliable option to go for over a collar. I personally prefer using harnesses over collars too.

Even with sufficient leash training, sometimes your furry friend will get a little ahead of himself and start to pull, it's normal. So in these situations, using a harness will take away his pulling power and reduce choking.

After spending two years designing this harness, Wilderdog ensured no stone was left unturned. They are very confident that with their attention to detail they have made the most versatile harness; with all the features you need for epic adventures, as well as casual walks. Multiple D-rings, top handle, reflective strips, adjustable sizes. It's all there.

The body is made from lightweight mesh fabric. This is the type of material I like to see, it's not only super comfortable but it's breathable and allows your husky to expel heat.
---
Wilderdog Sleeping Bad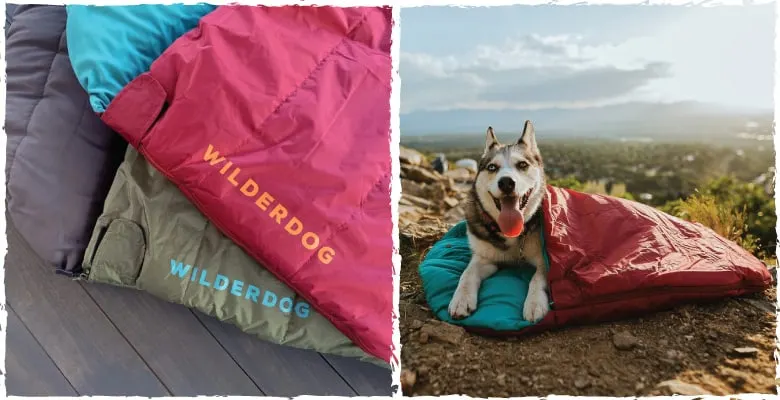 For the keen explorers and campers, your furry friend will appreciate the Wilderdog Sleeping Bag.

For me, the Wilderdog sleeping bag really emulates what they are about; making the most of the great outdoors, exploring new areas and sitting around the fire ready to camp out with friends. A sleeping bag designed just for your husky is a nice touch, and I really like it.

Of course, this item isn't for everyone, but if you do regularly camp you may be seriously interested.

It's a great size of 36″ x 28″ when it's laid out flat. If it's not particularly cold, using it as a comfortable ground blanket is an option. Or, you can zip it back up for your husky to burrow in feeling cozy and secure.

It has two hoops that allow you to hang it out to dry if wet and it comes with a handy sack for easy transportation.
---
Wilderdog Waterproof Doggie Bag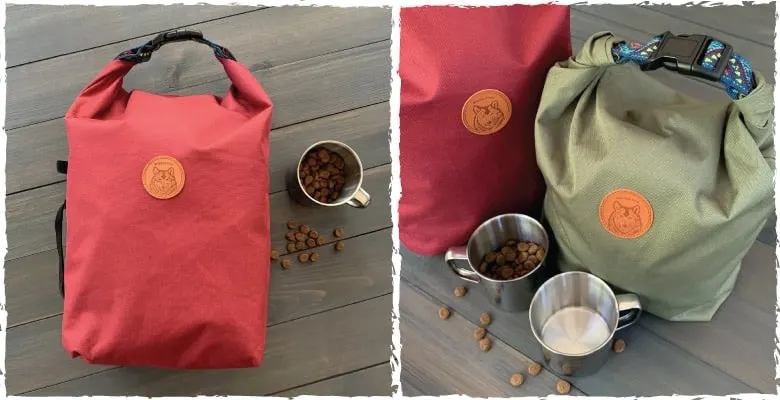 This is the Wilderdog Doggie Bag. Designed for carrying kibble on the road or hike.

If you love going or road trips or day-hikes up in the mountains, you will need to have some of your husky's food with you. To get rid of the plastic zip-lock bags, Wilderdog designed their "doggie bag" which can hold up to 40 cups of dry kibble when full.

The bag is waterproof and folds down to however much kibble you have inside, so you don't waste space.

You also get that nice stainless steel Wilderdog cup included with every bag, which you could use for general use or scooping food.

Their "Doggie Bag" matches perfectly in color and design to their "Backpacking Bowl" which is for your husky to actually eat his food out of. These two items go hand in hand, so it's worth checking them both out.

Although this bag is perfect for food, I have seen many people use it as a standard bag for their own items, which is something you could do too. Its waterproof design makes it perfect for all weather.
---
Wilderdog PAWJAM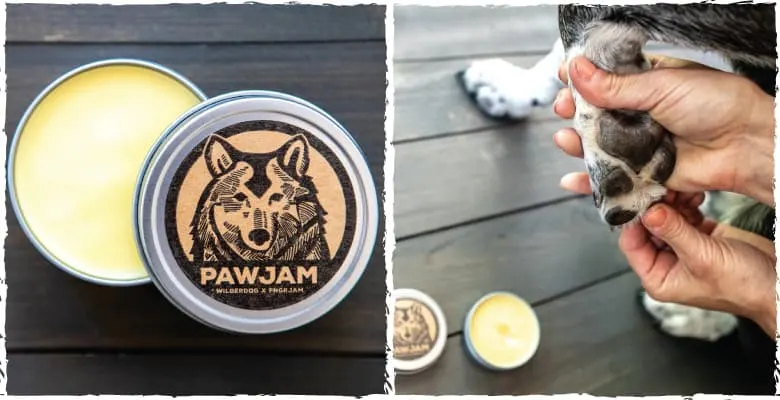 PAWJAM is a collaboration product between Wilderdog and FNGRJAM.

Siberian huskies love exercise, and they need a lot of it. If you don't take him out solely on grass, there's a chance his paws may become saw. This is particularly true during summertime when the pavements are hot.

I love the fact this product is 100% all-natural, non-toxic, and safe. As it doesn't contain any added scents apart from a little natural bee's wax, your furry friend will be less inclined to lick it off. But, even he does, it's non-toxic.

I wouldn't say that this item is necessary for everyone, but if you often take him out on rough surfaces like concrete or dry mud it may be worth looking into.
---
My Opinion of Wilderdog Products
Once again, I am not being compensated or endorsed to write this article. It's for me to help you.
Although I think Wilderdog may not be necessary for all breeds and families, I do believe that for highly active dogs with families that spend a lot of time outdoors, they offer the best products.

Siberian huskies are not a walk in park excuse the pun. They are a high-energy breed needing intense physical activity. Whether this is running hikes, exploring forests, or joining you and your friends on exciting camping adventures. Whatever your activity, you're going to need quality equipment that you can trust.

I will say that their prices are higher than average. You don't often find leashes costing $30-40 bucks. But to be fair, that's what quality costs. And unless you prefer to spend less money upfront on an alternative leash, but then have to replace it every month, Wilderdog would be a better investment from the start.

After learning a little bit about the brand, the people behind it, how they started, and why they started; I instantly feel that they make their products with the best intentions to serve you. For me personally, this is very important, and knowing that the creators of the brand are truly passionate about their products is something I like to see.

What comes with this is a huge amount of trust and the fact that they offer lifetime guarantees speaks volumes about the confidence they have in their own products.

If you have a Siberian husky or any active breed I do suggest checking Wilderdog out, they're worth the investment, in my honest opinion.
If you are interested in any seeing all the products Wilderdog has to offer you can check them out here https://www.wilderdog.com
If you have experience using Wilderdog products be sure to drop a comment below.
Most Recommended For Huskies 🐶
Best Brushes For Husky Shedding ⭐
My two favorite brushes for a beautiful coat are a simple Undercoat Rake and a Slicker Brush. These brushes when used together will de-shed and maintain your husky's coat better than anything else.
Best Online Training Program For Huskies⭐
Brain Training For Dogs has become increasingly popular with Siberian Huskies in the last few years. It's now recognized as perhaps the best way to train a husky in the most stress-free, positive way.
Best Husky Puppy Book ⭐
If you would like to support My Happy Husky directly and have an easy to read and entertaining guide for training your husky puppy, check out my book The Husky Puppy Handbook on Amazon. All purchases are greatly appreciated.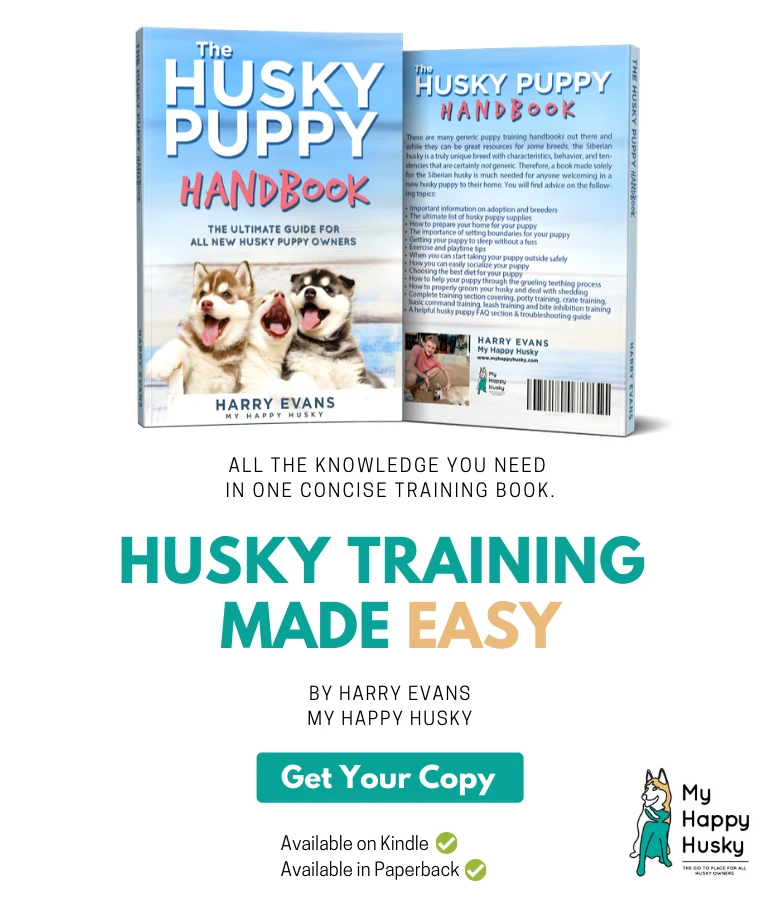 Disclaimer
The advice given in this article is for educational purposes only and does not constitute professional advice in any context. Before making any decisions that may affect the health and/or safety of your dog, you should always consult a trained veterinarian in your local area. For the FULL disclaimer Visit Here
Copyright Notice: The content produced and published on My Happy Husky is unique and original. My Happy Husky makes an active effort to search for plagiarized content using plagiarism detection software. If plagiarized content is found, action will be taken.