Alaskan Malamutes really are the big friendly giants of the dog world. With their regal stature and loving nature, it's easy to see why they are such popular dogs.
And when you take these traits and mix them with other beloved breeds, the result can be nothing short of magical.
Today, we'll dive into the five best Alaskan Malamute mix breeds. We'll explore the unique attributes of each mix, covering aspects like temperament, physical appearance, basic needs, and who these breeds are most suited for.
Alaskan Malamute German Shepherd Mix (Alaskan Shepherd)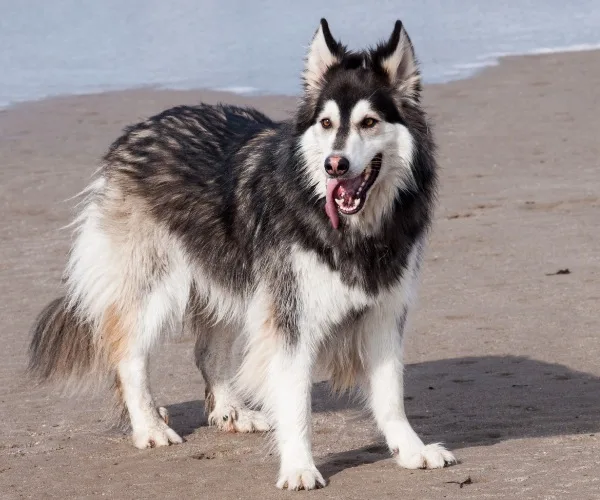 Alaskan Shepherds are a stunning combination of Alaskan Malamute and German Shepherd. They possess the intelligence and loyalty of the German Shepherd, coupled with the strength and endurance of the Alaskan Malamute.
Temperament ❤️
Their unique temperament blends the protectiveness of the German Shepherd and the playful, sociable nature of the Malamute. This makes Alaskan Shepherds alert and protective pets that are also loving family dogs. They are particularly known for their intelligence and ease of training. However, they need a firm, experienced hand for proper training and socialization from an early age.
Appearance 🐶
Quick stats:
Height: 22-26 Inches
Weight: 60-90 lbs
In terms of physical appearance, Alaskan Shepherds typically possess the striking looks of both parents. They tend to have the Malamute's deep-set, almond-shaped eyes and the German Shepherd's erect ears, and their coat colors can range widely. Their size falls between large to giant, with males reaching up to 90 lbs and females slightly smaller.
Basic needs ➡️
Their basic needs are high exercise, mental stimulation, and a healthy diet to match their large size. A spacious backyard or access to a park is ideal for this breed, as they need room to burn off their energy.
And as you can imagine, daily grooming (brushing) is mandatory for this fluffy giant! To prevent their coat from matting and causing big problems, owners will need to use an undercoat rake and a slicker brush daily.
Training is important for this breed as they can be prone to stubbornness and hard headedness. Still, this breed can be trained and learn to be very obedient with consistency on the owner's part.
Most suitable for ✅
Alaskan Shepherds are best suited for active individuals or families with older children. They might be too large and boisterous for families with small children or for the elderly. If you're a fan of outdoor activities and want a loyal companion to accompany you, the Alaskan Shepherd could be a perfect choice.
Alaskan Malamute Siberian Husky Mix (Alusky)
Next up is the Alusky, a cross between an Alaskan Malamute and a Siberian Husky. This mix combines the traits of two Arctic breeds, creating a high-energy, playful, and resilient canine.
Temperament ❤️
The temperament of the Alusky is typically lively and friendly. They're highly social dogs, always up for fun and games. However, Aluskies can also be stubborn and independent, which can make training a bit of a challenge. But don't worry, with consistent training and plenty of positive reinforcement, you'll have a well-behaved pup in no time.
Appearance 🐶
Quick stats:
Height: 20-25 Inches
Weight: 55-80 lbs
Physically, Aluskies are a sight to behold. They often inherit the beautiful blue eyes of the Husky and the robust body of the Malamute. They have a thick, double coat that can come in a variety of colors and patterns, and can weigh anywhere from 55 to 80 lbs.
Basic needs ➡️
In terms of basic needs, Aluskies need a lot of exercise, both physical and mental. Without it, they may become bored and resort to destructive behaviors. They also hate to be left alone for hours at a time.
This is one of the most important factors to consider before getting this kind of mix.
Training is necessary if you want an obedient mix that listens to you when you call their name or give a simple command. Training must start early to tackle their natural stubbornness.
Most suitable for ✅
The Alusky is best suited for active individuals or families who have a lot of time to devote to exercise and training. With the right socialization, they can also do well in multi-pet households.
Alaskan Malamute Golden Retriever Mix (Alaskan Goldenmute)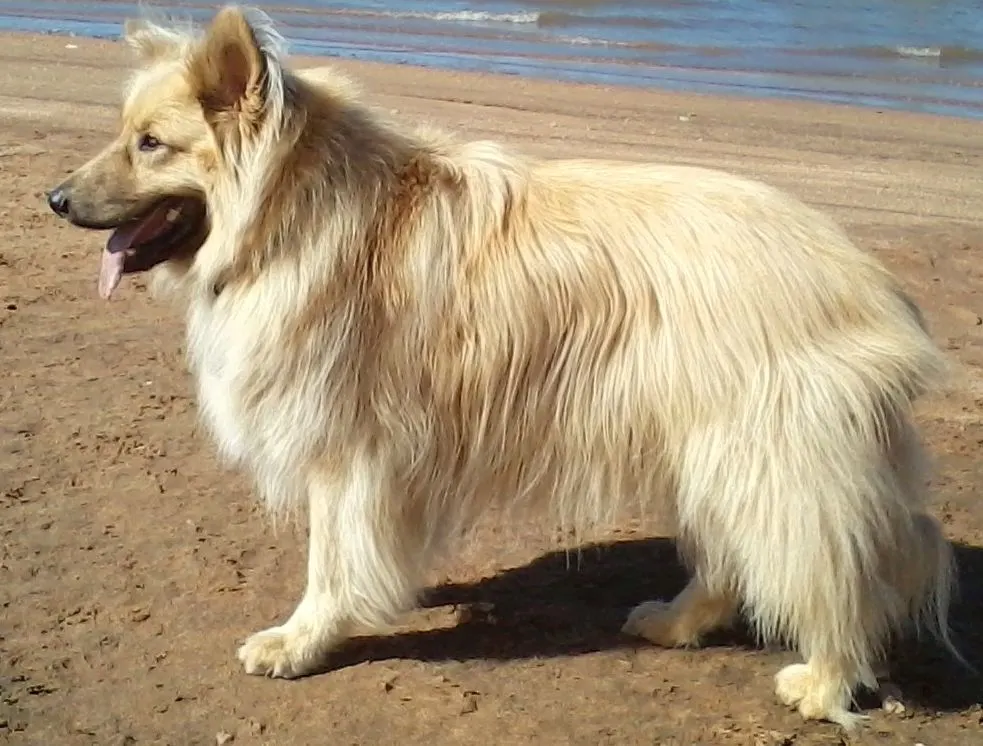 An Alaskan Goldenmute is a charming mix of an Alaskan Malamute and a Golden Retriever. This breed combines the Malamute's strength and stamina with the Retriever's sociability and playfulness, resulting in an affectionate and hardy canine.
Most Recommended For Huskies!
These are best three products I recommend for all husky owners. Two excellent brushes (all you need for a beautiful coat) and the healthiest, low-calorie treats that won't cause fussy eating or upset stomachs.
⭐ FURminator Undercoat Rake (best for shedding)
⭐ Hertzko Slicker Brush (best for topcoat)
⭐ Zukes Mini Naturals Low Calorie Treats (best treats)
All tried and tested by thousands of My Happy Husky readers.
---
Temperament ❤️
The temperament of an Alaskan Goldenmute is typically warm, friendly, and eager to please. They're intelligent and responsive, often showing a strong bond with their human family. They can, however, inherit the Malamute's independent streak. Thus, early and consistent training is crucial for a well-behaved Alaskan Goldenmute.
Appearance 🐶
Quick stats:
Height: 22-26 Inches
Weight: 60-85 lbs
Physically, these dogs are a lovely blend of their parents. They usually have a dense double coat that can range from the golden shades of the Retriever to the varied colors of the Malamute. Expect them to be large dogs, generally weighing between 60 and 85 lbs.
Basic needs ➡️
Basic needs for this mix include regular exercise to keep them fit and at the correct weight. With this mix you'll need to really focus on brushing to keep their coat from tangling and causing problems.
While this mix is naturally hygienic, bathing every 2 months with a gentle natural shampoo will be necessary to prevent them from smelling bad.
This dog is highly sociable and will hate being left alone for hours on end, so this is crucial to consider for those that work long hours.
This mix is highly trainable and loves to appease owners, so with little effort and consistency, you should have a rather attentive and obedient fluffy giant.
Most suitable for ✅
Alaskan Goldenmutes are well-suited for families with children and other pets. They are friendly and patient, making them excellent companions for kids. However, their size and energy level make them less suitable for apartments or small living spaces. A home with a yard where they can run and play is ideal.
Alaskan Malamute Border Collie Mix (Border Malamute Terrier)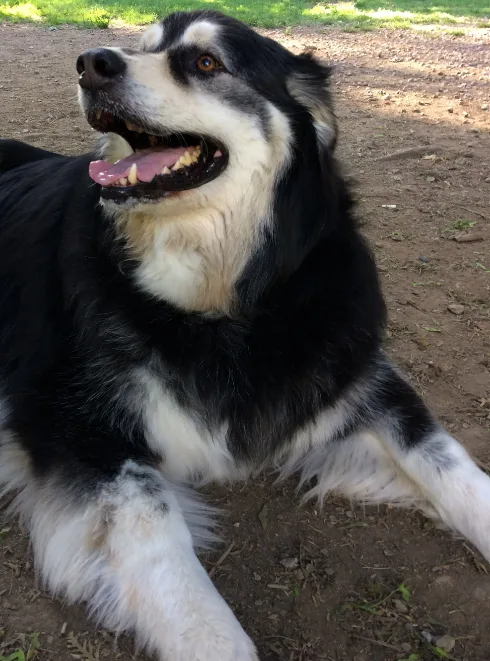 The Border Malamute Terrier, an intriguing mix of the Alaskan Malamute and Border Collie, is a bundle of energy and intelligence. This breed combines the Collie's keen mind with the Malamute's resilience and strength.
Temperament ❤️
The temperament of a Border Malamute Terrier is often characterized by intelligence, agility, and a strong work ethic. They're incredibly active dogs, always ready for a physical or mental challenge. Their highly energetic nature means they need plenty of mental and physical stimulation to stay happy and well-behaved.
Appearance 🐶
Quick stats:
Height: 20-24 Inches
Weight: 50-70 lbs
When it comes to physical appearance, these dogs typically have a robust, athletic build. They may have the Malamute's almond-shaped eyes and thick coat, coupled with the Border Collie's distinctive markings. They're typically medium to large in size, ranging from 50 to 70 lbs.
Basic needs ➡️
For basic needs, the Border Malamute Terrier requires a lot of exercise. Training should also be a high priority, given their intelligence and energy level. A balanced diet that supports their active lifestyle is vital too.
Most suitable for ✅
Border Malamute Terriers are best suited for active individuals or families who can meet their high exercise needs. Due to their energetic nature, they might not be a good fit for those leading a sedentary lifestyle.
Alaskan Malamute Labrador Retriever Mix (Alaskan Malador)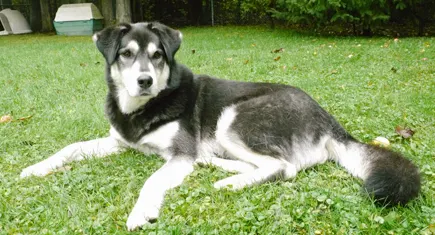 The Alaskan Malador is a delightful mix of the Alaskan Malamute and the Labrador Retriever. This hybrid combines the Malamute's stamina with the Lab's friendly nature, resulting in a robust, loyal, and sociable canine companion.
Temperament ❤️
The temperament of an Alaskan Malador often mirrors the Lab's outgoing, friendly nature and the Malamute's independent but affectionate traits. They are generally easygoing, intelligent, and very social. However, they can sometimes show a stubborn streak inherited from the Malamute, so consistent, positive reinforcement training is beneficial.
Appearance 🐶
Quick stats:
Height: 22-25 Inches
Weight: 60-90 lbs
Physically, Alaskan Maladors are large, muscular dogs. They often have the broad face of the Lab combined with the Malamute's dense double coat. They can have a wide range of colors, from the Malamute's sable and white to the Lab's classic black, yellow, or chocolate. An adult Alaskan Malador can weigh between 60 to 90 lbs.
Basic needs ➡️
In terms of basic needs, Alaskan Maladors are high-energy dogs that require plenty of exercise. They also love to play, so a variety of toys would be a great addition.
Like their parents, they have a thick double coat that requires regular grooming to keep it healthy and shiny.
Training will be essential as this mix is prone to a streak of stubbornness. But in general, this mix can be trained to a high level and owners can expect a well-behaved dog.
Most suitable for ✅
Alaskan Maladors are best suited for active families with older children or for individuals who enjoy an outdoor lifestyle. They are sociable dogs who love to be part of family activities. While they can adapt to different living conditions, they would be happiest with a yard to explore and play in.
Last thoughts
In conclusion, each Alaskan Malamute mix breed has its unique charm and attributes, making them a fantastic choice for the right individuals or families.
Whether it's the protective and intelligent Alaskan Shepherd, the lively and sociable Alusky, the friendly and hardy Alaskan Goldenmute, the agile and energetic Border Malamute Terrier, or the loyal and robust Alaskan Malador, there's an Alaskan Malamute mix out there for everyone.
⭐ Keep in mind, when discussing the basic needs of each mix, in most cases it's the same. It goes without saying that they should be on a high quality diet that prioritizes whole fresh ingredients and has a high protein content compared to carbs.
⭐ Every one of these mixes will need a lot of exercise to keep them healthy and stimulated, and mental stimulation shouldn't be forgotten either! Additionally, training will be essential for good behavior, and no malamute-mix likes to be left alone for hours on end. Get these things right, and you'll be rewarded with great behavior and loyal, loving companion.
Disclaimer
The advice given in this article is for educational purposes only and does not constitute professional advice in any context. Before making any decisions that may affect the health and/or safety of your dog, you should always consult a trained veterinarian in your local area. For the FULL disclaimer Visit Here
Copyright Notice: The content produced and published on My Happy Husky is unique and original. My Happy Husky makes an active effort to search for plagiarized content using plagiarism detection software. If plagiarized content is found, action will be taken.