Zinc is the second most important trace mineral in your dog's system and is responsible for many normal bodily functions. Without sufficient levels of zinc, a range of pretty serious health issues can develop.
One of the best ways to tackle zinc deficiency in dogs is through their diet. This article will guide you through the best dog food on the market for dogs with zinc deficiency.
I must point out the caution you should take when reading articles promoting "10 or 15" best foods for whatever. Unfortunately, when it comes to kibble, there just aren't that many great options out there. That's why I am only recommending 4 of the dog foods that I trust.
One Important Point: Raw Food Diet
Before recommending specific dog foods I have to recognize and point out the advantages of the raw food diet for dogs with zinc deficiency
It's important to mention the raw food diet is likely to be the best solution for dogs that are zinc deficient (over commercial kibble). Raw foods contain a higher concentration of zinc, it's better quality and it's usually easier to absorb and digest, which ultimately combats the underlying cause of most zinc-deficiency cases; mal-absorption and mal-digestion.
However, the raw food diet is extremely difficult to get right and requires careful planning from someone with experience in the field. You have to follow specific ratios of meat, to organ meat, to bones and ligaments. You also have to include the right amount of varying veggies and even still you may need supplementation. I do commend the BARF diet, but it's not for everyone. Not to mention it's considerably more expensive than even the most expensive kibble out there.
I've put together this list of commercial dog food for everyone who is not in a position to try the raw food diet for whatever reason. If your dog is zinc deficient there are specific commercial dog foods that you should try.

The 4 Best Dog Foods For Dogs With Zinc Deficiency
Let's take a look at the following dog foods that by design are best suited for dogs that suffer from zinc deficiency.
Nulo is now becoming one of the preferred brands to go for when it comes to quality dog food. This option from Nulo, in particular, stands out to be great for zinc-deficient pooches. Here's why:
How this dog food helps with zinc deficiency:
The first benefit of this food is that its overall ingredients are limited. Limiting the ingredients put into the formula can help your dog's digestive system absorb more nutrients, instead of being overwhelmed with an overload of different foods.

This formula specifically contains "Zinc Methionine" which is actually a higher quality form of zinc that's more easily digestible and absorbed than other forms. There are several forms on zinc and this is one of the better ones to look out for.

You can opt for a salmon option. Although salmon typically has less zinc content than beef, you benefit from a higher dosage of Omega 3, 6 and fish oils which in general, helps zinc deficiency dogs.

This option will be particularly helpful for dogs that have developed skin issues through zinc deficiency. Salmon and the essential fatty acids will improve their skin and coat health over time.
This is one of the best dog food options to go for if your dog suffers from zinc deficiency. You can check it out here on Amazon.com
---
One of the long time classics in the dog food world is Taste of the Wild. This particular formula is packed full of protein. Something very helpful for dogs with zinc deficiency. Let's take a look at all the benefits:
How this dog food helps with zinc deficiency:
One of the best ways to get zinc is from real meat, which is exactly what this premium option contains. Real Bison and Venison meat is used to make this kibble. That packs a serious protein punch with high quality, easily digestible zinc.

You can opt for a grain-free option or one with grains. This is particularly handy if your dog already has a sensitive stomach. Opting for the grain free version will help your furry friend digest more of the food in the first place, effectively getting more zinc into the system.

This particular formula contains Zinc Proteinate which comes from the chelation of zinc with amino acids. Zinc proteinate has been used in zinc supplements to help the correction of zinc deficiency in animals.
If your dog loves his meat, this will be a fantastic option to go for. You can check it out here on Amazon.com
---
Purina Pro Plan offers one of the best kibbles out there for sensitive skin and stomachs. This is particularly benefitial for dogs that have a zinc deficiency. Let me explain:
How this dog food helps dogs with zinc deficiency:
This formula is specifically made for dogs with sensitive stomachs. This means that it's easily digestible. Foods that are more easily digested means a better chance of the zinc actually getting into the system.

One of the main reasons that dogs have skin issues is due to having a lack of zinc in their body. As this formula is made for dogs with sensitive skin and as well as stomachs, it has been sure to add in a quality amount of zinc, omega 3, 6 and essential fatty acids. Exactly the right ingredients for zinc deficiency dogs.

Real Lamb meat is the No.1 Ingredient. As mentioned earlier, it's vital to have a quality source of protein and the closer you get to "real" meat, the better the zinc content will be. Lamb, in particular, has a great amount of easily digestible zinc.
If your dog suffers from zinc deficiency, a sensitive stomach or skin issues, this is a great option to go for. You can check it out here on Amazon.com
---
One of the most well-known dog food brands is Blue Buffalo, while I don't recommend all of their products. This one, in particular, is highly reviewed and is perfect for zinc-deficient dogs.
How this dog food helps dog with zinc deficiency:
The mountain recipe formula offers a "red meat" option. A combination of real red meats will have the highest content of zinc by far. Zinc from real meats will be of higher quality and will digest easily.

Zinc Amino Acid Chelate is also present in this formula. This is one of the "better" forms of zinc that digests and absorbs much more efficiently than many other forms of zinc. Food that contains this form of zinc is a good indicator of premium quality

You won't find any grains, wheat, corn or soy and it's also free from artificial flavors and preservatives as well as by-product meals. Basic, but very important to look for in a quality dog food.
This is an overall great option that's certainly of premium quality. You can check it out here on Amazon.com
Additional Ways to Help Your Dog With Zinc Deficiency
There are a handful of extra ways to help zinc-deficient dogs. Let's take a look
It's important to note that you should not feed your dog both raw meat and kibble at the same time. This will play havoc on the digestive system and could make them incredibly sick.
1) Spinach, Kale, Seaweed or Kelp
Consider adding in a small amount of spinach, kale, seaweed or kelp into your dog's diet. As these dark leafy veggies are potent in zinc and other essential vitamins, minerals, and antioxidants, it's best to start small and only 3-4 times per week.
Incorporate the leaves into your dog's mealtimes by finely chopping up either one of the veggies listed. Mix it in with his food and offer it to him. Don't leave the leaves large, this may encourage him to refuse the food.
2) Fish oils
Fish naturally contains zinc, and so does it's oil! Fish oil benefits your dog's system in many positive ways. It's great for supporting the immune system, heart, brain function, as well as other vital bodily processes.
Despite being extremely beneficial, we must consider how much fish oil your dog is already consuming through his kibble. Too much fish oil can pose various health issues.
A healthy amount of fish oil remains to be about 100-150mg per 10lbs of body weight, given 2-3 times per week.
3) Zinc supplement
If you've tried adjusting his diet but haven't seen results, a zinc supplement may be the way to go. Zinpro is currently the most well-known zinc supplement and is readily available.
One of the benefits of Zinpro is that it uses a form of zinc called zinc methionine. This is an organic source of zinc and is absorbed 100-300% more efficiently compared to other inorganic forms. You can check out Zinpro here on Amazon.
4) Healthy natural dog chews
If you're interested in using treats to help combat your dog's zinc deficiency you may want to check out Pet Honesty. They are a USA based company making all-natural dog chews, which a range of different added vitamins and minerals.
They have dog chews specifically designed for allergies, skin + coat health, digestion, joint health, and general multi-vitamin chews.
They have some excellent reviews and are becoming increasingly popular. I really recommend checking them out.
A helpful resource
If you have not yet made an appointment with your local veterinarian, I strongly suggest you do so. Zinc deficiency can be extremely serious and can cause health issues that may even be fatal. You must speak with your veterinarian to receive the proper help necessary.
For now, you may like to check out one of my other articles. It's about zinc deficiency in Siberian Huskies, but the information applies to many other breeds too. You can see my complete zinc deficiency article here.
Summary
There you have it, the 4 best commercial dog foods for zinc-deficient dogs. Remember that with any serious health issue like this, you should receive on-going support and advice from a professional.

The advice in this article does not constitute medical advice
If you have any comments or experience on this topic please comment below! I look forward getting back to you
Most Recommended For Huskies 🐶
Best Brushes For Husky Shedding ⭐
My two favorite brushes for a beautiful coat are a simple Undercoat Rake and a Slicker Brush. These brushes when used together will de-shed and maintain your husky's coat better than anything else.
Best Online Training Program For Huskies⭐
Brain Training For Dogs has become increasingly popular with Siberian Huskies in the last few years. It's now recognized as perhaps the best way to train a husky in the most stress-free, positive way.
Best Husky Puppy Book ⭐
If you would like to support My Happy Husky directly and have an easy to read and entertaining guide for training your husky puppy, check out my book The Husky Puppy Handbook on Amazon. All purchases are greatly appreciated.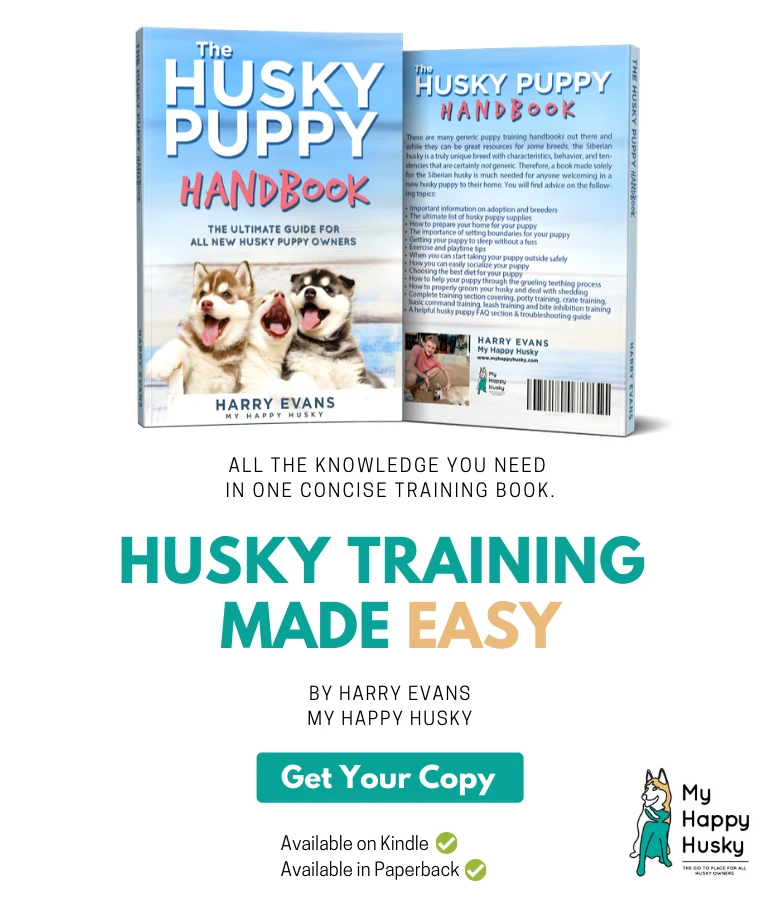 Disclaimer
The advice given in this article is for educational purposes only and does not constitute professional advice in any context. Before making any decisions that may affect the health and/or safety of your dog, you should always consult a trained veterinarian in your local area. For the FULL disclaimer Visit Here
Copyright Notice: The content produced and published on My Happy Husky is unique and original. My Happy Husky makes an active effort to search for plagiarized content using plagiarism detection software. If plagiarized content is found, action will be taken.