After receiving many emails requesting a single page with all the items recommended throughout my articles, it's finally here!

Here you will find a collection of all the top husky gear that has been recommended on My Happy Husky.

As there are thousands of brands to choose from, it can be quite challenging to know which shampoo is safe, what treats are best for training, or which interactive toy your huskaroni will like the best. So this page should take a lot of the guesswork out of it 🙂

All of the items recommended have either been tested by myself, my friends, or readers of My Happy Husky. Not to mention all have very good reviews that you can check out for yourself.

This list is constantly monitored by myself so If other products become a better or more appropriate fit, I will change it here. You can be sure this list will be kept up to date.
Please Note: The items will come with a link to either Amazon or Chewy. Some of you may have a preference so I will include both links, where possible.
Let's break everything down into categories. You can skip to each section by clicking the menu just below 🙂
---
Best Training Program For a Husky
Training a husky can be rather difficult, to say the least. For those that want to take training seriously, but also like to have a complete step-by-step guided walkthrough, then there's only one training course you need. And that's Brain Training For Dogs.
Although I have my own book, which is tailored for puppies, Brain Training For Dogs is a complete guided training course with proven techniques, that work fantastically with huskies of all ages. Huskies are some of the best performers actually!
I have tested the course myself, and nearly always come across other owners that are currently working through it. Anyway, I highly recommend checking out their page as they do a much better job of explaining their course than I can! They go into a lot of detail and if that's something you like, check it out here: Brain Training For Dogs.
Best Crate for your Husky
Best overall crate:
MidWest Homes for Pets Dog Crate Double Door. This crate is my overall winner. It's a simple, lightweight design with a double-door feature for great ease of access. It has double latches to prevent Mr.houdinhi from escaping as well as a plastic slide-out tray for easy cleaning. It's great value for money (compared to other crates) and it has 58,000 positive reviews on Amazon. You can check it out here.
---
Other options:
Despite strongly recommending the crate above, if you're looking for a fashion crate or heavy-duty crate these are your best options:

Fashion crate / Wooden crate
Merry Pet 2 in 1 Configurable Pet Crate (Chewy)

Heavy-duty crate
Frisco Ultimate Heavy Duty Steel Metal Dog Crate (Chewy)
---
Best Bed for your Husky
Best overall bed:
Bark Box Memory Foam Dog Bed. High-quality beds don't always have to come with ridiculous price tags and that's exactly why this is my top pick. This bed is a premium memory foam platform bed that is used for orthopedic joint relief.

The actual mattress is a mix of gel memory foam and high-density foam, together creating the perfect support for comfort and recovery. And perhaps my favorite part is that the bed cover is waterproof and machine washable!

This fantastic option from Bark Box has over 6000 positive reviews on Amazon and is still considered to be one of the cheaper beds on the market. You can check it out here on Amazon.
---
Option 2
The second option is considered to be one of the best dog beds on the market, but as you can imagine, it also comes with a rather high price tag.
It's from PetFusion and it's extremely high spec. It uses orthopedic memory foam, with specifically made headrest for maximum comfort. The material is breathable and also has a waterproof lining. It's been certified to be safe for skin contact, and it has a 3-year warranty. It's really awesome, but the price is steep. It has 7000 positive reviews. You can check it out here (link opens Amazon)
---
Best Harness for your Husky
Best overall harness:
Kurgo Tru-Fit Smart Harness This is an extremely well-made, strong harness for your husky. It's made with car travel in mind and has been made compatible with any car seatbelt, and crash tested up to 75lbs. Needless to say, this is a durable and tough harness you can rely on. And it's not just for cars, it's lightweight, padded and will allow your husky to move freely during long walks. It has hundreds of positive reviews and it's very reasonably priced. You can check the latest prices and reviews on Amazon here.
---
Option 2
If you wanted to go for even more comfort, then without a shadow of a doubt. The Canine Equipment Ultimate Harness is your option. With this harness, you get super thick padding for maximum support and comfort. You can check it out here (link opens Amazon)
---
Best Vacuum for Husky Hair
Best overall vacuum:
BISSELL Cleanview Swivel Pet Upright Bagless Vacuum Cleaner. This is a clear winner for us and for many other pet owners too. It has a triple-action brush technology which means not only does it actually pick up all of the hair it runs over, it can even dislodge embedded hair stuck in carpets. The other feature I like the most is the scatter-free technology which ensures hair doesn't get blown out from the sides, something a lot of other vacuums do; to everyone's misery! This vacuum has over 4000 positive reviews. You can check it out here.
---
Option 2
If a lighter, more portable vacuum is what you prefer, then the MOOSOO Cordless Handheld Vacuum 4 in 1 for Home & Pet provides the best bang for your buck. For a small vacuum, it has immense power and is actually becoming more popular for pet owners than the bigger vacuums. This is a little more expensive than a bigger vacuum, but if you're wanting something light and easy to move around, this is your best option. It has over 4000 positive reviews. You can check it out here.
---
Best Treats for your Husky
Best overall treat:
Zuke's Natural Training Dog Treats. Zuke's have a natural treat that your huskaroni will absolutely love. These little treats come in varieties of flavors. I personally recommend the duck recipe; from my experience duck was the tastiest (I may have accidentally eaten one) jokes aside, these treats are a favorite for many husky owners right now.

The ingredients are impressive too. The treats do not contain corn, wheat or soy. They use only real meat, followed by berries and herbs. All ingredients used are natural wholefoods. What I also like is that the treats are very small, this makes each treat low in calories; perfect for training exercises. with thousands of combined positive reviews, it's hard to go wrong. You can check the treats out here. (Amazon)
---
Prefer something else?
Whimzees Natural Grain-Free Dental Dog Treats. As the name gives away, these are dental treats, so they provide your husky with some valuable cleaning and oral hygiene. These treats are 100% natural and they're made with as few ingredients as possible. This is particularly helpful, as huskies generally have very sensitive stomachs. You can check these treats out here
---
Best Vitamin Chews for a Husky
Best overall option:
First of all, what are vitamin chews? Well, they are just like regular chews treats, but healthier. Pet Honesty is now one of my favorite brands for healthy dog chews. They make dog chews from all-natural ingredients and they tailor different chews for different things.

They make dog chews to help your husky with mobility, joint health, digestion, allergies, skin + coat health as well as generic multi-vitamin style chews. All using quality, natural ingredients. They have awesome reviews, and if you want to get your husky some new treats, I would without a doubt recommend trying out some chews from Pet Honesty

Best Comfort Item for your Husky Puppy
Best overall option:
Snuggle Puppy Toy from Smart Pet Love. A little pricy for a toy, but this is truly awesome. The soft puppy toy contains a heat pack inside to provide your puppy warmth throughout the night. It also has a "real" slow pulsing sensation to mimic his mother's heartbeat. Combine these two features together and your puppy has unrivaled support throughout the night. This reduces crying, anxiety, chewing, and most importantly, helps him have a better sleep. It may be a little pricy, but if you can invest in it, you won't regret it. It has over 6000 positive reviews. You can check it out here. (Amazon)
---
Best Leash for your Husky
Best overall option:
TUG Patented 360° Tangle-Free, Heavy Duty Retractable Leash. If you want to buy just one leash and not have to replace it, this is your best bet. TUG has made a dog leash that isn't going to break if your husky see's a cat and decides it's his. Most people's favorite aspect of this is how comfortable it is to hold, and it's durability when their dog pulls. It's one of the most highly reviewed leashes across the board. You can view it here.

P.S the sizing for a medium is considered up to 55lbs, this is probably ok for a female husky, but for a male, I would get large.
---
Option 2
If you wanted a standard rope leash that is not retractible, I would recommend the Ladoogo Heavy-Duty Foam Handle Dog Leash. Their leashes are well-made and use rock climbing rope for extra safety. Probably the best feature of this leash is the foam handle. A lot of rope leashes neglect the fact you can easily get rope burn, but not this handle; this is a dream to hold. Not only is it cheaper, but it's buy one get one free. With 2000 positive reviews, it's a great option to consider. You can check it out here.
---
Best Interactive Toys for your Husky
As there are so many awesome interactive toys now, all being somewhat different, it's too hard to pick just one single winner. So here are the 4 of the best toys on the market:
StarMark Bob-A-Lot Interactive Dog Toy. Admittedly, I was skeptical of this one before I saw it in use, but once I saw it first hand, it's great.

It's one of the more simple puzzle toys but very entertaining. It's extremely well-made and It's not the type of toy your husky can destroy easily. I've only seen the large option and that was a perfect size; although I haven't seen a medium, it's apparently half the size which would be too small for a husky. It's great for putting small dry kibble in but not so many treats that may be wet; they tend to stick to the inside too much.

Another thing I liked about the design is that you can close the treat door a little bit, which makes the treats fall out less. This increases the time your fluff ball is glued to the toy. I've heard some owners use this toy as a way to feed at mealtimes, but I'm not sure if that's the real purpose.

Regardless, this is an awesome option with over 7000 positive reviews. You can check it out here. (Amazon)
---
Nina Ottosson Dog Smart Beginner Dog Puzzle Toy. I've not tried this myself but countless friends rave about it. This toy is considered level 1 so it's beginner-friendly and not to difficult to figure out. It's ideal if this is the first puzzle toy that you're introducing to your husky.

You can make it easier by locating treats under every white shape or make it more interesting by leaving a few out. This tricks your husky in case he starts choosing to just knock over every single one. Doing that encourages him to smell more and think about it. The only thing I would say about this toy is that if you leave your husky unattended, he may start chewing the white plastic bone shapes. So this is one to use under supervision.

This interactive toy is well-made and inexpensive. You can check it out here.
---
PAW5: Wooly Snuffle Mat. Although it's a little more expensive than your standard interactive toy, it's awesome. This is really different from typical interactive toys, and it's a clever idea.

This is a snuffle mat, which is like a super long rug where you can hide treats or bits of kibble at the bottom of it. Your huskaroni can then sniff around for literally ages, finding all the bits you put inside.

At first, I thought nah, any husky would tear through this matt before bothering to find the treats, but it actually wasn't the case. If you think this is a cool one to try, you definitely won't regret it. You can check it out here.
---
West Paw Zogoflex Qwizl Interactive Treat Holder. If you use chew sticks of any kind, this treat holder is a must.

Whether you have dental sticks or just regular chew sticks, this toy will do a great job at making them last sooo much longer. You can slide in the chew stick and with its natural resistance, make it somewhat challenging for your husky to get out. It has cut-outs around the side so they can lick and sniff the treat too.

Huskies are heavy chewers so it helps that this toy is 100% guaranteed against dog damage by the manufacturer. Not only is it super tough, but the material is all non-toxic, just in case your husky does chew a bit off! It's definitely a great option. You can check it out here.
---
Best Toys for your Husky
There are many great toys out on the market and it would be fairly impractical to list all of them here. So, despite being quite difficult I've narrowed it down to 4 different toys that I think you should have.

Best chew toy for your husky:
KONG Classic Dog Toy. Of course, what kind of toy list would this be if it didn't include a KONG. To this day the KONG toy remains to be one of the best. It's great for heavy chewers, teething puppies, and it's inexpensive. You can fill it with treats, peanut butter, or their own branded "easy treat" which comes out of a canister like whip cream. With over 1000 reviews, it's hard to go wrong. You can check it out here. Size Medium or Large is best for a husky.
---
Best all-around toy for your husky puppy:
I used to prefer toy "kits" but I've since updated this to feature just one toy I think is extremely beneficial and checks more boxes. KONG Puppy Activity Ball Dog Toy. Kong has made a soft, yet extremely strong and durable rubber toy for puppies. The texture is tough, but satisfactorily chewy at the same time, meaning it's perfect for teething. It rolls, so it can act as a ball for games of fetch or chasing. And finally, it doubles up as an interactive toy, so you can get your puppy's brain working early, which is super important. There are multiple cracks and slots for you to place kibble or small treat inside. It's really cheap and has amazing reviews. You can check it out here. (Amazon)
---
Best Agility Set for your Husky
Best overall agility set:
CHEERING PET 28 Piece Dog Agility Equipment. Out of many options on Amazon, this set is the one that stands out. While I have not personally tried it, I have heard that you can do everything you'll ever want to do in terms of agility training, with this set. Not only has it received gleaming reviews, but it's also cheaper than nearly all other sets and it contains more. There is a strong argument these sets are unnecessary as you can make your own agility course out of household items. I kind of agree with this and I would personally look for household items to make the course from. However, I know there are many people who would rather buy one, and that's fine too. You can check it out here.
---

Best Food for your Husky (sensitive stomach)
Best overall sensitive stomach food: (Adult Husky)
Before the food warriors come storming down on me. I honestly believe a raw food diet is healthier. But, it's hard to get right and not easy to start, especially if you're a beginner. For the people who prefer to use a commercial food brand. I recommend Purina Pro Plan FOCUS Sensitive Skin & Stomach Adult Dry Dog

The main source of protein is from real salmon, which is a healthier source of protein than from chicken. Chicken is commonly used, but it's still an allergen so avoiding it, is ideal. The food also contains prebiotic fiber to help support a healthy digestive system. Your husky will receive plenty of Omega 3 and 6, essential for healthy joints, mobility, brain function, eye health and skin, and coat health.

This option has 3000 positive reviews on Amazon (check it out here)

If you have never shopped on Chewy before, you may be able to take advantage of one of their promotions here (this could save you 30%) I explain how on this page
---
Best overall food: (Husky Puppy)
Nutro Ultra Puppy Dry Dog Food. Nutro has a created a premium super-healthy option by including a blend of 15 natural superfoods to give your pup all the nutrients he needs. With all of its vegetables and fruits, your pup receives a lot of vitamins, minerals, and antioxidants to support a healthy immune system. It contains DHA from Omega 3, which is an essential fatty acid, also found in mothers' milk. Nutro is careful not to include any by-products, corn, wheat, soy or artificial flavors, colors or preservatives.

When it comes to protein, it uses Chicken, Lamb, and Salmon. While I prefer to stay away from chicken and lamb, it's becoming increasingly hard to do so during puppyhood. Most of the brands out there use chicken for their puppy-formulas. So when it comes down to it, you have to look carefully at the rest of the ingredients and base your decision off of that. You can check this puppy food out here.

If you have never shopped on Chewy before, you may be able to take advantage of one of their promotions here (this could save you 30%) I explain how on this page
---
Best Brushes for your Husky
Best overall brushes:
Furminator Pro Undercoat Rake. I prefer this rake over many other brushes due to its simplicity and durability. It has deep-reaching pins that are thick and strong, meaning you won't need to replace this brush for a very long time.

Although there are a lot of fancy de-shedding tools out there, I prefer to avoid the buttons and extra mechanics of these brushes. Some do a great job, but I stick to my trusty undercoat rake. You can check it out here. (Amazon)
---
Hertzko Self-Cleaning Slicker Brush. This is the only exception I make for buttons! As I said above I prefer to stay away from buttons and gimmicks, but this brush has proven itself!

While slicker brushes aren't great for reaching deep down, they do an amazing job on the topcoat. The fine metal wires pick up all the dead hair that you've just brushed to the surface using the undercoat rake. That's why I suggest using both of these brushes together for a solid brushing routine.

It's very reasonably priced and thousands of positive reviews. You can check it out here. (Amazon)
---
Best brush for a puppy:
Go Pets Pin & Bristle Brush. I am a huge fan of the pin and bristle brush for use on puppies. It's a simple design that combines two brushes which are ideal with the coat your puppy has. While your pup is under 10 months, before he typically gets his adult coat, brushing is more about getting him comfortable and happy with it, rather than for hair removal purposes. This type of brush has the soft bristle side which is perfect for an enjoyable brushing session. You can check it out here. (Amazon)
---
Best Shampoo for your Husky
Best overall shampoo for your husky puppy:
Honeydew Natural Puppy Shampoo. This is my new favorite natural ingredient shampoo for puppies. It's so important that you use a shampoo that's puppy friendly; meaning it's mild and made with only natural ingredients. Standard dog shampoo or human shampoo (even worse) is way too strong for your little pup. As I've explained so many times in various articles your pup's skin is far too delicate for regular strength options.

Perfect for your puppy! It has excellent reviews and is very cheap. Check it out here on Amazon.com
---
Best overall shampoo for your adult husky:
Buddy Wash Original Lavender & Mint Dog Shampoo & Conditioner. Another newly updated favorite. When you speak to other owners and read the reviews, this shampoo is a step ahead of the rest. Buddy promotes the fact that they use "ingredients from the garden, not the laboratory" for their shampoos. And as the reviews are so great, that must be true. An inexpensive dog shampoo and conditioner with many benefits and excellent reviews. Not to mention a small price tag. Check it out here on Amazon.com
---
Best Cooling Mat for your Husky
Best overall mat:
Coolaroo Steel-Framed Elevated Cooling Bed. If you live in a hot country or experience rather warm summers, a cooling bed will be your husky's favorite place to stay. I like this particular bed because it's simple, very effective and it's reasonably priced. It's lightweight so you can easily pick it up and move it around without worrying about putting your back out.

While the bed is a nice luxury to have, it may not be necessary if you have AC, fans, and tile floors. But then again, AC can be expensive to run at all times; so it's really down to your preference and what you think is best for your husky.

It currently has 19,000 positive reviews on Amazon! You can check it out here. (Amazon)
---
Best ID Tag for your Husky
Best overall tag:
GoTags Stainless Steel Pet ID Personalized Tag. Every husky needs a dog tag, it's doesn't just look cool, but it's extremely important in case the unexpected were ever to happen. With this option from GoTags you can have your own contact information and details put on to the ID Tag. You can check it out here. (Amazon)
---
Best Puppy Pen for your Husky
Best overall puppy pen:
MidWest Homes for Pets Exercise Pen for Pets. This is our favorite for a simple, practical puppy pen that isn't going to break. What's so great about this particular pen is that it can link up to your crate. This gives him a space to play in and directly joins to his open crate. Perfect for times when you need to leave your puppy unattended, but still want him to have a little space. This pen is also ideal for outdoor use on the grass, and it has 8 ground fastening pegs to secure it in place. If you're looking for a puppy pen, this is your best option. For puppies, a 30″ will be suitable, but if you want it to last until he's bigger, opt for a 42″. You can check it out here. (Amazon)
---
Best Puppy Gate for your Husky
Best overall puppy gate:
MyPet Windsor Arch Pet Gate for Dogs & Cats. A quality made product that will keep your puppy where he should be. This gate is made from heavy-duty steel and will fit most doorways. It has an expandable range of 28.25– 38.25 inches wide and is 28.5 inches high. It's not the highest puppy gate, but by the time your husky gets this big, you likely won't need the gate anymore. And yes! the gate opens freely in both directions, at last. The gate has multiple locking system so Mr.Houdini doesn't figure out how to open it. It has hundreds of excellent reviews. You can check it out here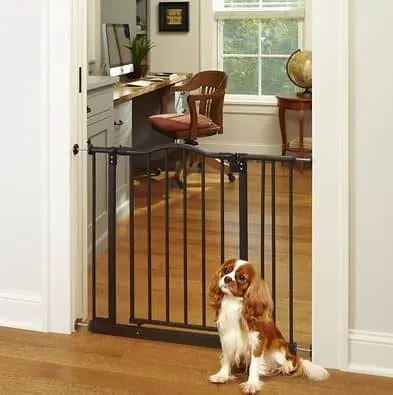 ---
Best Pet-Friendly Cleaning Products
Best overall multi-purpose cleaner:
Seventh Generation Professional All-Purpose Cleaner. This is a much safer cleaning product to use around your house when your little fluff ball is around. It's an all-purpose cleaner that is USDA Certified 91% Biobased. It's 0% fragrance which means it contains far less nasty chemicals for your pup to come across. And it doesn't contain chlorine bleach. If you like cleaning, which you will do if you have a puppy 😉 this is much safer to be using than regular bleach. You can check it out here. (Amazon)
---
Best overall toilet bowl cleaner:
Seventh Generation Emerald Cypress and Fir Scent Toilet Bowl Cleaner. I wasn't going to add this in, but after receiving an email about how someone's husky couldn't stop putting his head in their toilet bowl. I think it's best to incorporate it. It's true, there are many dogs who have weird fascinations with toilet bowls. Of course, It's easier to keep the door shut at all times, but, for whenever you clean the bowl, it's best to do so with a less toxic bleach. You can check it out here. (Amazon)
---
Best Food Container for your Husky
Best overall option:
IRIS USA, Inc. 3- Piece Airtight Pet Food Storage Container Combo. This is my favorite option to go for. As you can see it has two compartments, one larger one that will fit a 25lb bag of food and a smaller that can fit a further 10lbs. You can either fill both up with food or use the top one for treats. It also comes with a large sturdy scoop. With over 2,000 reviews it's hard to go wrong. You can check it out here. (Amazon)