If you haven't heard of Pet Plate, they're a service that brings top-quality, human-grade dog food right to your door. Yes, you heard that right, human-grade!
Siberian Huskies can be picky eaters and really need the best nutrition out there.
While some husky owners swear by a raw food diet for these active dogs, it can be tough to do it right. And it doesn't suit every husky.
Although there are affiliate links below, Pet Plate did not ask us to review their service, and this is a totally honest opinion with your husky's well-being in our best interest.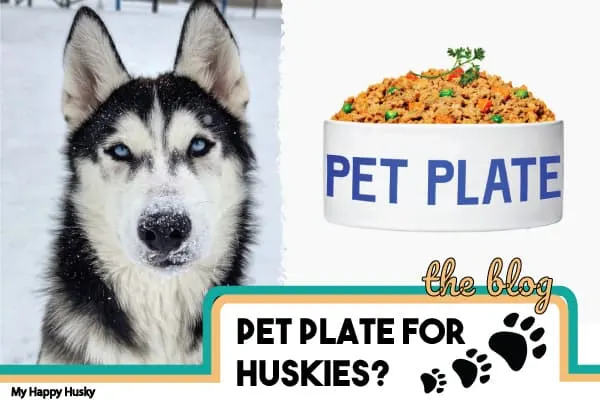 A Summary of Pet Plate
Pet Plate was founded in 2016 by Renaldo Webb, who owns a Tibetan Terrier. As his dog is hypoallergenic he became fed up of dog food, consistently causing issues with Winston (his dog).
Before Renaldo created Pet Plate, he worked as a consultant for pet food companies where he discovered what actually went into most mainstream dog food.
From that point, Renaldo decided to cook his own dog food instead of using store-bought kibble. This worked wonders for his dog Winston, who started to get healthier. It was so effective that even his close friends wanted him to cook for their dogs. And that's how the idea for Pet Plate was born.
So, Pet Plate now offers a home-delivery service of "chef-cooked" meals carefully put together from real human-grade food to give your pooch a far healthier diet than store-bought kibble. Pet Plate has an impressive team of Doctors and Veterinarians that have since put together a variety of nutritionally complete and balanced meals for any dog out there.
If you know already you want to try it, our link gets you 30% off your first order. Because, why not!
Pet Plate Review Scores
Let's take a look at the overall scores Pet Plate receives concerning important factors to do with food quality, nutrition, customizability as well as their recalls, pricing and customer support.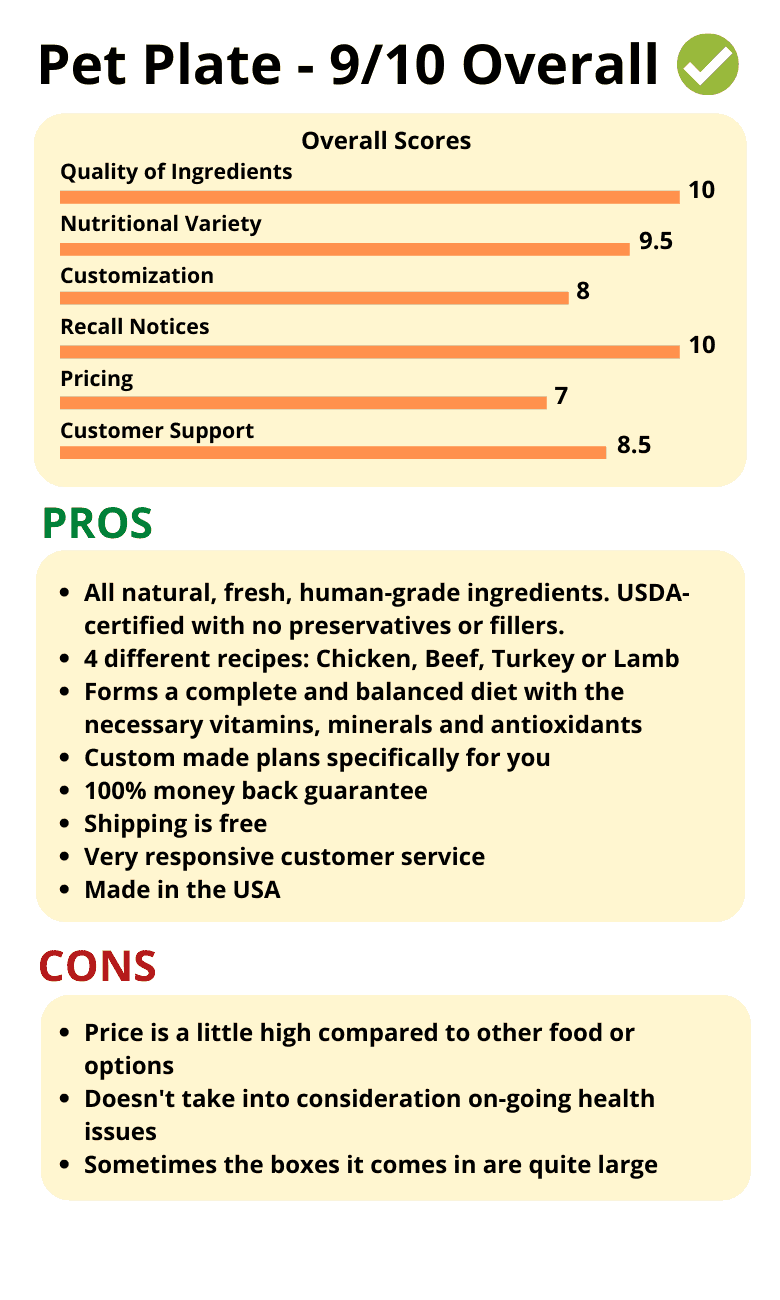 Pet Plates Food Manufacturing
As Pet Plate prides itself so much on its quality control and premium ingredients we should take a look at the sources and manufacturing processes.
Pet Plate creates all their meals inside their USDA-inspected facility in New York. They actually follow the same food safety protocols as a very popular company "Whole Foods" That's a pretty good start in my opinion.
So where do they get their ingredients from? Pet Plate gets its ingredients from various human food suppliers around the states, most of which also supply the huge supermarket chains too. Which ones specifically, we aren't sure. But we do know it's human-grade.
When it comes to cooking. Pet Plate cooks all the ingredients fresh, then each meal is "flash-frozen" to lock in the nutrition. Every batch made is safety-tested before it goes through to individual packing.
Your furry friends' dog food will arrive frozen in an insulated box with dry ice. It has a further layer of insulation which is 100% compostable. According to Pet Plate, you can keep up to a week's worth of food in the fridge, and any more in the freezer for up to 12 months. All food does come with a best before date.
Are The Ingredients Good Enough For a Siberian Husky?
My personal opinion is that yes, the ingredients used by Pet Plate are good enough for any Siberian Husky out there.
In fact, I believe the food used by Pet Plate is far superior to commercial kibble and would likely be better for any huskies out there with sensitive stomachs (which is most).
It's pricey, I will say that, but the way I look at feeding is that I would rather spend a little extra on top of what I'm already paying anyway, for a much healthier, real dog food for my dog. After all, a dog's diet is the no.1 contributing factor to overall health.
One thing that's worth pointing out is how sensitive Siberian Huskies are. Many husky owners find themselves needing to buy kibble that is made especially for sensitive dogs. The issue is that kibble will always be kibble, some are better made for sensitive dogs, but you'll never beat feeding your dog, real food. The raw food diet is likely the best for a Husky, but it's extremely challenging and I know many people who would rather just pay a premium for something like Pet Plate, to avoid the BARF diet, but still give their husky the quality nutrition.

If your husky is struggling with his store-bought kibble, but at the same time you don't want to move onto the BARF diet, Pet Plate would be the intermediate option.
This is a screenshot from their website. You can view the different meals they offer and each one provides an in-depth description of the ingredients used, it's nutritional values, and other key points.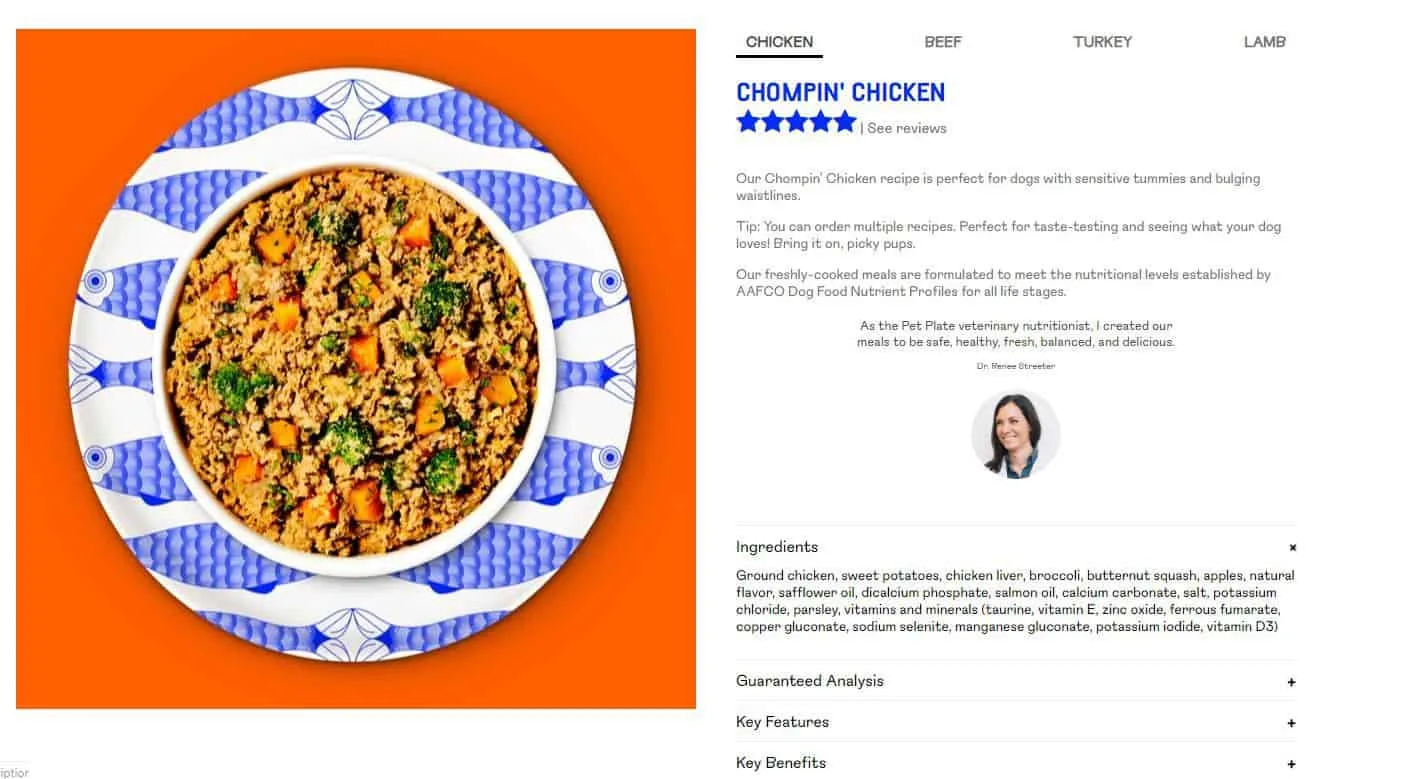 Pet Plate Process
It's relatively easy to set up your ideal plan. You can visit the Pet Plate website and answer basic questions about your dog's age, gender, current weight, desired weight, breed, whether he needs to lose or gain weight and then you'll be presented with some different food options.
You can see in the screenshot below, you can select out of 4 different flavors. Once you click on each flavor. It gives a very detailed list of all the ingredients put into the food and its nutritional values.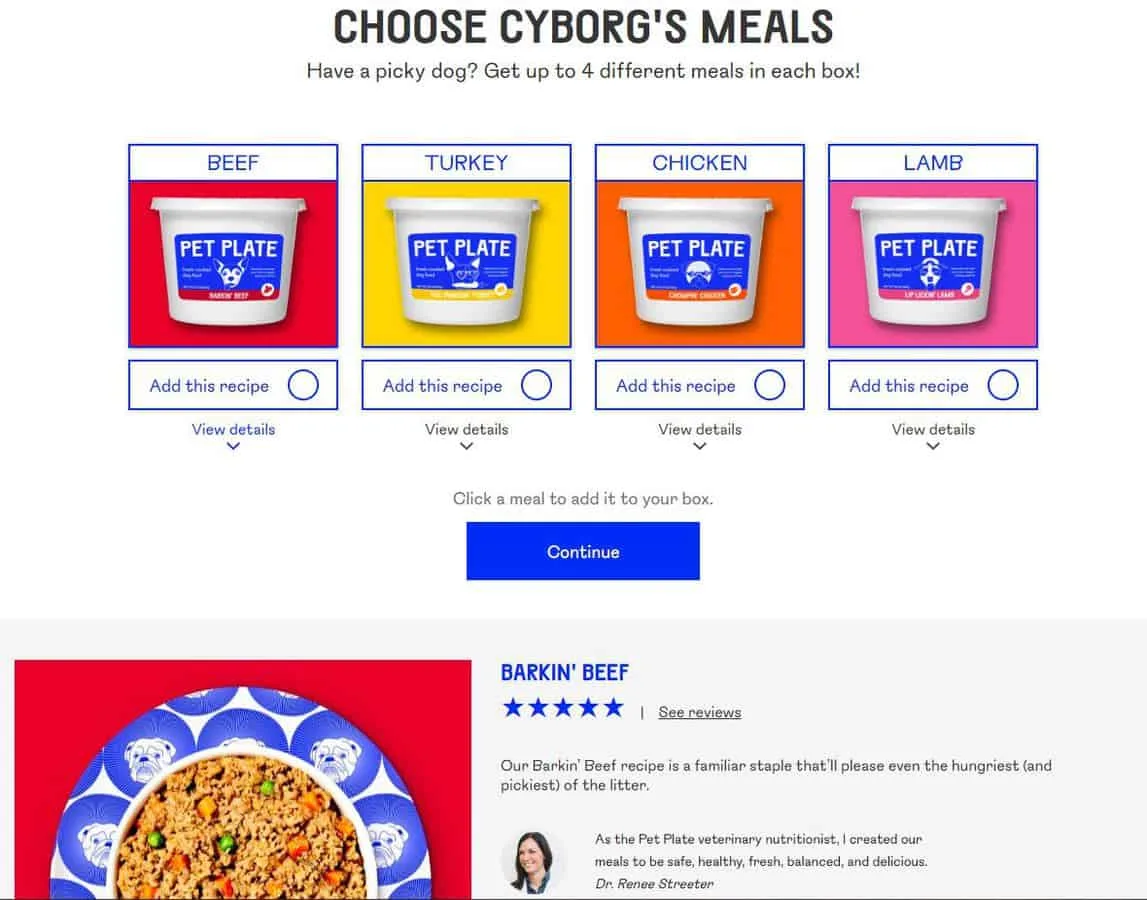 After this section, you'll then be taken to a screen where you can select your meal plans.

For the meal plans, you have two options:

Complete Pet Plate Plan:
The Complete and Balanced Pet Plate Meal Plan will be your dog's sole food source and they'll provide all of his required meals every day. This is the ideal plan, but it's at their full price.

Topper Pet Plate Plan:
The Topper Meal Plan is designed to test out their product and you can see if your dog likes it before diving in deep with the full plan. This is a small amount of food that you can add to their existing kibble.

You can adjust the meal plans as you go, and the customer support (if you need it) is surprisingly responsive, polite and willing to help.
How Much Does Pet Plate Cost?
Pet Plate certainly isn't as cheap as buying kibble, but it's also not as expensive and many BARF diets prove to be.

Pet Plate costing changes considerably depending on important factors like age, current weight, and their exercise routine.

For a male Siberian Husky 2 years old with around 2 hours of exercise per day, Pet Plates' full coverage meal plan will cost around $10.50 per day.

Pet Plates topper meal plan costs around $3.50 per day. This is ideal for people who are curious to test it out.

Pet Plate is actually one of the cheaper home delivery dog food services out there. Other well-known services like The Farmers Dog and Ollie cost a few dollars more.

If you are interested, we have a code that you can use to get 30% off the price of your first box. Create a plan here on Pet Plate (you don't have to enter any bank details to build a plan and see your meals)
Is Pet Plate Worth It?
If you're looking for a healthier alternative to commercial kibble, but you also don't want to embark on the journey of a raw food diet. Then yes, it is definitely worth it.

It's pricey, that's true. Commercial kibble may cost you around $50 per month, whereas Pet Plate may cost you $250-300 per month. That is a huge difference. But with that said, I think Pet Plate proves to be a significantly healthier option for your Husky, using real human-grade food.

If your situation allows for it, I recommend trying at least the "topper meal plan" and if your husky reacts positively, it's worth the leap to the full plan.
See how much your custom plan will cost in a couple of minutes. Pet Plate Meal Plans This link will get you 30% off your first box if you wish to go through with it. Every dollar counts! 👍
Check out this Siberian Husky review of Pet Plate
Summary
So there you have it, hopefully, now you have a clearer understanding of Pet Plate and how it may benefit your Siberian Husky.

We do earn a small commission from the links we provide. The links do not increase any costs for you, in fact, they make your first box 30% cheaper.

Thanks!
Most Recommended For Huskies 🐶
Best Brushes For Husky Shedding ⭐
My two favorite brushes for a beautiful coat are a simple Undercoat Rake and a Slicker Brush. These brushes when used together will de-shed and maintain your husky's coat better than anything else.
Best Online Training Program For Huskies⭐
Brain Training For Dogs has become increasingly popular with Siberian Huskies in the last few years. It's now recognized as perhaps the best way to train a husky in the most stress-free, positive way.
Best Husky Puppy Book ⭐
If you would like to support My Happy Husky directly and have an easy to read and entertaining guide for training your husky puppy, check out my book The Husky Puppy Handbook on Amazon. All purchases are greatly appreciated.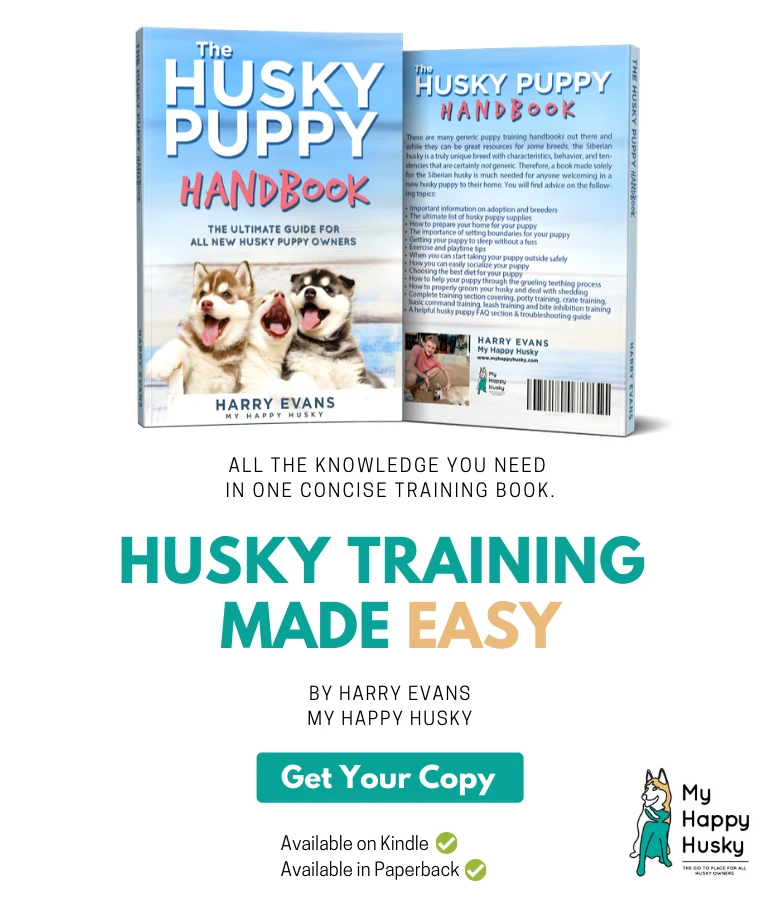 Disclaimer
The advice given in this article is for educational purposes only and does not constitute professional advice in any context. Before making any decisions that may affect the health and/or safety of your dog, you should always consult a trained veterinarian in your local area. For the FULL disclaimer Visit Here
Copyright Notice: The content produced and published on My Happy Husky is unique and original. My Happy Husky makes an active effort to search for plagiarized content using plagiarism detection software. If plagiarized content is found, action will be taken.