It is essential to choose the correct dog food for your husky, but it's also pretty tricky! With so many options on the market, it gets overwhelming quickly.
Thankfully, after helping tens of thousands of husky owners, My Happy Husky has a pretty good idea of what food works best for this breed.
After popular demand, I've created an article clarifying 4 of the best dog food options for your husky.
The Best Dog Food For Huskies
This article will not be about debating different diets. I have many other articles focusing on that. This article will review FOUR of the best dog foods for huskies which are all recognized and approved by veterinarians.
Please note, these 4 options are all great for huskies, one may be particularly suited better to zinc deficiency or sensitive huskies over another. But any of these 4 will be a reliable option to try out.

They are in no particular order.
Overview: 4.9/5
Orijen is one of the most premium dog food brands out there, and if you aren't familiar with them "they're the expensive brand" as I hear so many people say, and that's certainly true. Let's see why despite the price, this brand consistently receives some of the highest reviews above all other dog food.

Orijen makes its food from organic ingredients (which in itself is impressive) and 85% of the content is made up of pure whole animal meat, organs, cartilage, and bone. The other 15% is made up of vegetables and botanicals. Hefty price tag explained.

Orijen has done a great job at mimicking what a husky's diet might have looked like in the wild, and they've done this by making sure at least two-thirds of the animal content is raw or fresh.

I particularly recommend the six fish version, and you may have already guessed why. Yes, whenever possible I make a point of staying away from common allergens like (chicken, beef, lamb or pork)

Six Fish contains raw and fresh Pacific pilchard, mackerel, hake, flounder, rockfish, and sole. All of which is said to have been wild-caught from the Vancouver Island coastline.

Not only does fish seem to avoid irritating a husky's stomach, but receiving an abundance of fish oils and essential fatty acids are so important for the immune system and overall health.
Key Information:
✔️ Calorie weighted breakdown for Orijen Premium Dry Dog Food Six Fish
37% Protein
23% Carbohydrate
40% Fat
On the packaging you will only see the guaranteed analysis breakdown. These figures will be different from the calorie weighted breakdown. These are the minimums and maximums of the crude elements. For now all you really need to know is the more commonly understood calorie-weighted breakdown.
✔️ First Five Ingredients:
Whole Atlantic mackerel, whole Atlantic herring, monkfish, Acadian redfish, flounder. You'll struggle to find another kibble that has so many whole ingredients as Orijen. In fact, it's not just the first five, there are more whole ingredients to follow.
✔️ Organic whole ingredients:
85% of Orijen's food is made up of animal meat, two-thirds of that being fresh or raw. The other 15% comes from vegetables and other botanicals. You won't find any controversial items inside Orijen's ingredient list.
✔️ High protein and fat, low carbs:
A true wild diet will naturally be high in protein and fat and low in carbs. This kibble closely resembles a wild diet. This is a perfect balance for most highly active huskies.
✔️ Omega 3, Omega 6, DHA, EPA:
From the Orijen's Six Fish option you receive the right balance of many important essential fatty acids. Essential fatty acids are important for your husky's immune system, brain development, eye health, and skin and coat health.
✔️ All made in their award-winning DogStar kitchen:
Orijen makes all of its food within the United States in its award-winning DogStar kitchen in Kentucky.
✔️ Nothing is outsourced:
Ensuring quality means knowing exactly what is going into the food, and how it's being processed. Orijen makes all of its own food and doesn't outsource any of the processes to other companies. They don't even make food or products for other companies, something that a lot of other food brands partake in. This, according to Orijen themselves enables them to give you the absolute best in terms of quality and safety.
❌ High Price Tag:
Although certainly justified, it's true that Orijen is significantly more expensive than other premium kibbles out there. If you're willing to spend the money, your husky will not be disappointed… although your bank account might be 👀
Summary:
If you don't mind spending the money, Orijen is without a doubt one of the best kibbles out there in terms of its quality. Whether or not it significantly outperforms any of the other top brands is questionable.

Quality of ingredients is very important, but so is whether or not your husky does well with it. A higher price tag doesn't necessarily ensure it will be a good fit for your husky. If you're someone who really only wants the absolute most premium quality, then you should try Orijen.

Orijen has received The Dog Food Advisors 5/5 star rating which is very hard to achieve. And they consistently receive some of the best reviews seen amongst dog food.

You can check Orijen out on Amazon here.
Overview: 4.9/5
One of the most suitable dry kibbles on the market for huskies comes from Taste of The Wild, and in particular, Pacific Stream.
Pacific Stream has been around for a long time and is favored by a large portion of Siberian husky owners.
Most Recommended For Huskies!
These are best three products I recommend for all husky owners. Two excellent brushes (all you need for a beautiful coat) and the healthiest, low-calorie treats that won't cause fussy eating or upset stomachs.
⭐ FURminator Undercoat Rake (best for shedding)
⭐ Hertzko Slicker Brush (best for topcoat)
⭐ Zukes Mini Naturals Low Calorie Treats (best treats)
All tried and tested by thousands of My Happy Husky readers.
---
What makes Pacific Stream stand out is the quality of its ingredients and the use of novel proteins; real fresh duck, quail, and turkey. Using protein sources that are not common allergens, greatly improves digestion resulting in fewer upset stomachs.
In general, Taste of The Wild is known for containing a higher-than-usual level of protein. For most huskies this will play an important role in supporting their intensive exercise routines and will help with growth and recovery. Plus, a higher protein diet is considered to replicate what their diet would have been like in the real wild, for thousands of years.
Key Information:
✔️ Calorie weight breakdown for Taste of The Wild | Pacific Stream:
32% Protein
33% Carbohydrate
37% Fat
On the packaging you will only see the guaranteed analysis breakdown. These figures will be different from the calorie weighted breakdown. These are the minimums and maximums of the crude elements. For now all you really need to know is the more commonly understood calorie-weighted breakdown.
✔️ First Five Ingredients:
Salmon, ocean fish meal, sweet potatoes, peas, pea flour. Meat-meal is not the same as by-product. Although nothing beats whole meat, meal still contains at least 5 times more meat than by-product (the nasty stuff)
✔️ Premium Protein Sources:
Salmon and ocean fish meal are common sources of protein used for dog food and are considered a premium source of protein. There's a reason why this particular food works so well with the majority of huskies, and it's due to containing few allergens. Most huskies have a sensitive digestive system, and that's exactly why this option is great. Neither salmon or ocean fish meal are common allergens, unlike chicken, beef, lamb, or pork. This means the food will digest better than most other options out there.
✔️ Low Carbohydrates:
Compared to other food brands, carbohydrate levels are on the low side, and this is also how they are able to raise up the levels of fat and protein. A high protein and fat diet would replicate a wild diet more closely. While still necessary, carbohydrates are best kept low and is just one of the reasons I like this food.
✔️ Premium Forms of Zinc:
Huskies and zinc deficiency may as well be the same word! It's true, many huskies suffer from zinc deficiency so it's good to use a food brand that uses a high-quality form of zinc over many of the cheap ones. Pacific stream contain Zinc Proteinate, this is a premium source of zinc that is absorbed and utilized much more effectively by your husky's body. You would be surprised just how many food brands choose to use cheap, low-quality forms of zinc, but not this one.
✔️ Omega 3 and Omega 6:
It's always good to see a healthy amount of Omega 3 and Omega 6 essential fatty acids. Fatty acids are vital for a healthy immune system, supporting brain development, and even contribute to better eye health.
✔️ Contains prebiotic fiber:
With huskies having sensitive stomachs and digestive systems, they really need all the help they can get. Taste of The Wild has included their very own strain of K9 probiotics. Not only does this help with digestion but it supports the immune system too.
✔️ Contains a range of vegetables, fruits, and vitamins to support overall health

✔️ Does not contain grain, corn, wheat, filler, artificial flavors, colors or preservatives
❌ Chicken-meal:
The only negative we can find about this kibble is the use of chicken-meal. The meal itself isn't really the issue. But chicken is a common allergen, and if your husky is particularly sensitive it would be preferred to avoid chicken altogether. Having said that, this is in fact a go-to option for owners that have sensitive huskies.
Summary:
If your husky has an active lifestyle and also suffers from a sensitive stomach, I strongly recommend trying out this option. Taste of The Wild in general has been a favorite amongst husky owners and Pacific stream in particular stands out.
Overview: 4.8/5
Many consider Wellness CORE to be a close second to Orijen. The quality of the ingredients contained aren't exactly as good as Orijen, but they're still premium. Fortunately, for this premium kibble, your bank account doesn't need to take such a beating. Wellness CORE is considerably less expensive than Orijen.

Deboned Turkey is the No.1 Ingredient followed closely by turkey meal and chicken meal. Remember that meat-meal is essentially just whole meat, but with the moisture removed. This makes it a pure form of meat protein. Meat-meal is still considered to be a high-quality source of protein but helps to reduce costs for the end consumer as opposed to using whole ingredients.

This is a high-protein kibble and is packed with extra vegetables and fruits providing a whole range of vitamins, minerals, and antioxidants. I personally recommend Wellness CORE as the perfect all-rounder, similar to American Journey.

Although it's cheaper than Orijen, it's still more expensive than most other brands on the market. This option is balanced between top premium quality and affordability.
Key Information:
✔️ Calorie weighted breakdown for Wellness CORE Original Dog Food
34% Protein
37% Carbohydrate
29% Fat
On the packaging you will only see the guaranteed analysis breakdown. These figures will be different from the calorie weighted breakdown. These are the minimums and maximums of the crude elements. For now all you really need to know is the more commonly understood calorie-weighted breakdown.
✔️ Premium Ingredient Quality:
Wellness CORE focuses on using premium ingredients. 41% of the kibble is made up of high-quality animal meats. You also find a whole range of vegetables and fruits such as peas, carrots, broccoli, spinach, kale, blueberries, and apples.
✔️ High Protein Content:
Deboned turkey, turkey meal and chicken meal give this kibble a serious protein punch. This is perfect for the majority of huskies as this breed typically requires a higher-than-average protein consumption. I would have preferred to have seen chicken-meal left out, simply due to chicken being an allergen and some huskies may not go well with it. But this isn't a significant thing to worry about it.
✔️ Fortified with Vitamins, Minerals, Antioxidants:
One thing I like in particular about this kibble is its range of vitamins and minerals as well as the use of probiotics. This kibble has an adequate amount of calcium, phosphorus, beta-carotene, vitamin E, vitamin D, vitamin B12, vitamin A, and the list goes on.
✔️ Additional Probiotics:
Digestion is a big deal when it comes to huskies and the use of Probiotics is always welcome. Each gobble that your husky enjoys will be packed full of helpful probiotics to make digestion a lot easier and stress-free.
✔️ Omega 3, Omega 6 and DHA:
Salmon oil and Flaxseed are included high up on the ingredients list to ensure a range of healthy fatty acids are present. As explained already fatty acids are essential for many important aspects of overall health. This includes proper immune system support, brain development, eye health, and even skin and coat health
✔️ Glucosamine and Chondroitin:
The addition of a little Glucosamine and Chondroitin will be appreciated by your husky's joints. For one of the most active dog breeds we know of, joint health has never been more important for a husky. Rest and recovery is essential for huskies and having adequate glucosamine in their diet will maintain healthy joints.
✔️ Free from meat by-products, grain, corn, wheat, soy, artificial preservatives, flavors or colors
❌ While I don't particularly scrutinize on potatoes, for the care and attention put into this kibble it's a shame that sweet potatoes were not used instead. Potatoes do not really benefit your husky in ways sweet potatoes would. Some studies also suggest that white potato digests faster than sweet potato, potentially causing blood sugar levels to be less stable throughout the day. This isn't a big issue, but something I have to point out.
Summary:
Overall, Wellness CORE is one of my favorites and this opinion is shared by many other owners too. It is more expensive than regular kibble, but it's less expensive than kibble like Orijen. It finds a balance between quality and affordability and is an excellent choice for husky owners.
95% of customers who bought this kibble has either made a repeat purchase or actively recommends it to other owners. With thousands of positive reviews, it's a great option to try out!

See more customer reviews here on Amazon.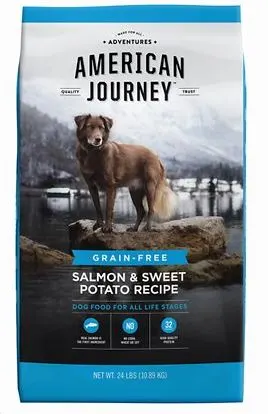 Overview: 4.8/5
Next on our list goes to American Journey Salmon & Sweet Potato.

American Journey is becoming a new crowd favorite, and while it isn't as popular as some other brands like TOTW or Blue Buffalo, it's certainly up there, claiming its position as one of the best.

When it comes to dog food, The Dog Food Advisor is a world-renowned reviewer. They create in-depth reviews of dog food and take into consideration everything before giving their rating. Their ratings hold more weight than anyone else's and they have given American Journey Dry Dog Food an impressive 5/5 stars. Something that is rarely achieved.

A&J Salmon and Sweet Potato contain an above-average amount of protein, making it ideal for working huskies or even huskies that are highly active.

One more thing to note is that real-deboned salmon is the No.1 ingredient. Salmon is an excellent source of protein and naturally contains important essential fatty acids such as Omega-3, Omega-6, and DHA.
Key Information:
✔️ Calorie weight breakdown for American Journey Salmon & Sweet Potato
32% Protein
36% Carbohydrate
32% Fat
On the packaging you will only see the guaranteed analysis breakdown. These figures will be different from the calorie weighted breakdown. These are the minimums and maximums of the crude elements. For now all you really need to know is the more commonly understood calorie-weighted breakdown.
✔️ First Five Ingredients:
Deboned Salmon, Chicken Meal, Turkey Meal, Peas, Sweet Potatoes. As mentioned with TOTW, meal is not to be confused with by-products. Any kind of meat-meal is considered to be a meat concentrate and pound for pound contains a much higher amount of protein than the actual meat itself. Meat meal is accepted as a high-quality form of protein.
✔️ Real Salmon as Main Protein Source:
Salmon is a favorite amongst husky owners. Not only is this one of the most premium sources of protein, but it's not an allergen and it contains essential fatty acids all at the same time. It's very suitable for huskies. Salmons is also abundant in Vitamin B12 and Selenium which is an essential trace mineral for a strong immune system.
✔️ Flaxseed Oil, Omega 3, Omega 6, DHA:
Not only does this option contain essential fatty acids from the deboned salmon, but you also find premium flaxseed oil to bump up the levels of healthy fats. Having adequate amounts of fatty acids plays an important role in skin and coat health.
✔️ An Abundance of Vegetables & Fruits:
An array of vegetables and fruits like blueberries, carrots, and dried kelp provide a wide range of vitamins, minerals, and antioxidants. All place an important role in supporting the immune system and keeping your husky healthy.
✔️ Carbohydrates Coming From Premium Sources:
Sweet potato and legumes such as peas and chickpeas are considered to be high-quality sources of carbohydrates. Although the carbohydrates ratios are a little higher than usual with this kibble, it's still good to see them coming from a quality source. Sweet potato is slow digesting, helping to keep blood sugar levels stable while providing energy slowly, over a longer period.
✔️ High-quality fiber coming from sweet potato and chickpeas

✔️ Doesn't contain grain, corn, wheat, or soy
❌ Carbohydrates a little higher than preferred:
The carbohydrates are a little on the high side and ideally should have been slightly lower to more closely resemble a wild diet. Nevertheless, this doesn't take away from the overall quality of the kibble.
Summary:
If you like the idea of getting high-quality protein from salmon in your husky's diet, this is an option I strongly recommend. This is an all-around premium kibble that many husky owners have frequent success with.
With thousands of positive reviews and over 94% of customers making a repeat purchase of this food, there's a good chance it will work for your husky too. Check it out on Chewy.com
---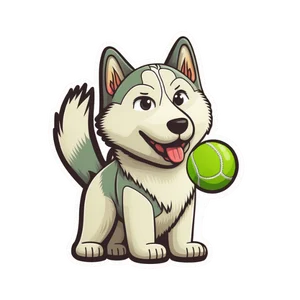 Psst. Haven't heard of Brain Training For Dogs? It's a scientifically-proven method for improving a dog's behavior and intelligence. By regularly engaging in specific brain training exercises, you can help your dog become more obedient and less destructive in record time.

What About All The Other Options?
Yes, only putting 4 options there doesn't seem like many choices right? Well, that's kind of correct. Although please remember the 4 options above are my overall winners.

When it comes to picking food for huskies with sensitive stomachs, or zinc deficiency, or allergies, I may recommend other options. Fortunately, I have already created those articles for you to check out.
The 4 kibbles listen above in this article are all solid choices, they have received many thousands of reviews each, have been thoroughly inspected by the FDA and have excellent ratings from The Dog Food Advisor.

But! what's more important than all of that, is actual husky owners recommending them.

Fortunately, I am lucky enough to live in a community where there are many huskies. Not to mention the hundreds of husky owners that contact me through this site on a monthly basis to talk about what food is and isn't working for them.

From the list above, or from one of my other articles, you will undoubtedly find a food that works well for you and your husky.
Summary
So there you have it! The best dog food for huskies, all wrapped up in to one article, well mostly! The kibbles reviewed above are great all-rounders and I strongly recommend them as any of my first choices. If your husky suffers from zinc deficiency or has a very sensitive stomach then check out one of my other articles dedicated to that topic.
Most Recommended For Huskies 🐶
Best Brushes For Husky Shedding ⭐
These brushes when combined together will remove dead fur and maintain your husky's coat better than doing anything else! These brushes are a simple Undercoat Rake and a Slicker Brush.
Best Online Training Program For Huskies⭐
Brain Training For Dogs has become increasingly popular with Siberian Huskies in the last few years. It's now recognized as perhaps the best way to train a husky in the most stress-free, positive way.
Best Husky Puppy Book ⭐
If you would like to support My Happy Husky directly and have an easy to read and entertaining guide for training your husky puppy, check out my book The Husky Puppy Handbook on Amazon. All purchases are greatly appreciated.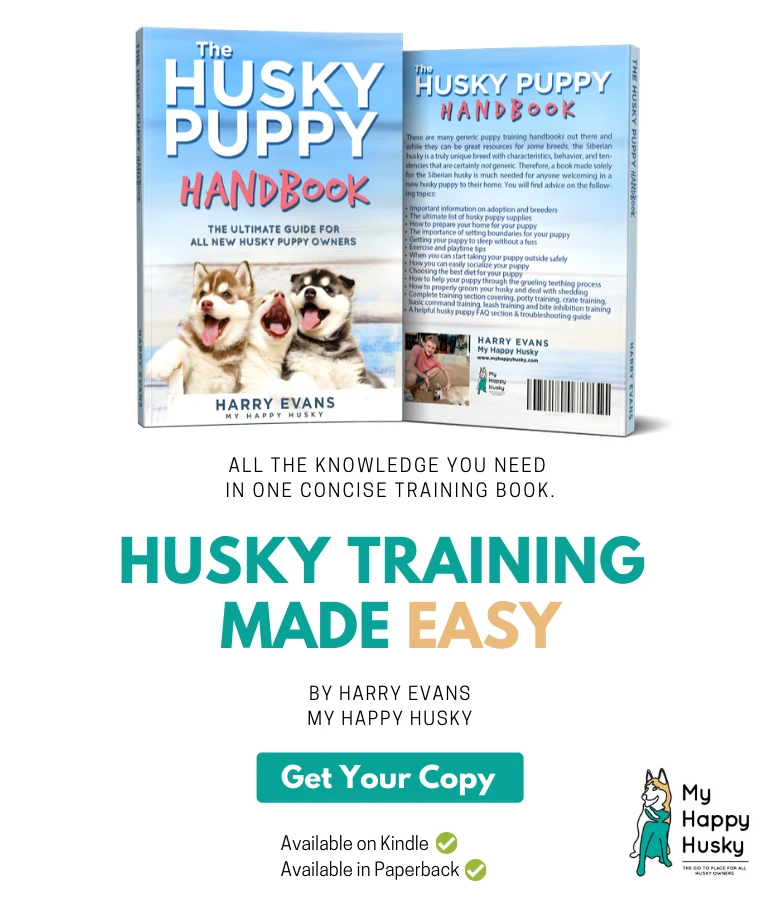 Disclaimer
The advice given in this article is for educational purposes only and does not constitute professional advice in any context. Before making any decisions that may affect the health and/or safety of your dog, you should always consult a trained veterinarian in your local area. For the FULL disclaimer Visit Here
Copyright Notice: The content produced and published on My Happy Husky is unique and original. My Happy Husky makes an active effort to search for plagiarized content using plagiarism detection software. If plagiarized content is found, action will be taken.