I've come across some beautiful husky names throughout the years of running My Happy Husky. From the local dog park to meeting owners online, I've taken note of some of the most striking names perfect for such a striking breed. Feel free to use these husky names below.
I've included exotic husky names for both girls and boys, and each name has the meaning behind the name! Because every good name, has a good meaning!
I'll also include tips on choosing a name and ways to help you make the right decision.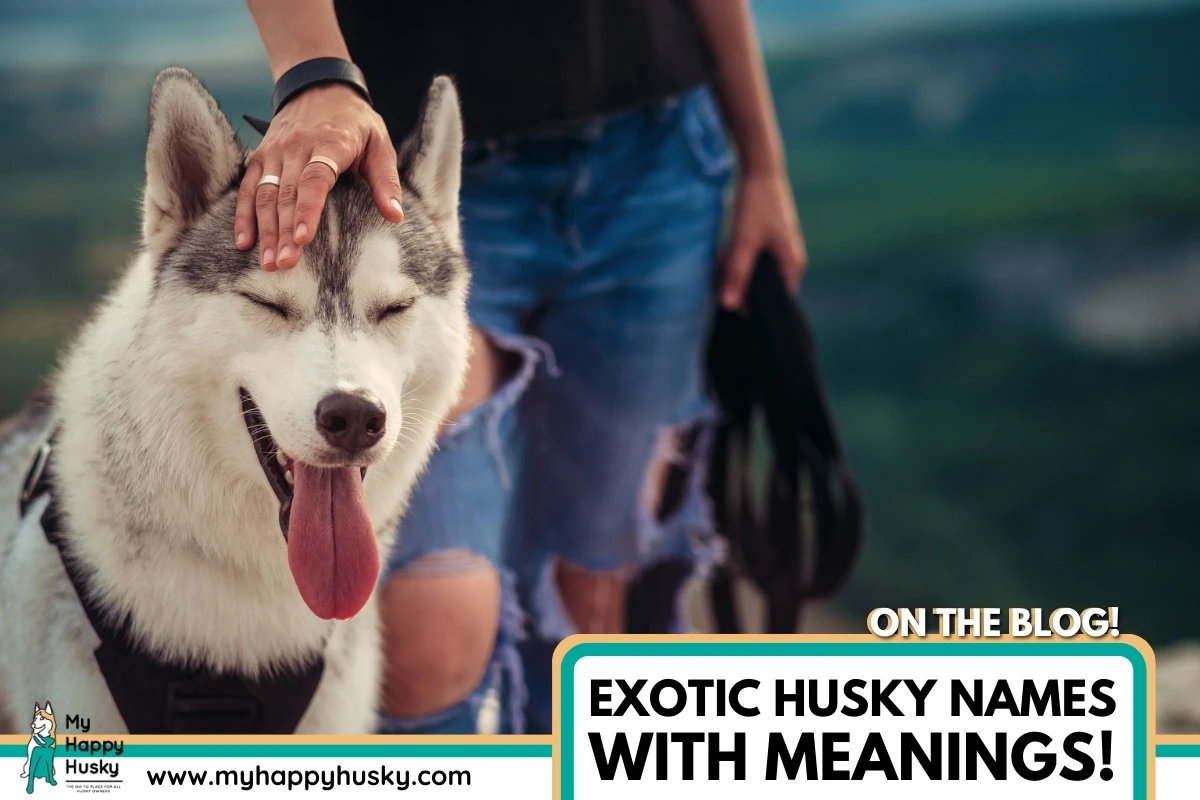 Types of Husky Names
I have organized the names into different categories to make it easier for you if you already have an idea or preference.
Exotic names
Winter-inspired names
Unique male names
Unique female names
Names appropriate for red huskies
My Happy Husky favorite names
For each category, you'll see a list of awesome names and the meaning or inspiration behind that specific name.
Choosing a Great Name For Your Husky
The best way to name your Siberian husky is to go with something short, snappy, easy to say, you like (of course) and has meaning.
You may already have a preference that you can build on by using the name guide below.
If you are unsure, try waiting until you have had your new husky for a week or two, you'll be surprised how quickly you can get a feel for the type of dog they will be when older.
Using personality and character is a common way to pick a great name.
Once you find a name that you like, keep saying it throughout the day to get a sense of how it sounds and feels to say. You need to verbalize it!
You'll also want to think about how easy and quick it is to say. Shorter names are easier to say and usually more practical.
---
⭐ Trending Article: How to train a husky puppy
Exotic Names For Siberian Huskies (Girls & Boys)
Here are 20 cool and exotic names inspired by a variety of sources.
These are quick and snappy names with mostly just 1 or 2 syllables, which makes them easy to say.
You'll also notice these are far less common than dog names you usually hear being yelled down at the park!
A unique name, for a unique breed
| | |
| --- | --- |
| Name | Meaning |
| Jazz | Just a really cool name! |
| Zazu | Meaning movement. Resembling the husky's amazing agility and speed. |
| Bolt | Inspired by one of the world's fastest runners Usain Bolt |
| Eclipse | Taken from the phenomenon that is the Solar Eclipse, when the sun covers the moon. |
| Strike | Inspired by the Siberian huskies hunting abilities and natural prey drive. |
| Breeze | Inspired by the agility and quickness of the Siberian husky |
| Oakley | An old Anglo-Saxon name |
| Loki | The God of Mischief |
| Sprint | Huskies love to run! |
| Jackson | An unusual and uncommon name for a dog |
| Casper | Perfect for all-white huskies, related to Casper the ghost |
| Trooper | Reference to a State-Trooper in the USA |
| Nome | The name of the town in Alaska saved by Siberian huskies in the 1920s |
| Zorro | Slavic name for "Golden Dawn" also Spanish for "fox" |
| Ranger | Inspired by park rangers maintaining and protecting outdoor areas |
| Stark | After Tony Stark (Ironman) |
| Scout | The term for finding something, resembling the Siberian Husky's hunting abilities |
| Blaze | Great for a red husky, inspired by the power of fire. |
| Falcon | The Falcon is a fast hunting bird. Inspired by the husky's hunting instinct. |
That's the first set of original names that you do not usually hear other dogs being called. Perhaps you liked a few of them, if not check out some Inuit names below!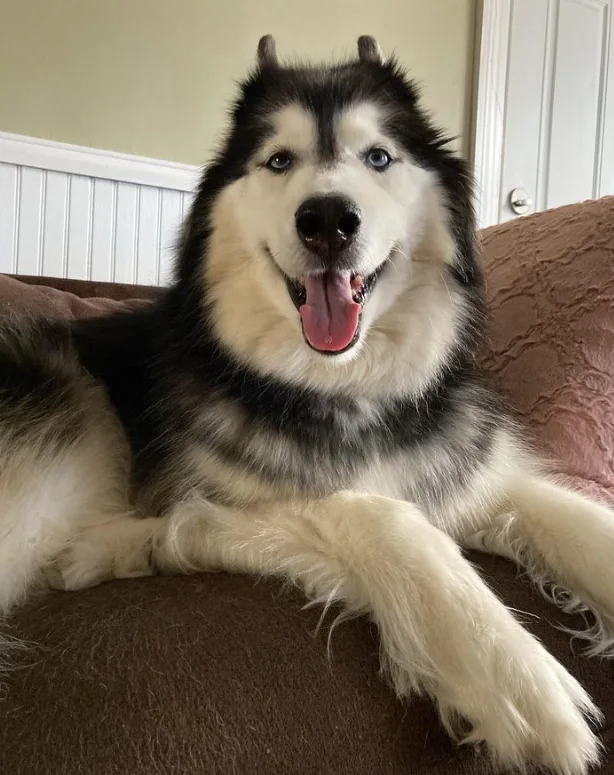 Exotic Inuit Names For Huskies WITH Meanings
The Siberian husky was originally bred in Siberia by the Chukchi Tribe thousands of years ago. Perhaps a name from their origin will be the perfect fit for your Siberian husky.

Here are 21 of the most common Inuit names for huskies.
| | |
| --- | --- |
| Balto | The name of the famous lead husky in a pack of sled dogs that delivered life-saving serum to Nome in the 1920s, ultimately saving hundreds of lives. A statue of Balto the Siberian husky can be seen in Central Park, New York. |
| Togo | Alongside Balto was another Siberian Husky called Togo, Balto's lead partner, and was perhaps the unsung hero in this entire ordeal. Togo eventually took the lead over Balto and was the husky who finished the unbelievable trek. |
| Chukchi | Name of the tribe that originally bred the Siberian Husky thousands of years ago |
| Akiak | Meaning Brave |
| Amka | Means "One with a friendly spirit" |
| Ulva | Meaning "Wolf" |
| Atka | Meaning "King" |
| Miska | Little bear |
| Kavik | Wolverine |
| Kallik | Meaning "Lightening" |
| Lusa | The word for "Midnight" |
| Tundra | The "Tundra" Straights is where Siberian huskies were bred, and roamed around in the wild. |
| Suka | Meaning "Fast" |
| Sesi | Meaning "Snow" |
| Siku | Meaning "Ice" |
| Sakari | Meaning "Sweet" |
| Kaskae | The Inuit word for Cheif |
| Nanuk | Polar Bear |
| Uki | Survivor |
| Yuka | A bright star |
| Yura | Meaning "Beautiful" |
These are awesome names that really suit Siberian Huskies. It's a nice tribute to their origins and not to mention a great conversation starter!

Perhaps you would prefer some names inspired by the cold climate that Siberian huskies truly love, check out the list below!
Most Recommended For Huskies!
These are best three products I recommend for all husky owners. Two excellent brushes (all you need for a beautiful coat) and the healthiest, low-calorie treats that won't cause fussy eating or upset stomachs.
⭐ FURminator Undercoat Rake (best for shedding)
⭐ Hertzko Slicker Brush (best for topcoat)
⭐ Zukes Mini Naturals Low Calorie Treats (best treats)
All tried and tested by thousands of My Happy Husky readers.
---
Trending article: How long do huskies live for? Husky lifespan explained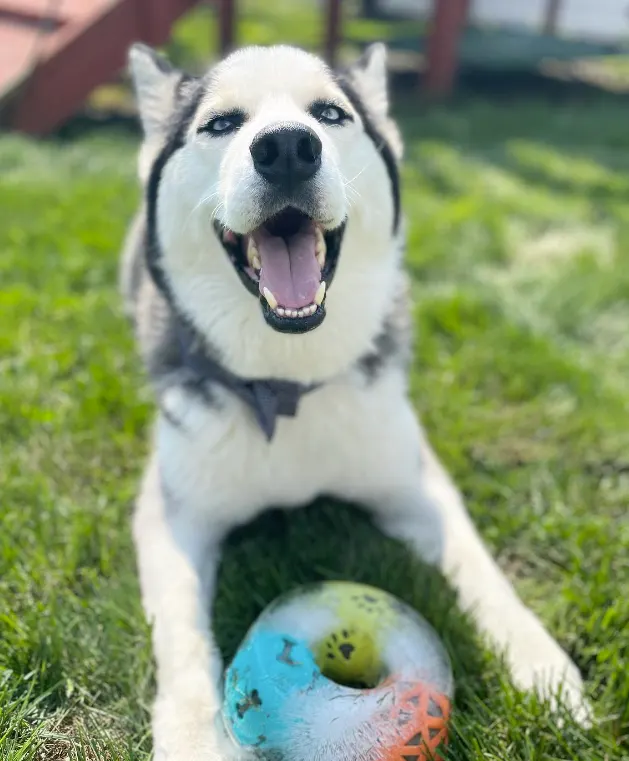 Winter-Inspired Names for Huskies
Huskies love the cold weather, they were bred in extreme conditions and had to deal with heavy snow blizzards and temperatures -30 degrees below Celcius.
Taking inspiration from winter and cold weather is a great way to create unique and exciting names. These names provide their own self-explanatory meanings.
Here are 20 winter-inspired names for huskies
● Ice
● Blizzard
● Arctica
● Snowy
● Thunder
● Hailer
● Frosty
● Rain
● Storm
● Alpine
● North
● Ulan – Filipino for "Rain"
● Wind
● Alba – meaning "bright and white" in Latin
● Glacier
● Skate – From Ice-Skating
● Alaska
● Polar
● River
● Rudolf
Unique Names For Boy Huskies WITH Meanings!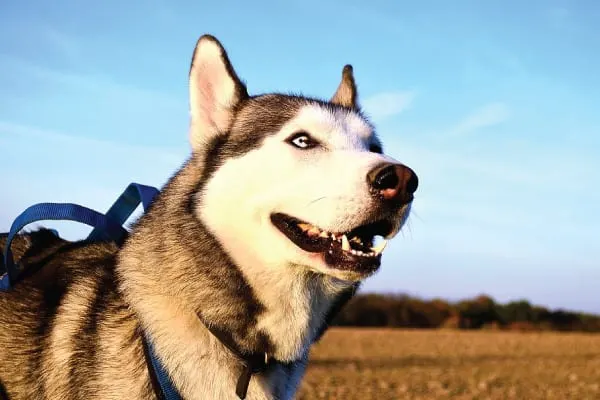 If you have a male Siberian husky, choosing a name to represent a bold, energetic and playful husky will be a great choice and will suit very well.

Here are 20 names that would be a great fit for a male Siberian husky.
| | |
| --- | --- |
| Name | Meaning |
| Apollo | Apollo can be related to Greek mythology. It can also be a reference to one of the famous rock balboa films as well as NASA and their space missions. |
| Orion | Taken from Orion's belt, a famous star formation in astrology |
| Rocky | Taken from Sylvester Stallone's most famous boxing character "Rocky Balboa" |
| Diego | Name of Spanish origin meaning supplanter |
| Simba | Simba is the son From the Lion King |
| Zeus | The King of the Greek Gods |
| Howl | Inspired by the classic wolf / husky howl |
| Buddy | A gentle name to represent friendship or a friendly character. |
| Lynx | Lynx's belong to the family of the Medium Cat species |
| Sage | A sage is a person who is aware and knows a lot |
| Hugo | Meaning highly intelligent |
| Ace | Most commonly known as the ACE card, the most significant or valuable card |
| Apache | Taken from the Apache fighter helicopter used in the Military |
| Chase | Inspired by the strong natural prey instinct in Siberian Huskies |
| Ceaser | Taken from the Iconic Julius Ceaser, Military General who was responsible for the Roman Empire |
| Champ | Short for Champion |
| Nero | Nero is a Roman emperor known for cruelty |
| Bruno | An old German name meaning shield or armor |
| Cosmo | From the Greek Kosmas, which means order and beauty. |
| Milo | Type of chocolate milkshake |
---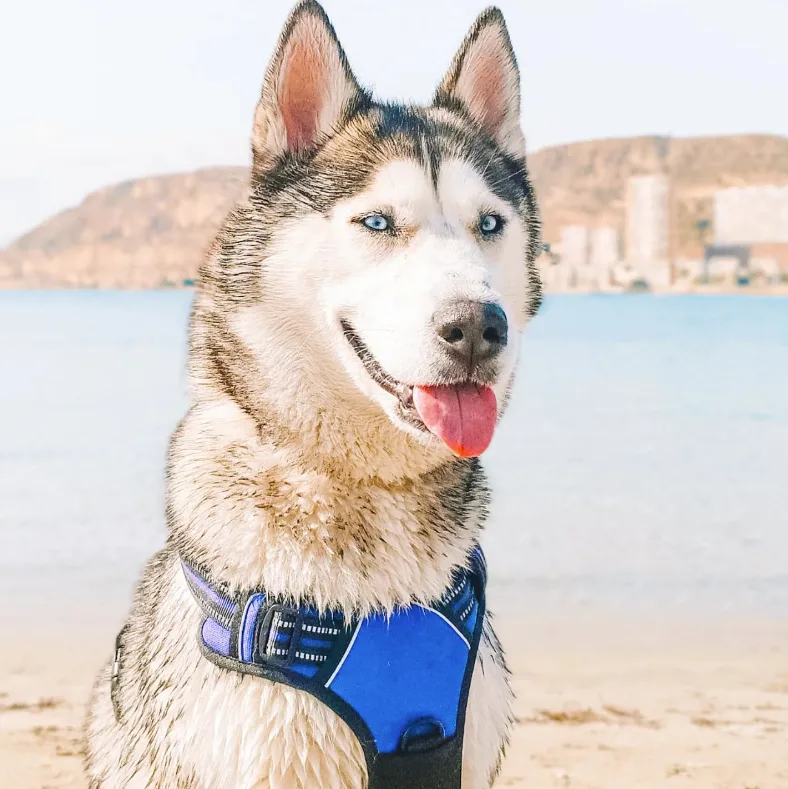 Exotic Names With Meanings For Girl Huskies
If you have a female Siberian Husky choosing a name that gives you the feeling of beauty, strength and intelligence will be a great fit.

Here are 20 unique names for a female husky.

Once again, these are more exotic than the standard dog name you'll hear down the local park!
| | |
| --- | --- |
| Name | Meaning |
| Aurora | A natural phenomenon that forms a beautiful green light across the sky at night |
| Skyler | An old Dutch surname. Combining the name "Sky" and "Tyler" |
| Laika | This is the name of the first-ever dog to reach space successfully. It was a Husky!! |
| Mocha | Mocha is an unusual name for a dog. Perfect for those coffee lovers! |
| Willow | English derived name meaning "freedom". Also inspired by the beautiful willow tree. |
| Leia | Princess Leia from Star Wars |
| Akira | Akira is the Japanese translation of the sun or sunlight |
| Swietenia | The beautiful Latin name of the Mohogany tree |
| Elsa | Meaning consecrated to God, Noble |
| Mika | Mika means the "Gift of God" |
| Iris | The black center part of the eyes. |
| Nova | This is term used in astrology to mean a brightening star |
| Serena | Name of Latin origin meaning "clear, tranquil, serene" |
| Sasha | Sasha means the "helper of mankind" A perfect fit for the Siberian husky breed |
| Astra | Astra is the Greek word for "Star" |
| Athena | Athena is the Greek goddess of warfare and craft |
| Lulu | Name of Arabic origin meaning "pearl" |
| Maya | Maya in Greek means "good mother" |
| Luna | Luna stands for "moon" in several Latin languages |
| Opal | Thought to be derived from Sanskrit meaning a "precious stone" as well as being the Greek derivative meaning "to see a change of color" Perfect for huskies! |
20 Awesome Names For RED HUSKIES
For those of you with RED huskies, you may want to consider more of a spicy name, to go with their beautiful colored coat. Let's run through some ideas below!
● Foxy – female
● Poppy – female
● Spice – female
● Coral – female
● Ruby – female
● Amber – female
● Sandy – female
● Auburn – unisex
● Robin – unisex
● Lava – unisex
● Sol – unisex
● Paprika – unisex
● Chili – male
● Blaze – male
● Rusty – male
● Pheonix – male
● Tiger – male
● Aka – male
● Mars – male
● Rufus – male

Our Favorite Names!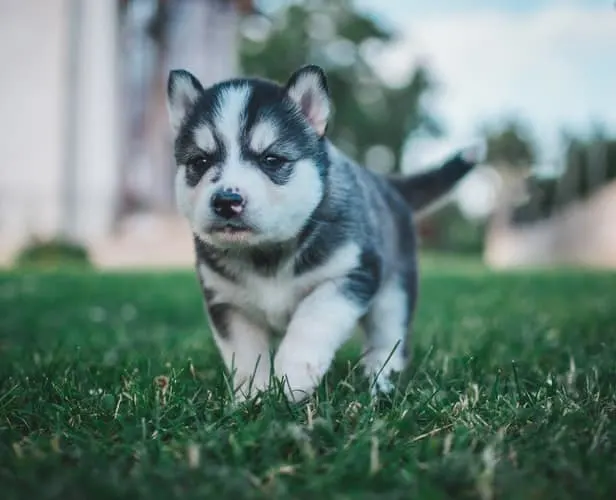 Out of the above names, I have compiled a list of the coolest and most exotic names that I love for huskies. These names have been chosen due to the meaning, sound, and ease of saying.

My Happy Husky's Top 20 Names for the Siberian Husky:
● Astra
● Sage
● Laika
● Atka
● Akira
● Zorro
● North
● Ranger
● Jazz
● Oakley
● Lulu
● Ice
● Willow
● Athena
● Storm
● Chukchi
● Skate
● Suka
● Tundra
● Togo
Summary
I hope from this you are able to choose the perfect name for your husky! Whether you choose a name from these suggestions or they inspire you to think of a new name, that's awesome!
Related Articles
Bringing Home a New Husky Puppy | Everything You Need to Know
Most Recommended For Huskies
Best Harness For a Husky
The Kurgo Tru-Fit Smart Harness remains to be the best harness I've used for a husky. It's affordable and reliable.
Best Online Training Program For Huskies
Brain Training For Dogs has become very popular with Siberian Huskies in the last few years. Owners that have tried it say amazing things about the incredible results and how easily implemented the training is.
Best Husky Puppy Book
If you would like an easy to read guide for training your husky puppy, check out my book The Husky Puppy Handbook on Amazon. All purchases are greatly appreciated.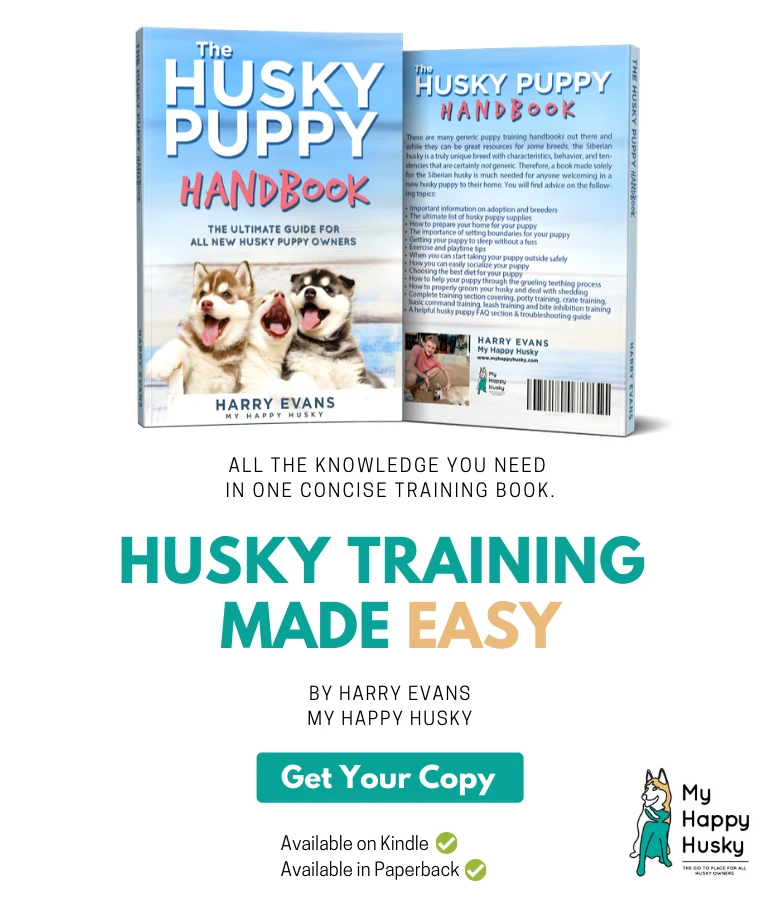 Disclaimer
The advice given in this article is for educational purposes only and does not constitute professional advice in any context. Before making any decisions that may affect the health and/or safety of your dog, you should always consult a trained veterinarian in your local area. For the FULL disclaimer Visit Here
Copyright Notice: The content produced and published on My Happy Husky is unique and original. My Happy Husky makes an active effort to search for plagiarized content using plagiarism detection software. If plagiarized content is found, action will be taken.