Getting the correct crate for your husky is important, and it's worth getting it right from the get go.
I'll cover everything from the right size, to the right style and suitability for a husky's chewing and fidgeting behaviors!
For those in a hurry, these are my three top picks. I cover them all in further detail below.
Correct crate size for huskies
Given that the average height of a husky is 21-24 inches, the ideal crate size for an adult husky will be 40-44 Inches.
This crate size will give a husky enough room to be comfortable without it being unnecessarily large.
And yes, even if you have a small husky puppy now, it's advised to buy a crate big enough for their adult size. Huskies grow quickly, so avoid wasting time and money purchasing a "puppy" crate.
Types of dog crates
There are a few different types of dog crates on the market. I will explain each crate and how it may or may not be best for your husky. Knowing the character of your husky will also help you decide which crate to go for.

The different types of dog crates include:
Metal Wire Crates
Plastic / Portable Crates
Wooden / Fashion Crates
Heavy Duty Crates
Soft-Sided Crates
● Metal Wire Crates – ✔️ Good for all huskies
The most common dog crate is the wire crate. These are generally inexpensive and you can get them in all sizes for small, medium, and large dogs.
Most of the wire crates can fold down, making them easy to transport and pack away when not needed.
Another great benefit is that your dog has great vision outside of the cage which can help them feel close to you and everyone in the room, even if they're inside.
I would say that this crate is the best all-round crate for the average husky. Yes, huskies are escape artists and like to chew, but in general, the standard wire crate will be more than sufficient for your husky.
---
● Plastic Portable Crates – Not recommended for huskies
These are plastic carry cases designed for traveling with smaller dogs, fairly similar to cat crates. They are typically enclosed with one swing door on the front and a handle on the top. Made of thick plastic these do give adequate protection for most dogs when you're traveling with them.
This type of crate isn't typically big enough for a husky, which could lead to discomfort and increased anxiety. Also being made of plastic, it may encourage your husky to chew.
---
● Wooden / Fashion Crates – ✔️ Good for well-behaved huskies
These crates are also often referred to as furniture crates, being made with your home aesthetics in mind. These crates are usually made from wood or rattan, to blend in with your home furnishings.
This is ideal if you have a small non-destructive dog and will be as good as any other dog crate. However, for a slightly bigger dog with tendencies to chew, like huskies, having a wooden frame would not be a good idea!
It's possible to choose this type of crate if you have a very well behaved husky that has had previous crate training. If you know your husky won't chew the wood then this could be a very nice option for your home.
Most Recommended For Huskies!
These are best three products I recommend for all husky owners. Two excellent brushes (all you need for a beautiful coat) and the healthiest, low-calorie treats that won't cause fussy eating or upset stomachs.
⭐ FURminator Undercoat Rake (best for shedding)
⭐ Hertzko Slicker Brush (best for topcoat)
⭐ Zukes Mini Naturals Low Calorie Treats (best treats)
All tried and tested by thousands of My Happy Husky readers.
---
---
● Heavy Duty Crates – ✔️ Good for very destructive huskies
These are said to be better crates for the Houdini dogs out there, just like huskies. Although, if you're husky isn't particularly destructive or likes to escape, then this style may be unnecessary. Heavy-duty crates are made primarily for the giant breeds
These crates are stronger and usually made with a more secure locking design compared to normal wire crates. What comes with a stronger more secure design, is a rather high price!
---
● Soft-sided Crates – Not recommended for huskies
Soft-sided crates are usually made from nylon or canvas. They are soft and comfortable, lightweight and travel-friendly. Although, they are not as sturdy or strong as any of the other crates. This makes it not so good for dogs that like to chew or are destructive.
This type of crate is not recommended for huskies due to their size, energy and tendencies to chew and be destructive.
Before running through my overall winners, you might find the following table helpful. Although I will only discuss the top three in further detail, there are still other good options out there and if you must choose a soft-sided or plastic crate, you'll find the best options below.
My Happy Husky's best dog crates for a husky
| Rank | Crate | Rating | Price |
| --- | --- | --- | --- |
| #1✔️ | MidWest Homes for Pets Wire Dog Crate See crate | A+ | $ |
| #2 | Merry Pet 2 in 1 Fashion Crate and Gate. See crate | A | $$ |
| #3 | Frisco Ultimate Heavy Duty Steel Metal Dog Crate. See crate | A | $$$ |
| #4 | Petmate Vari Kennel (plastic crate) See crate | B+ | $$ |
| #5 | Firstrax Soft Sided Dog Crate (soft-sided crate) See crate | B+ | $$ |
| #6 | MidWest Homes for Pets Dog Crate (wire crate) See crate | A | $$ |
| #7 | Lemberi Heavy Duty Dog Cage Crate. See crate | A | $$$$ |
7 Best Dog Crates for a Husky (Updated)
After doing a lot of research and listening to what other dog owners have had to say, here are my top 3 picks. I have given my top pick from each type of crate, wire crate, fashion crate, and heavy-duty crate.
1. MidWest Homes for Pets Wire Dog Crate
My Happy Husky – No.1 Top Pick 🏆
This is a standard metal folding wire crate. This is an all-around winner with nice basic features. On the 36 inch model which I recommend for huskies, it comes with double latches, to make it harder for Mr. Houdinhi to escape. This particular crate has thousands of positive reviews!! Check this crate out here

Key Features:
Extremely well priced
Two large doors for easy access and functionality, one on the front and another on the side. Perfect for crate training
Easy to remove the plastic tray for cleaning.
Comes with a divider so you can use it for your pup, and as they grow you can remove the divider making more space.
Folds completely down with handles for easy traveling
No tools needed to put up the crate
The only cons of this crate are some reports of the latches sometimes being stiff, as well as the door. Apart from this, many people highly recommend this crate. Check the latest price of this crate here
---
2. Merry Pet 2 in 1 Fashion Crate and Gate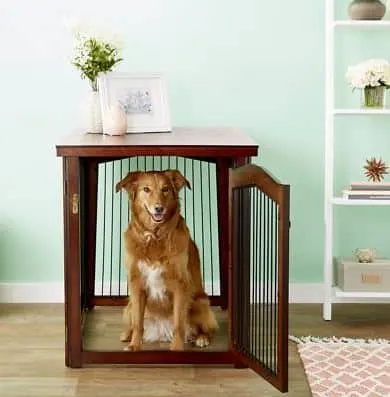 This is a very functional fashion crate. As you can see this will fit in with your home furnishings nicely. Despite it being made of wood, this crate is fairly secure and is well-made according to the reviews. It has a removable plastic floor for easy cleaning. This particular fashion crate has great reviews on chewy.com

While I personally would not opt for a wooden crate, if you would like to. This will be your best bet.

Key features:
Aesthetic home decor finish
2 in 1 crate and gate
Removable plastic tray for easy cleaning
The cons of this crate are due to what I mentioned earlier. Huskies like to chew and unless your husky is previously crate-trained this may not be the best option for you. This crate is best suited to calm, well-behaved huskies. Check the latest price of this crate here
---
3. Frisco Ultimate Heavy Duty Steel Metal Dog Crate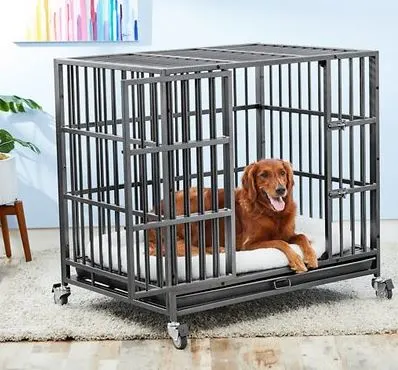 This one of the best heavy-duty crates on the market. It's extremely well made and doesn't have many flaws. It has dual locks out of reach from the escape artist. As you can imagine, this crate weighs a fair bit, so it comes on wheels to make it easy to maneuver. Take a look at the awesome reviews of this crate yourself here on Chewy.

Key features:
Heavy-duty steel for strength & security
Latches away from dogs reach
Easily removable tray for cleaning
Comes on wheels for easy maneuvering
Perhaps one of the biggest cons of this heavy-duty crate is also the heavy-duty price. Heavy-duty crates, in general, are expensive, and this one is on the upper end. The quality is unbeatable, but you have to really ask yourself if it's necessary for your particular husky. Check the latest price

Frequently Asked Questions
What size crate is best for a husky?
Huskies are considered to be medium size dogs, but this can vary with some being bigger than others. In this case, it's best to treat huskies as a medium to large dog. The average height of a male husky is 24 inches, so a crate that is 42 inches or more is recommended. Personally, I think it's best to stick to crates for "large" dogs

42″ crates are my preferred size.
How long can a husky be in a crate?
Huskies, in particular, don't enjoy being left alone for long periods of time. It's understandable that you need to go to work and you want to keep your husky in a crate.

However, if this is what's happening, I strongly recommend getting someone to go to your house to let them out, play, and have some time outside of the crate.

Huskies can develop anxiety easier than other breeds, so being shut in his crate for many hours will certainly increase this possibility.

You should not be leaving your husky inside his crate for more than a few hours at a time.
Should I just buy the largest crate?
No, if you get a supersize dog crate for your husky, he will have too much room. Having too much room leads to him eliminating on one end, and sleeping on the other. This defeats the whole point of housetraining. The crate size should be like a den where he can feel secure.

You do need to measure your dog to buy the correct size crate.

Don't forget to check out my other review and comparison posts:
Best Inexpensive Vacuums For Husky Hair
Best Harness For a Husky
Best Brushes For Huskies
Best Food For Husky Puppies
Complete List of The Top Recommended Husky Supplies
Summary
I believe the Amazon Basics Double Door Wire Dog Crate will suit most huskies perfectly. This crate is the best all-rounder for security, size, simplicity, durability, and price. This is why the metal wire folding crates are by far the most popular dog crates out there.

Although, if you know that your husky is extra destructive like the hulk, then go for the heavy-duty crate. On the flip side, if you have a slightly older, more calm, well-behaved husky, you may like to go for a wooden crate.

Whichever one you go for, it's very important to measure your husky and get the correct size.
Most Recommended For Huskies 🐶
Best Brushes For Husky Shedding ⭐
My two favorite brushes for a beautiful coat are a simple Undercoat Rake and a Slicker Brush. These brushes when used together will de-shed and maintain your husky's coat better than anything else.
Best Online Training Program For Huskies⭐
Brain Training For Dogs has become very popular with Siberian Huskies in the last few years. Owners that have tried it say amazing things about the incredible results and how easily implemented the training is.
Best Husky Puppy Book ⭐
If you would like to support My Happy Husky directly and have an easy to read and entertaining guide for training your husky puppy, check out my book The Husky Puppy Handbook on Amazon. All purchases are greatly appreciated.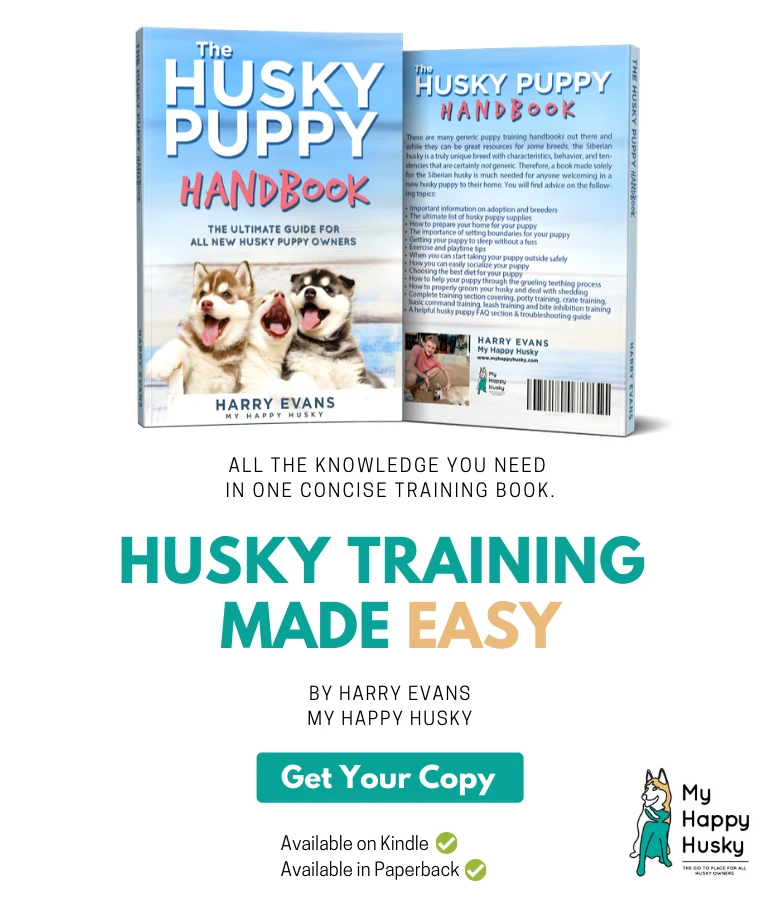 Disclaimer
The advice given in this article is for educational purposes only and does not constitute professional advice in any context. Before making any decisions that may affect the health and/or safety of your dog, you should always consult a trained veterinarian in your local area. For the FULL disclaimer Visit Here
Copyright Notice: The content produced and published on My Happy Husky is unique and original. My Happy Husky makes an active effort to search for plagiarized content using plagiarism detection software. If plagiarized content is found, action will be taken.