Knowing which brush to get for your husky can leave your head spinning. There are so many options on the market all with different features and purposes…
Fear not, after speaking to thousands of husky owners over several years (and grooming them myself) I've created this guide to help every husky owner out there choose the very best brushes.
The Best Brushes for a Husky
We've narrowed it down to just TWO brushes below!
| Rank | Brush | Rating |
| --- | --- | --- |
| #1 | FURminator Undercoat Grooming Rake | A* |
| #2 | Hertzko Self Cleaning Slicker Brush | A* |
| #3 | Pat Your Pet Grooming Tool | A |
| #4 | FURminator Undercoat Deshedding Tool | A* |
| #5 | Safari Shedding Comb Dual Layer | B* |
| #6 | Pet Neat Deshedding Tool | B |
| #7 | Rubold All in One Grooming Tool | B |
| #8 | Go Pets Pin & Bristle Brush | A* |
| #9 | Happy Dogz Magic Pro Deshedding Tool | B |
| #10 | Paws Pamper Dual-Use Wide Undercoat Rake | C |
Different Types of Husky Brushes
1. Rake Brush
The rake brush is a must for all dogs boasting double-layer coats, especially huskies. This is a heavy-duty solid comb brush, usually with one single row of strong, long pins. This brush is designed to reach deep through your dog's topcoat to the undercoat near the skin.
Its job is to rake out the loose dead hairs close to the skin. These strong rake brushes are sometimes a little sharp so they are designed to be used with minimal pressure to avoid damaging the skin. When buying a rake brush, ideally, the length of the pin should equal the length of your dog's coat.
2. Deshedder Brush (use with caution)
Deshedding tools work well, but must be used with caution. They can sometimes be quite sharp, and if used incorrectly could damage the coat of your husky. This isn't to say that are bad brushes, but they need to be used correctly. These sharp brushes are designed to remove as much dead fur as possible. Hence being named de-shedders.
3. Pin Brush
Pin brushes are alike to brushes that we commonly use for our hair. These brushes are made up of thin wires with a small oval pinhead on the top. Pin brushes are usually very comfortable for dogs and do not irritate their skin.
Although these are pleasant to use for you and your dog, they don't actually help much. They will pick up a small amount of loose hair but not as much compared to a rake or shedding brush. Pin brushes are good to finish off your previous grooming attempts and they'll pick up the last few stragglers and leave your dog with a nice even, smooth coat.
4. Slicker Brush
Slicker brushes look similar to pin brushes. The slicker brush has thin, short, flexible wires that are primarily used to detangle or de-mat your dog's coat. These brushes are also good for removing debris and loose dirt found on your dog's topcoat or outer hairs.
Due to the short wires, these brushes do not penetrate deep into the coat, making it a more comfortable experience for most dogs.

What Kind of Coat Do Huskies Have?
Siberian huskies have a thick double-layered coat that typically sheds twice per year, usually before big seasonal changes where the temperature changes significantly. It depends where you live but your husky may only shed once per year, depending on the climate.
Huskies have double-layered coats, which means they have a topcoat and an undercoat.

⭐ The topcoat is the thick coarse hair which is on the outer layer, this hair doesn't shed and is responsible for proving outer protection against the suns UV rays, bugs, and dirt.

⭐ The undercoat is the softer fluffy hair that sits close to the skin. The undercoat is the coat that sheds to help regulate your husky's body temperature through the seasonal changes

Proper grooming is essential for huskies and all double-coated dogs. Without proper brushing and grooming your dog's coat can mat and get tangled, meaning a long tedious shedding period that's annoying for them and for you.
Equipping yourself with good brushes is absolutely necessary to keep your fluffy friend happy and healthy.

The Best TWO Brushes For a Husky
So now you know the different types of brushes, you're likely wondering what kind of dog brush is best for shedding?
Well, a lot of people assume a de-shedding tool is the best but this doesn't seem to be the case…
✅ A high-quality undercoat grooming rake is the best hair removal brush for your husky. The next best brush for a husky is a good slicker brush for grooming the topcoat.
Our recommendation is to arm yourself with two different brushes, one primarily for hair removal and another one for topcoat grooming and de-matting.
The first two on the list below are our top TWO brushes we recommend for all-round husky coat maintenance.

10 Best Brushes for a Husky
The brushes will come with a link to either Amazon or Chewy. Wherever the cheapest price is currently held.
Most Recommended For Huskies!
These are best three products I recommend for all husky owners. Two excellent brushes (all you need for a beautiful coat) and the healthiest, low-calorie treats that won't cause fussy eating or upset stomachs.
⭐ FURminator Undercoat Rake (best for shedding)
⭐ Hertzko Slicker Brush (best for topcoat)
⭐ Zukes Mini Naturals Low Calorie Treats (best treats)
All tried and tested by thousands of My Happy Husky readers.
---
This is My Happy Husky's recommended choice for removing dead hair. This is a strong, durable single-row rake. It has strong long stainless steel pins which can reach further than a lot of other commercial rake brushes.
The pins are rounded and smoothed out to avoid irritating the skin of your husky or dog.
Rake brushes are ideal for reaching down further than the topcoat to pull out the dead hair from the undercoat.
I urge you to check out the reviews on Amazon. With thousands of positive reviews and a reasonable price tag, it's hard to go wrong. Check out the brush here (Amazon)
PROS
Long stainless steel teeth
Rounded ends to avoid irritation
Great for undercoat grooming
Durable and long-lasting
CONS
Despite smooth pins, it's easy to push too hard and cause discomfort
Our second recommendation is the Hertzko Self Cleaning brush which is the perfect choice to supplement the undercoat rake.
While the Slicker brush is great at untangling and getting rid of surface debris, it likely won't remove much of the dead hair from the undercoat. The wires are not penetrating deep enough.
This nice design features a cleaning button that pushes out all of the dog hair and debris.
The slicker brush is great at detangling and de-matting your dog's coat, which is the primary function of this style of brush.

You can check the brush out here (Amazon)
PROS
Comfortable for your husky
Extremely effective
Highest reviewed slicker brush
Dead hair release button
CONS
Thin metal pins can break or bend easily
Reports of difficult cleaning.
The Pat Your Pet Grooming Tool is one of the most highly recommended brushes on the market.
2 in 1 Deshedder and Rake
This awesome brush has double sides, one side acts like a de-shedding brush, and the other side is a basic rake. The best two types of brushes in one!
Safe Design
One thing that people particularly love about this brush is its skin-friendly coming blades. All the blades are rounded and smooth which avoids irritating your husky's skin.
Highly Trusted
As well as having thousands of positive reviews on Amazon, this brush is also recommended by professional veterinarians. Check out the latest reviews on Amazon.com here
PROS
Double-sided 2 in 1 brush
Smooth blades to avoid irritation
Strong handle + durability
Will thoroughly remove hair
CONS
Blades/teeth are fairly short and might not reach very deep
The world-famous FURminator easily takes first place for the best Deshedder Brush for a husky, or any long-haired dog.

This brush was actually designed by a professional groomer. You're in good hands.
When used correctly and part of a regular grooming routine, this great tool can remove up to 90% of the dead hair trapped in the undercoat of your dog.
Like most de-shedding tools, it has what they like to call the FURejector which is a push-down button that removes the dead hair from the brush. A very handy feature that will save you a fair amount of time.

Check out the positive reviews on Amazon.com here
PROS
The best de-shedding tool on the market (600 positive reviews on Chewy.com)
Removes up to 90% of dead undercoat hair
Hair remover button
Made for medium to large dogs (perfect for huskies)
Guaranteed to work or your money back
CONS
More expensive than other de-shedding tools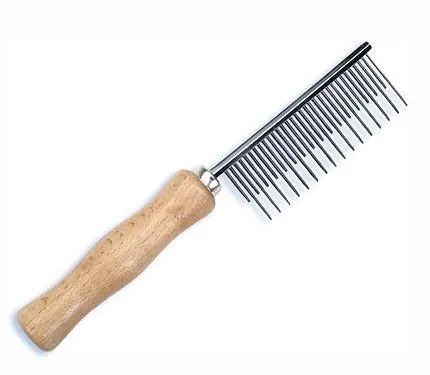 A simple favorite amongst many dog owners is the Safari shedding comb. This awesome comb is minimalistic and strong.

Despite it looking like a simple rack, it is cleverly designed to have two layers of teeth, one short and one long. This effectively makes a comb that will groom both topcoat and undercoat

The longer teeth that extend down are widely spaced out, making this an effective detangling comb. Perfect for huskies with long hair that tangles and mats easily

Check out what other dog owners said about this comb on Chewy.com here (link opens Chewy page)
PROS
Dual-action (Topcoat teeth and undercoat teeth)
Great for de-matting and de-tangling
Strong metal and wooden handle for durability
Simple, effective design
CONS
The smaller teeth may stop the longer teeth reaching down sufficiently with extra long-haired dogs
The Pet Neat Deshedding Tool is very similar to the FURminator de-shedding tool mentioned above. Perhaps the only differences are a lower price and a less well-known brand.

This highly reviewed de-shedding tool features the classic thinly spaced pins for maximum dead-hair removal as well as a removable head to make cleaning very easy.

The way the head removes is uncommon to other de-shedding tools and for many people, it's better than having the button push down mechanism to remove the hair like the FURminator.

Overall this is a great, cheaper alternative to the FURminator de-shedding tool. You can see what other dog owners have said about this exact product on Amazon.com by clicking here (link opens Amazon product page)
PROS
Removes up to 95% of dead undercoat hair
Will not irritate or hurt your dog
Removable head for very easy cleaning
Cheaper than many de-shedding tools
Stainless steel rust resistance blade
CONS
In some situations, the teeth may be too short for extra long-haired huskies
The Rubold Grooming Tool is perfect for demating, although due to its design it's actually good as an all-round brush.
It features one side of 17 teeth smoothed edge teeth that perform the necessary tasks like de-shedding and dead hair removal.
On the other side, it has 9 widely spaced teeth that effectively de-mat and de-tangle your huskies coat.
You can check out what other people have said about this exact brush here (Amazon)
PROS
17 small teeth for effective dead hair removal
9 widely spaced teeth for effective de-mat and de-tangling
Smooth teeth avoid irritating sensitive skin
Very good reviews on Amazon.com
CONS
Teeth may be too short for extra-long coats
This brush is another favorite for many dog owners with long-haired dogs. Although this brush isn't designed to rake out all dead hairs. It does a good job of evening out your dog's coat.
This brush is a great option to finish off after you have used a de-shedding tool or undercoat rake.
The stronger pins will smooth out your husky's topcoat and give a nice even finish to the coat. The soft plastic bristles will help to evenly spread out natural oils that cover the topcoat.
This type of brush delivers a pleasurable grooming experience for your husky, and many dogs find this very therapeutic.

You can check out the Go Pets Pin Bristle Brush on Amazon.com
PROS
Great to finish off grooming routine
Gives an even smooth finish to your husky's coat
Double-sided giving multiple functionalities
Will not irritate your husky's skin
CONS
Of course, another de-shedding tool is on the list of best brushes for a husky. This de-shedding tool by Happy Dogz is particularly great for large dogs because it has an ultra-wide width of 4 inches. Most brushes are 3-3.5 inches so this definitely covers more surface area in less time.
This is a well-built brush with a head that detaches for easy cleaning. Again, this detaching style is preferred over the push-down button due to fewer complications and malfunctions.
The teeth are small and close together, which is the default for all good de-shedding tools.
This is one of the highly recommended de-shedding tools available on Amazon.com Check out what other dog owners have said about this exact brush Reviews Section
PROS
The ultra-wide design will make brushing quicker
Removable head for quick cleaning
Classic de-shedding tool teeth design
CONS
Short teeth may not work well for extra long-haired dogs
The Paws Pamper Dual-Use Undercoat Rake is certainly a professional rake with a great design. This particular rake has varied teeth for extra functionality.
This brush has multiple variations, the best variation for heavy double-coated breeds being the 19 blade/9 blade option. The 19 blades serve as a hair removal tool and the 9 wider spaces blades act as a detangler/demating tool.
One other thing about this brush is its superior build quality. Something that is often overlooked when getting a brush is durability and strength. This brush is made from stainless steel and solid wood
Check out the amazon reviews section and see what other dog owners have said about this impressive brush
PROS
Dual functionality serving two important purposes
Premium build materials for strength and durability
Wide design to cover more surface area
Safe rounded teeth to avoid skin irritation
CONS
A little more expensive than other similar brushes

The Best Brush For a Husky: Our Winners!
Despite there being many great brushes on the market, the FURminator Undercoat Grooming Rake and the Hertzko Self Cleaning Slicker Brush are our winners!
My Happy Husky recommends arming yourself with these two brushes for a solid grooming routine.
The FURminator undercoat rake is a well-made, highly reviewed, trusted, and tested brush that will serve you best for removing dead undercoat hair.
The Hertzko self-cleaning slicker brush is a true winner with over 15,000 positive reviews on Amazon! This slicker brush works well for long-haired dogs, easily removing debris from the topcoat and will leave a soft smooth finish.

10 Grooming Tips For Huskies
Here are 10 important tips that may help you with your grooming routine. Some of the tips are more obvious and some are less obvious! Let's take a look at them.
1. Check regularly for tangles and matting
Despite there being many great tools to detangle and de-mat your husky's coat, it's so much better to avoid it in the first place! The more regularly you check, the easier it will be to stop any would-be tangles before they get worse. Detangling sessions are usually quite uncomfortable for any dog.
2. Brush in the same direction as the coat
A lot of people think that brushing against the direction of the coat will rake out more dead hair, however, this is not true. Going against the coat won't enhance grooming, all it will do is provide discomfort to your husky and potentially tangle the coat.
3. Make grooming time pleasurable for your husky
Grooming time should be a pleasurable experience for your dog and for you also. It's very common to hear "my dog doesn't stay still!" Try to choose a good time to groom your dog, preferably after exercise, when they're tired and never around meal times. By doing this you are increasing your chances of a calm, more receptive husky while grooming. If you can make it so they like it, your grooming routine will be a breeze.
4. Know what type of brush you are using
This one sounds obvious but always remember what brush you are using and what purpose it serves. It's all too easy to forget that you're using a pin brush and all of a sudden find yourself trying to de-shed your husky…that will not work! Likewise, don't use a rake if you're trying to remove debris from the top coat (although it may work to some extent, a rake is not for this job)
5. Be careful of the pressure you're applying
For some brushes with shorter teeth, it's very unlikely that you will cause any pain or discomfort to your husky, however, with longer teeth you need to be more careful how much pressure you're applying. Even if the teeth are rounded and smooth.
6. Inspect brush teeth regularly
This goes especially for slicker brushes and pin brushes. Slicker and pin brushes have metal wires with small balls on the end to protect the harsh metal wire from scraping the skin. If the smooth ball comes off from any of the wires, this may cause scratches and discomfort, or your husky
7. Bathing your husky before grooming can help
A good bath before you start grooming can help loosen and remove excess hairs before you even hold a brush. However, just make sure that your husky's coat is completely dry before you start brushing.
8. Create a regular brushing routine to avoid matting
If you do not have a solid grooming routine in place your husky's coat can matt pretty quickly. This is super important when it comes to the winter months as matting on the topcoat can ruin the insulating properties of the undercoat. Professionals recommend grooming once per week.
9. Start at the head and work your way down
Whenever you start brushing your husky, it's good practice to start from the head and work your way down throughout the body ending at the tail. This will make each grooming session more efficient and productive.
10. Reward your husky!
Always make a fuss and give them a small treat throughout brushing and at the end. By doing this you are teaching them that brushing is a good thing and that they're doing what they're supposed to be doing… allowing you to brush!
Related Article:
Best Natural Dog Shampoos For Huskies
Is The FURminator Good For Huskies?
Disclaimer
The advice given in this article is for educational purposes only and does not constitute professional advice in any context. Before making any decisions that may affect the health and/or safety of your dog, you should always consult a trained veterinarian in your local area. For the FULL disclaimer Visit Here
Copyright Notice: The content produced and published on My Happy Husky is unique and original. My Happy Husky makes an active effort to search for plagiarized content using plagiarism detection software. If plagiarized content is found, action will be taken.